The blue checkmark is the symbol of authenticity. We often see a blue tick or checkmark beside the user name of various social media sites like Instagram, Twitter, and Facebook. And now, Google brought it into the email marketing platform. It is developing a blue checkmark feature, the blue tick appearing next to the verified brand name.
In this blog, you will learn the essential facts of blue checkmark in email marketing and general details on how to get one for a business email.
Table of Contents
Blue Checkmark In Email Example
What is a Blue Checkmark in Email?
The blue checkmark in an email beside the sender's name is Google's new feature. Gmail will display the blue checkmark next to a sender's name to indicate that the sender is authentic, real, and not a scammer faking any brand. It's exactly like what you often see on a Twitter, Instagram, or Facebook verified profile/page. But in terms of email, it's next to the email sender's name. Gmail's blue tick builds on the company's current BIMI (Brand Indicators for Message Identification) technology, which allows businesses to authenticate their brand logo. It assures that customers are receiving emails from legitimate, logo-certified brands.
How it works
The blue checkmark indicates that the email sender has completed the security clearances required for BIMI authentication. BIMI is a feature that necessitates the implementation of rigorous authentication processes, the verification of their brand logo, and the ability to preserve user information with greater assurance. And BIMI-enabled senders may display their brand logo as an avatar beside their name in users' inboxes. When users read this, they immediately recognize it as genuine, not fraud approaching them.
Who can apply for the blue checkmark?
All Google Workspace clients, as well as older G Suite Basic and Business customers, are eligible for the blue checkmark. Currently, the capability is primarily intended for corporations, as BIMI registration is mainly done by business entities rather than individual users.
Blue Checkmark In Email Example
Check out the following example of a blue checkmark in an email. Amazon Web Services is the sender here, and the blue checkmark appears beside the sender's name. We can also see the brand logo before the sender's name.
I have marked the blue tick for you, and the symbol means "The sender of this email has verified that they own amazon.com and the logo in the profile image."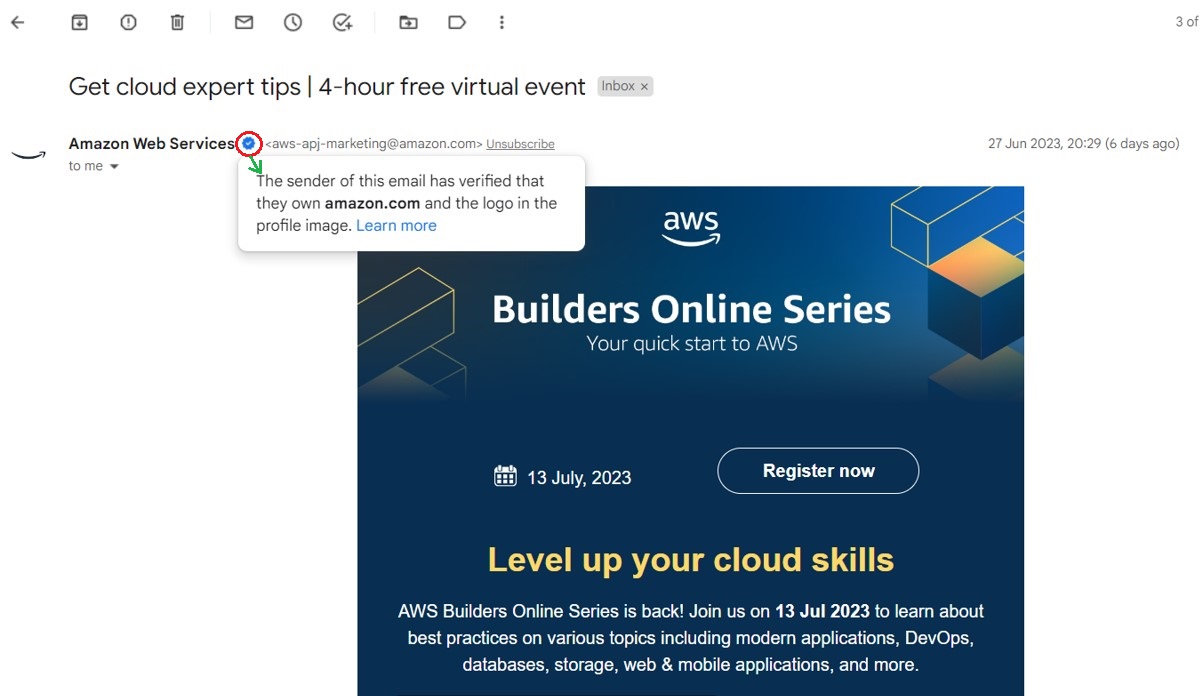 Why Blue Checkmark Matters?
The blue checkmark matters for various essential reasons. Firstly, it matters for an authorized/verified genuine identity of your business. The blue checkmark ensures your email's deliverability. As a verified sender, your emails won't go into the spam box. Secondly, users will know that the sender is the real owner and not fake by seeing the blue tick. So they will confidently go through your email and your words. The blue checkmark sets the two most essential goals in communication; the development of trust and rapport. The intention and purpose are to reassure clients/customers that they receive emails from legitimate businesses or brands, not scammers.
Also, around 32% of internet users between the ages of 16 and 64 expressed concern about companies' misusing their personal/private data as of the third quarter of 2022. Users are aware of the importance of their data and the need to protect it against misuse. This detail definitely shows the importance of having a blue checkmark for securing and reassuring the sender's true identity.
How to Get One
Now, let's go through some basic "how-to" procedures for getting a verified blue checkmark for your business email.
Terms to know
Before going through the main "how-to process" of getting a blue checkmark or blue tick, you need to learn and familiarize yourself with some terms;
BIMI
BIMI stands for Brand Indicators for Message Identification. It is an email specification that permits the display of brand logos within compatible email clients in an effort to promote the broad use of DMARC protection. Google Workspace updated about BIMI on May 3, 2023.
DMARC
DMARC stands for Domain-based Message Authentication, Reporting and Conformance. It is an open email authentication standard that offers domain-level email channel security. DMARC authentication recognizes and inhibits email spoofing methods in phishing, business email compromise (BEC), and other attacks based on emails. In short, DMARC suggests/decides what to do with spam/fraudulent emails.
VMC
VMC stands for Verified Mark Certificate. It is a digital certificate issued by a certificate authority certifying logo ownership. Before getting a VMC, your logo must be a registered trademark. Having a VMC confirms that your company is the lawful owner of the brand logo.
Procedure of getting blue checkmark
First, you need to get BIMI and follow the steps below;
You need to implement DMARC with an enforced policy of p = quarantine/reject.
You need to set up BIMI for your domain.
You need to get a VMC issued for your business logo from a trustworthy certificate authority.
Let's discuss these in detail;
Activate BIMI at your domain provider
Instead of using the Google admin console, you must activate BIMI at your domain provider. After signing into your domain provider's website, you can configure BIMI by uploading a DNS text (TXT) record to the management console.
Configure DMARC for BIMI
BIMI will seek authentication by DMARC to ensure your company's domain's true identity. You need to configure DMARC with an enforced policy of p=quarantine/reject. Google provides all the information administrators require to define their DMARC policy and acquire email verification. Wondering why? For BIMI to work, your company domain must have a secure DMARC configuration. The DMARC records allow email recipients to choose how to handle brand-domain emails that have failed or lack authentication. In essence, the receiver can determine whether it is okay to display the company logo.
Get a VMC
BIMI requires your brand logo to be a registered trademark. And to upload a trademarked logo, you have to apply and get a VMC to verify your brand's logo ownership. You must have it to display your brand's logo in the Gmail inbox. Google provides detailed troubleshooting BIMI issues that entail checking your BIMI configuration, confirming the status of your VMC, and going over potential problems.
It can take some time and effort to complete the entire BIMI approval process. You can use any third party to set up the BIMI for you or do it manually. If you want to do it manually, for that you must gain proper BIMI setup knowledge. After getting done with it, simply send emails using a handy and effective email marketing tool like our MailBluster!
Wrap Up
In the world of impersonators, a verified email with a blue checkmark is essential to prove one's genuine identity. Internet users already know about the importance of a blue tick in social media, and now this feature is in email marketing, too, thanks to Google! In this blog, I have discussed the general details of this new feature and how to get blue checkmarks for business emails. Hopefully, it will enlighten you on having a blue checkmark for your business email for a better email marketing journey.