Email marketers have granted various metrics to measure the performance of the content they created since 1990, when email became a legitimate marketing channel, and CTOR is one of them. It shows how your email marketing content performed after opening. The click-to-open rate will be higher if you deliver content that matches your leads' interests. There will be room for improvement if you don't get the expected result.
Marketers in the 1990s granted two metrics, open rate and click-through rate, to measure performances primarily. But, as a marketer in 2022, you must know it's not enough. High engagement comes not only by opening the email but also by clicking on the given CTA (Call to Action). Focusing on the click-to-open rate would be an excellent way to get an idea of where to improve your customers' engagement with your business.
What Is CTOR In Email Marketing?
CTOR (Click to open rate) is a difference-making calculator that tells you how many people clicked on a link and how many didn't. A high click-to-open rate indicates that the marketer (like you) convinced the leads with email content to follow a specific action. This way, the click-to-open rate measures how much the content intent meets its goal.
You create your email content based on a particular topic, and all the elements of your presentation, including texts, designs, CTA, etc., must align with that topic.
This metric shows where the alignment is lacking in your content, giving you a huge opportunity to improve your email marketing strategies.
On the other hand, a good email marketing strategy can help you save extra advertisement costs by generating more leads and nurturing them to turn them into customers.
CTR vs. CTOR In Email Marketing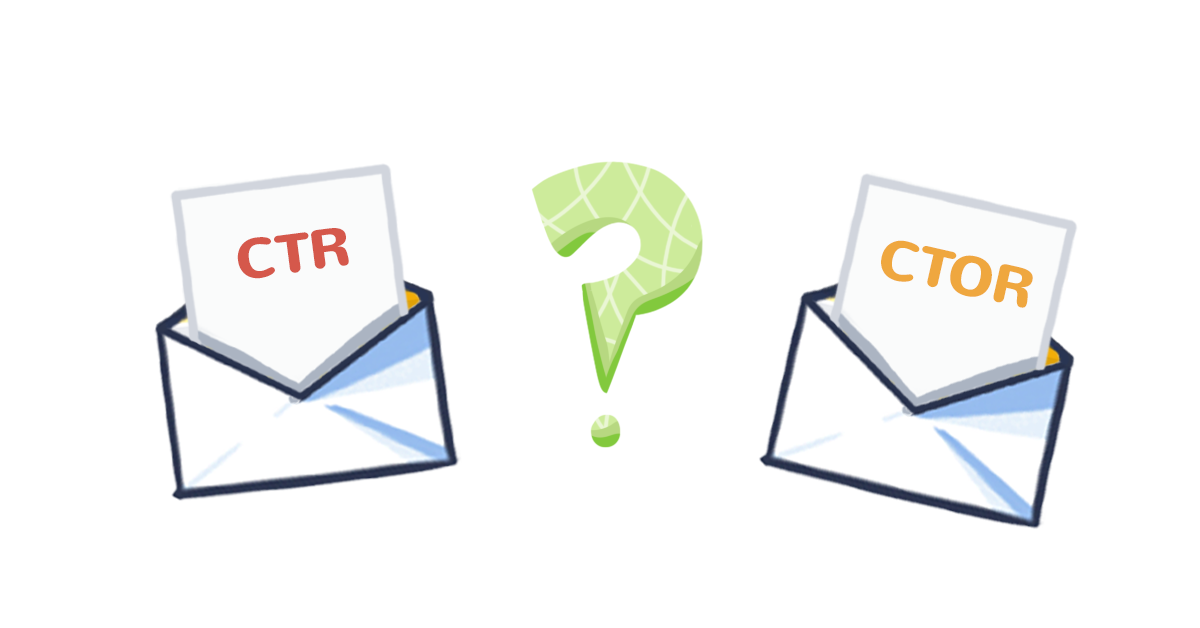 CTR (click-through rate) and CTOR (click to open rate) are similar in measuring the number of interactions or clicks an email gets. But, they have some mismatches.
| | | |
| --- | --- | --- |
| Differentiators | CTR | CTOR |
| Comparison | The Click-through rate compares the number of clicks of an email with the number of receivers who got the mail in their inboxes. | The click-to-open rate compares the number of clicks with the number of people who opened the email only. |
| Ideal Rate | According to FinancesOnline, in 2022, a reasonable CTR rate is 2.5%. But, making it 4% in your business will be possible. | SmartInsights claims it would be great to aim for a 10% to 15% click-to-open rate in your industry. |
| Indication | CTR has no concern about whether the receiver opened the email or not. This metric focuses on the interaction in the sent email. It can help you measure the overall effectiveness of your particular email marketing campaign. | The click-to-open rate counts the clicks concerning the number of people who opened the mail. Comparing click rate and open rate will help you understand how the engagement is going in your content. Open rate judges the quality of your email subject line. On the other hand, click rate measures the quality of the email body. |
| Examples | If you send 1000 emails and the email gets 30 clicks, then the CTR would be 3%. | If your 1000 sent emails with 30 clicks have 200 emails opened, your CTOR would be 15%. |
How to Calculate CTOR?
The formula for click-to-open rate measurement contains two factors –
The number of Unique Opens
The number of Unique Clicks
Unique opens or unique clicks indicate how many users opened or clicked the email, not how many times they clicked or opened it. If one of your leads opens your sent email more than once, it will not be counted more than once when measuring unique opens. The same goes for unique clicks.
To calculate the click to open rate, you must first divide the number of unique clicks by the number of unique opens.
Then you need to multiply the result by 100. The formula given below can clarify how to calculate CTOR in email marketing.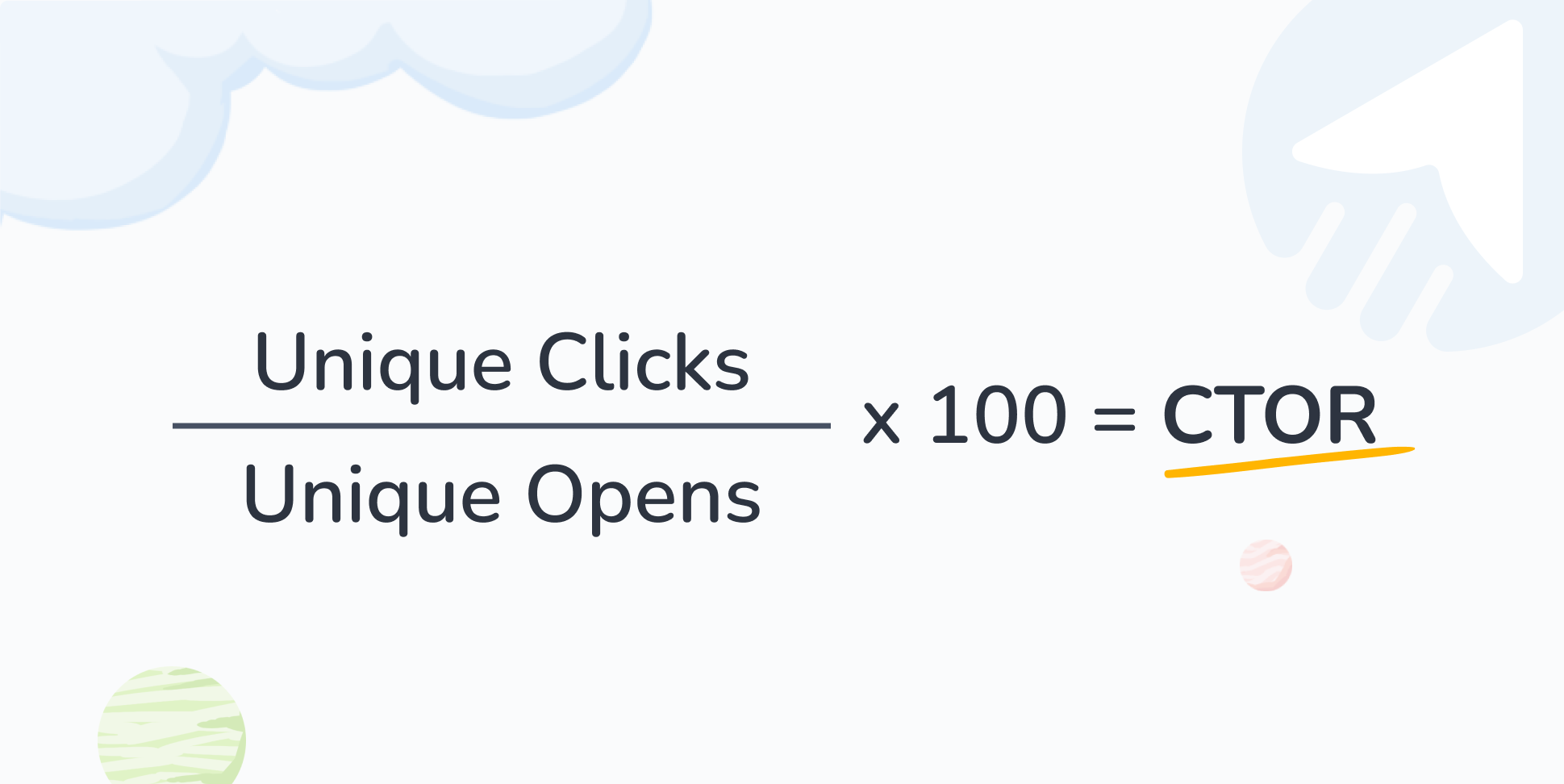 If you have 500 Unique Opens and 50 Unique Clicks, the click to open rate would be 10%.
How to Improve Your Click-to-Open Rate?
The click-to-open rate helps measure your email marketing performance, as mentioned earlier. You need to remember that you are a human, not a robot, and you send emails to other human beings. So, it must require a connection between you and your customers. If they find your emails irrelevant, they will mark them as spam to keep their inboxes clean. On the other hand, your customers will welcome it only if you take them on a journey through a series of emails.
Basically, the email subject line and the email body affect this metric's result. In other words, the CTOR shows where to improve the engagement in your email content. So, improving the quality of the subject line and the body is the best way to enhance your click-to-open rate.
Email Subject Line
First Impression always plays a decisive role in any type of communication. In other words, it makes us reach an instant conclusion when we draw our attention to someone. The impact of the first impression lasts long, affecting future communications.
The subject line is the element that contains the first impression of your marketing email. If you plan to make a journey to nurture your leads with a series of marketing emails, engaging the subject line and aligning with the whole topic is the most important part. There are things to focus on when writing a subject line.
1
Click-worthy subject line
People judge an email with its subject line and mostly report suspicious emails as spam at first glance. Your receivers have the reason to do that, as 94% of all malware comes from emails. On the other hand, 69% of the people report emails as spam based on the subject line.
Subject lines usually contain curiosity making the receivers' minds open the mail. Although, the automated emails which come from spambots have the same technique. But, there are differences between human-to-human and machine-to-human communication. Try to write your email subject line that matches your subscribers' interests.
Here is an example.

2
Keep it Concise
According to Business2Community, 47% of the email users open emails based on the subject line alone, and those containing 15 words or below have the most open rate.
That is, a short and engaged subject line can communicate at its best. The longer your subject line is, the lesser the open rate will be. So, it would be best to reflect the message in your subject line, keeping it as short as possible. What about this?

3
Personalize
Business2Communication also claimed that personalized subject lines have 22.2% more opens than those not personalized.
So, why wouldn't you try it! People love it when you mention their names while communicating.
In other words, catching their attention is easy when you say something that matches their interests, mentioning their names.
LinkedIn practices it. Why won't you?

4
Include Emojis
The primary advantage of emojis in the subject line is that it contains colors that can easily catch readers' attention, triggering emotions.
People are coping online, being fast with non-verbal communication. Emojis are a great hack as it allows them to understand each other online through emojis. So, when using emojis in your subject line, it makes a great impression at first glance.
The examples given below can erase all confusion.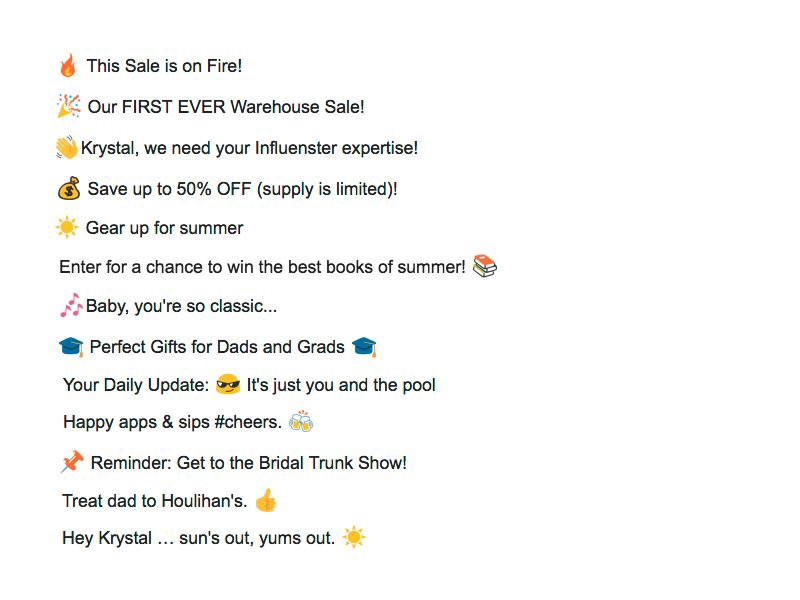 5
Align with the Whole Topic
You must ensure that a marketing email covers not more than one specific topic. After knowing the targeted topic, write a subject line that primarily reflects the message. If you don't align the subject line with the body, CTA and the whole case, your receivers might misunderstand the whole concept and report your email as spam.
An email from BIRCHBOX can be an example of good alignment.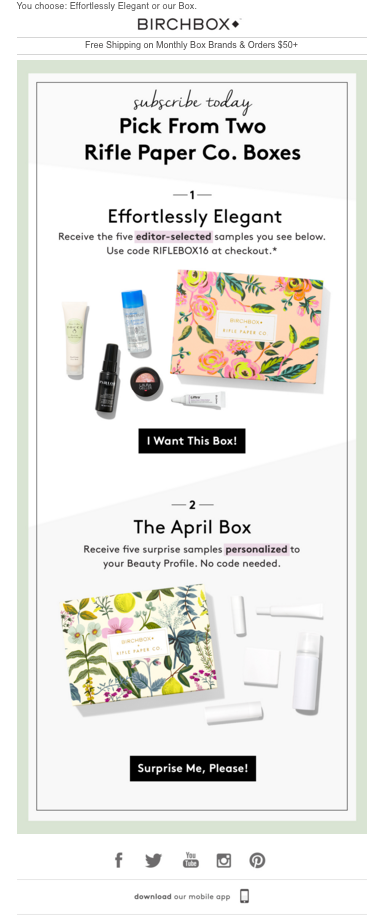 Email Body
People rarely read email content from top to bottom thoroughly. So, writing email content in detail, like blog posts, might lower your click rates, affecting the CTOR. Email body has the responsibility to enhance your click rates. There are good practices to improve this part.
1
Focus on Customers' Interests
Can you forget about yourself when focusing on your customers? It would be great if you watched from their perspective to understand what they feel about their needs. It will help you make effective communication with them.
2
Segment Your Customers
You can't offer a vegetarian 50% off with red meat. So, it's better to find out which customers love to eat red meat and which don't to avoid any kind of miscommunication. You can segment your customers using MailBluster based on their interests. Segmentation will help you find the best match between your words and customers' interests.
3
Write Dynamic & Energetic Content
After collecting information about your customers and segmenting them into various groups, you will understand what your customers need. It is essential to match your content with their interests. When you know about an animation lover, you can connect with him with the tone he loves to hear. Implementing animation in your marketing email might energize him to engage with you.
Open Table has sent emails with adding food pictures to those who love food.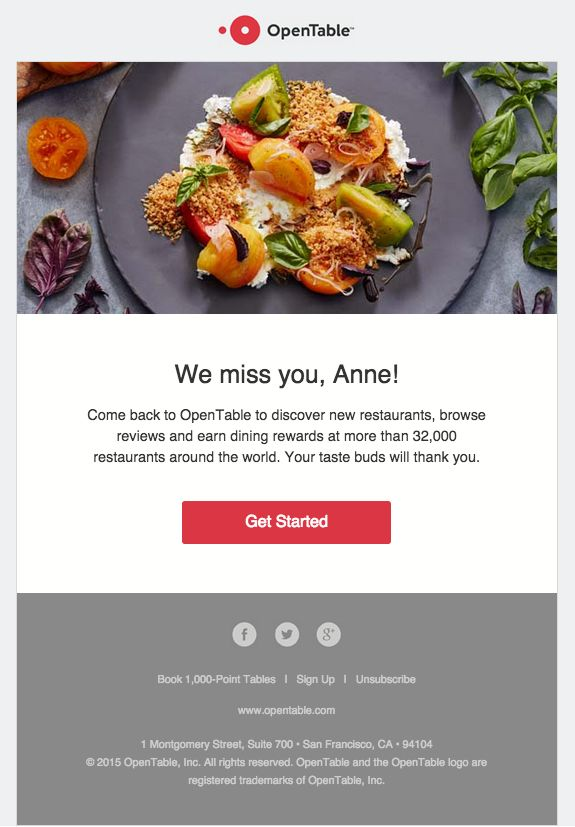 4
Keep It Short
Don't expect your leads to read all the chattering or unnecessary words in your email. People tend to read those emails which are short and easy to understand. Relevant and concise content can clarify your offerings and messages. Hard-to-read content has no use in email marketing, as the primary goal of marketing content is to make the best communication with the customers.
5
Include Images
According to Statista, 70% of people feel that images can demonstrate feelings better than words.
The variation of cultures and continents causes various languages and tones, but the image is the medium that can communicate beyond borders, cultures or languages.
According to MIT, images help the brain process non-verbal communication within 13 milliseconds.
You won't get more time to convince your leads to take the necessary actions. They won't give that attention to your content if you can't take it in the first impression. Choose the fastest communication medium which is best for you, for example, an image.
Look at the example given below. True Food Kitchen knows that images can communicate better than words.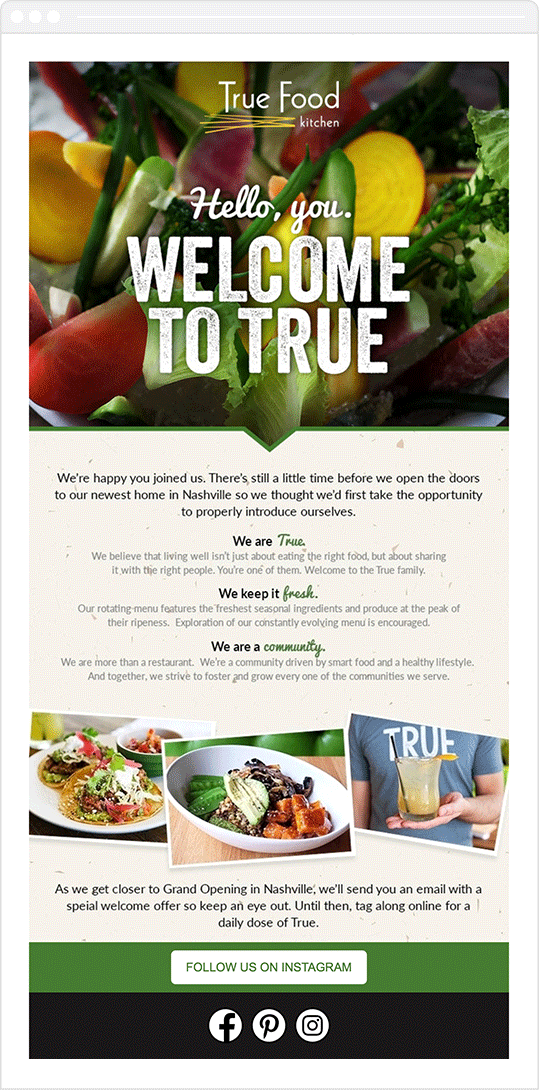 6
Include a single CTA
Implementing CTA (Call to Action) more than once won't be a good idea, as it can defocus your leads. It is best to create email content based on one topic at a time. Including many links in your content might cause a load of choices, making it hard for them to pick the right ones.
CTA is a thing that directs the reader to take a specific action you choose for them. Not all their actions will provide you with the best outputs. So, select the best one and make them focus on it.
An email from PSD2HTML can clarify how to make your subscribers concentrate on one action.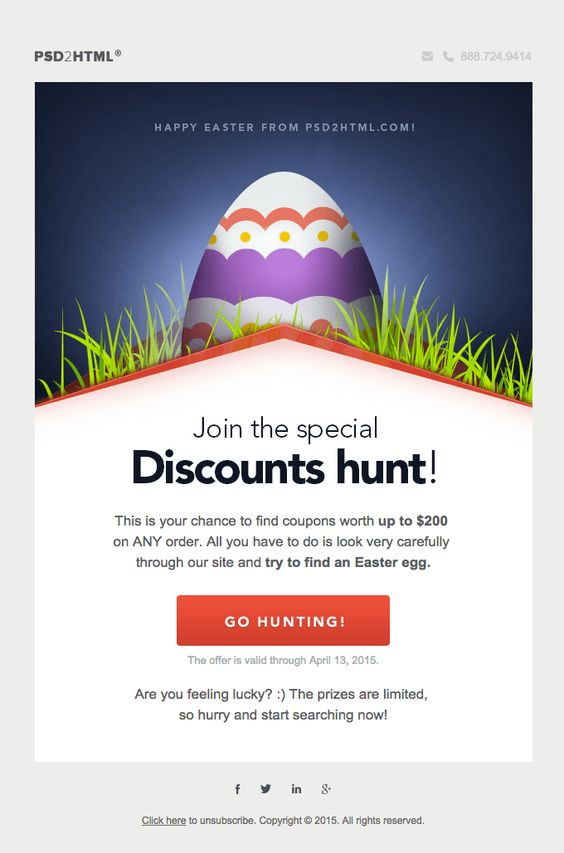 Problems in Measuring CTOR in 2022
It is possible to track the email receivers with 1px by 1px square image that is invisible to open eyes, called 'invisible pixel.' Invisible pixels can track how often an email has been opened, when it has been read, which IP address opened, which devices the receiver used, etc. This program made it easy for marketers to research their potential customers. The genuine concern is that it hampers most email users' privacy.
Apple announced a new mail privacy protection (MPP) for IOS 15.2 or later in June 2021. New MPP will prevent the Invisible Pixel or Spy Pixel from tracking users' data. Whenever the receiver gets an email, the device will automatically preload the mail, including the Invisible Pixel. As a result, the spy pixel won't be able to track the email open rate because all the emails will be tracked as opened. How can you measure the CTOR if you can't get the Unique Open Rate data?
According to Litmus, Apple received almost 52% of all emails in 2021.
That is, you won't be able to get accurate open rate data as Apple MPP spoils it due to user privacy concerns. The bad news is that it is getting more complicated to measure the quality of your email content.
Alternative Ways for Adapting
Litmus Claims that 43% of the marketers are changing the tactics of measuring the email contents' performances, relying on other metrics instead of Open Rate, and 24% remain unchanged.
It means that the time has come to reconsider your email marketing strategy as the CTOR is not completely reliable anymore. But, Apple MPP allows the marketer to measure the click rate.
That is, CTR is more reliable for measuring the effectiveness of your email marketing campaign. But, making a new plan based on Click Rate would be best. The cost-effective email marketing tool, MailBluster, provides click rate data to its users whenever they run email marketing campaigns.