An apology email is one of the standard ways to say sorry to your customer or subscriber without having any negative impact. Mistakes are inherent in human beings, and that's why an apology exists. Marketers might also create misinformation by an error that can lead to consumers inconvenience.
Marketers must accurately understand the customers' pain points, as their solutions are the key to lead generation. Mistakes can increase customer pain instead of decreasing it, leading to valuable customer loss. But, any errors can be solved with the right intention, showing the consumers that you are so sorry for their inconvenience with an apology email. Honestly, apologizing for the mistakes won't affect your brand's reputation. Instead, it will strengthen the understanding between you and the targeted audiences.
What is an apology email?
An apology email (also known as an "oops" email) is a message sent from an email marketer to a customer acknowledging a mistake. Through it, the marketer can also offer some benefits as compensation to the customer. Let's say an error was made by your company that affected the customer's purchase. For instance, a customer ordered a purple color t-shirt on your website, but you delivered a blue one instead. In such a case, you ought to apologize through email immediately. You must own your mistake and offer free home delivery with a change of purple color t-shirt.
Why is an apology email important?
According to the PwC report, 73% of people consider customer service experiences an essential factor in their purchasing decisions. That indicates that most customers are conscious about getting good customer support and after-sales service. So, when any company makes a mistake when selling a product or service, it becomes mandatory to send an apology email to their customer as quickly as possible. Because sending an apology email to your customer is also a part of maintaining good customer service. However, when you send an oops email to your customer, a couple of advantages can be yours, such as:
Sending an apology email can bring clarity to your communications with customers.
Customers will praise you if you take responsibility for the mistakes you make.
It can increase your brand's reputation as it proves that you care about your consumers' pain points.
An apologetic email can help you gain customer testimonials that will motivate you to avoid making more serious errors in the future.
When you send the apology email
Whenever you make any mistake that may affect your customer, you should send it instantly. It is best to inform your customers about the errors before they find them themselves. Also, you should consider sending any rewards while sending the oops email. The rewards can be some discount on the next purchase, free home delivery, an extension of subscription, etc.
Maintaining the time for sending apology emails can make this approach more compelling. But B2B and B2C markets have different perspectives and "best timings" regarding email sending.
For business-to-consumer (B2C) communication, weekends are the ideal time to send an email. The general public or employees will most likely purchase online or offline on weekends. They are also more likely to stay on their phones throughout the weekend. Therefore, those companies targeting the B2C market should email during the weekend.
On the other hand, in business-to-business (B2B) communication, it is wise to avoid sending emails on the weekends. Because most business people spend their weekends with family and friends, they are active throughout the working days. So, if a company handles B2B business, they most likely deal with their customers during working hours. And the chance of making mistakes is also high at that time. Therefore, it would be best to send emails only during work hours. The probability of seeing an email will increase in that time slot. Snov.io Labs analyzed the perfect email-sending time scientifically. According to their research, the optimal period to send emails is from Tuesday through Friday, which is the ideal time for B2B email communication.
How to write an apology email
Remember, you need to convince the customer that you truly regret the mistake your company or you made. So, including a pre-step, there are three critical parts to writing an apology email. They are as follows:
The pre-step: Before you write the apology email, you should thoroughly investigate to discover the source and cause of your mistake. The pre-investigation can help you find out more flaws related to your errors. Moreover, it may significantly reduce the possibility of repetition of the present error.
The three parts of an apology email:
The email subject line: It is strongly recommended that you begin your apologetic email with a sorry message in the subject line. You can start with the "sorry" word to express your regretful thoughts.
The content of the email: Your email body should reflect all your actual apologies. Rather than making excuses for your mistake, you must be truthful and accept your error honestly. You need to explain clearly what the mistake was. After that, you must provide the solution step by step for the unexpected error to your customer. In the end, you should offer some reward to make your customer happy.
The email style and format: You must keep your message tone soft till the end of the email body. Use some elements that surround the apology and fulfill the purpose of the apology message. Start the email conversation by addressing the customer with respect. For example, you may start with "Dear Mr./Mrs. Alex/Alexia." Additionally, end your email with "Respectfully yours" or "Best regards."
The best practices for an apology email
To convince your customer, you should know the art of writing a thoughtful apology email. Here are the three must-follow best practices you should follow while writing an apology email. –
1
Turning Oops into Hurrah!
Providing a solution with the apology email is good. But the best is when you offer something as compensation. Most companies do so, and it is the best practice, undoubtedly. You must turn the "oops" moment into the customer's joy. That means you can offer your customers discounts, coupon codes, free-home delivery facilities, the extension of subscriptions, etc., for a certain period.
Moreover, an apology email template can make a huge difference. When you use a template to convey the apology message, it will become more eye-catching to your customer. You can highlight the apology message and offer rewards in the template.
2
Inform in advance
Informing about any future error or failure is always a clever tactic. This tactic is especially applicable to SaaS companies. A SaaS-based company's main product is software. Any maintenance break, technical break, or system downtime is prevalent in a SaaS-based company. Naturally, this irritates customers a lot if they face it suddenly. Therefore, it is better to inform them about this occurrence by sending an apology note. It will help the user get mentally prepared. But make sure you have included the support team's address to get any feedback from your customers.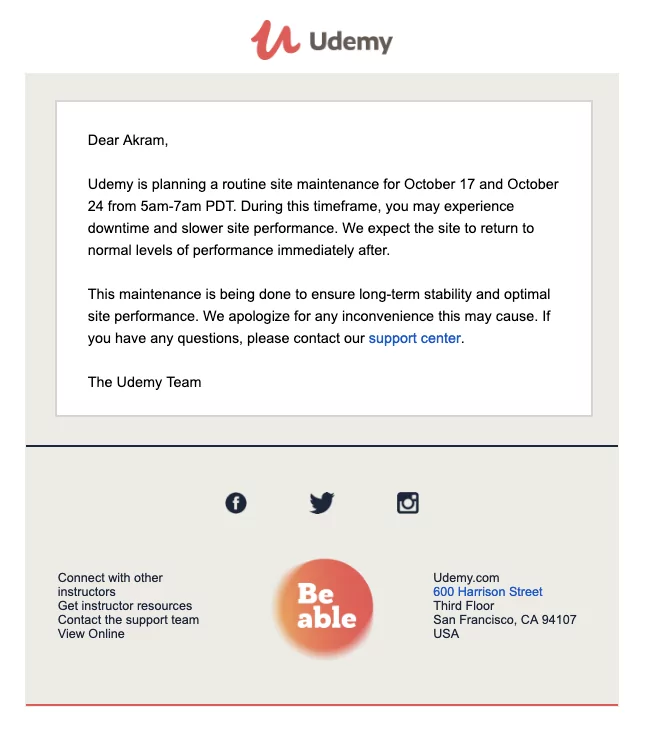 3
Mass apology email
Sometimes a mistake can affect lots of your customers at a time. It may be a human error or a software issue. So, you must prepare to deal with all your customers simultaneously. It is unquestionably challenging to send apology emails individually. Still, if you go for the individual emailing process, it will take a lot of time. But the situation can turn into misery for your company. So, here you will need the support of a good email marketing tool. We at MailBluster provide mass emailing support at a low cost, which can be your best buddy in this situation. You can create your own customized apology email template with our tool and send it to all of your customers quickly.
Final Words
From an email marketer's standpoint, sending an apology email for an oops moment is necessary. But constantly making mistakes is undoubtedly the worst part. Once you have sent an email to your consumer regarding apologizing and making improvements, you must ensure it won't happen again. Failure to lower your mistake rate will harm customer satisfaction. Consider your customer's perspective. None of your customers wish to receive frequent apology emails.
As a result, every company should provide excellent customer service and care for its clients. So when the company sends an apology email, it is good to include feedback options. Feedback options will show how concerned they are about their customers' opinions. Additionally, it also assists the company in determining whether or not the client accepts the apology message. If the customer agrees to get the apology's compensating benefits, they are inclined to take it. If they do not, it indicates that they avoided you.