Resend email campaigns to non-openers – this is one of the best ways to turn your unsuccessful email campaign into a successful one. The resend email approach only applies to unopened emails you have already sent to your customer. You can regain your lost open rate if you resend the email campaign correctly.
However, many email marketers think it is a waste of effort to keep resending an old email campaign to get a second glance from the recipients. But, they should monitor their email campaign list to find out the most important email campaign that failed to accomplish the goal. And should consider resending it by modifying the campaign content.
Sometimes, it is disappointing if your email campaign fails to get the results you hoped for on the first attempt. But keep hope, as you can resend them for the second time by following some strategies. This blog will walk you through the tactics you should consider while resending email campaigns.
Why you should resend email campaigns
Email recipients may often open your email campaigns if there is any benefit. Otherwise, they might ignore them. If you face this, resending emails can give you a second chance to engage with non-opener email recipients. It can significantly increase your email open rates.
Moreover, some email recipients might have opened your email campaign but have yet to go through it or click any destination. So, resending emails of that unsuccessful campaign can also increase the email click-through rate ratio. Also, email marketers can test a failing email campaign when they resend it. The marketer can also learn more specifically about the test and the needs of non-openers from the results of the second attempt.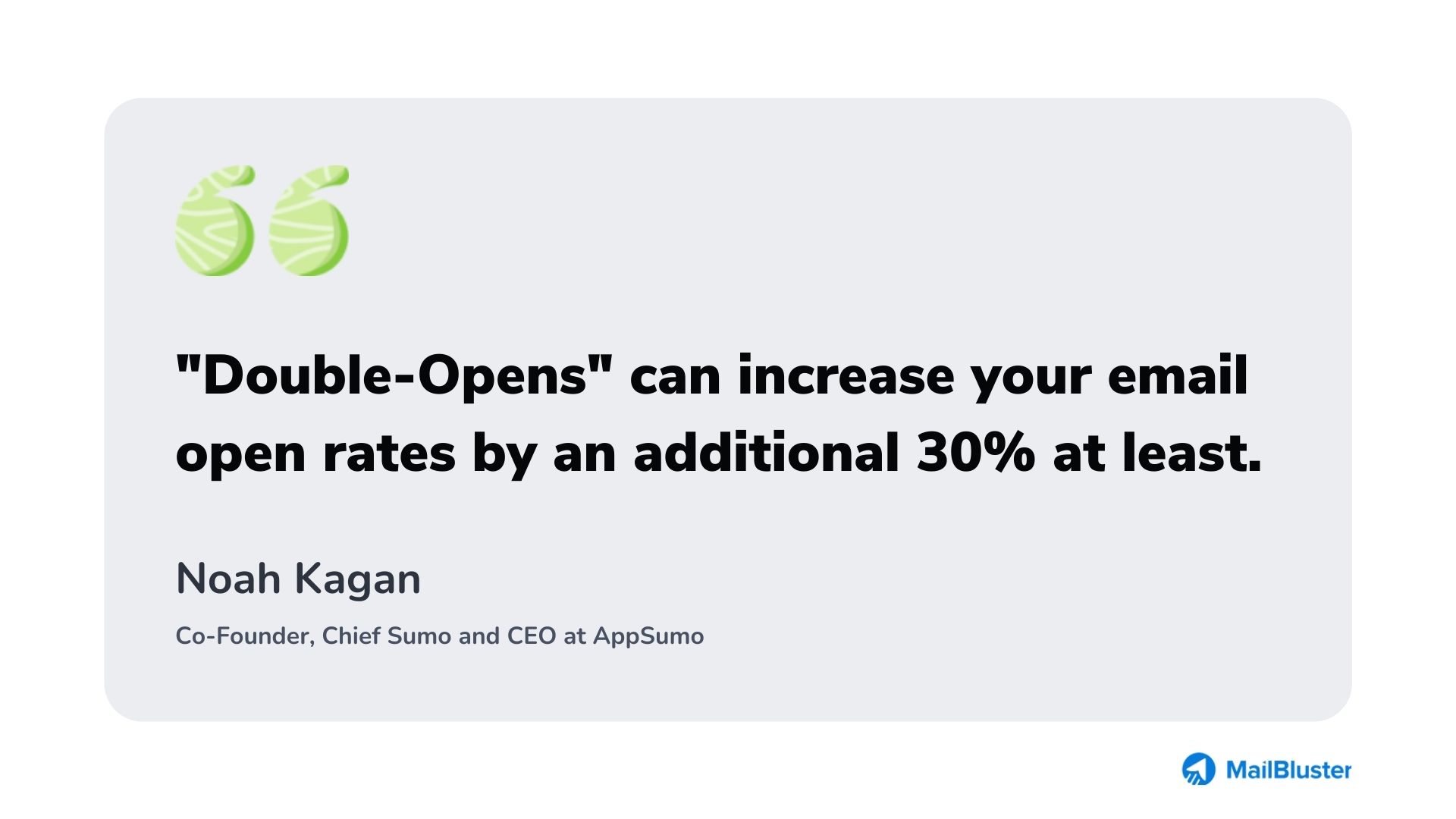 Noah Kagan is a famous entrepreneur who coined the phrase "double opens." According to his study, more than 50% of people might not open an email campaign. So, he suggests resending the email campaign with a better subject line that remains unopened. It can increase open rates by 30%.
When should you resend an email campaign?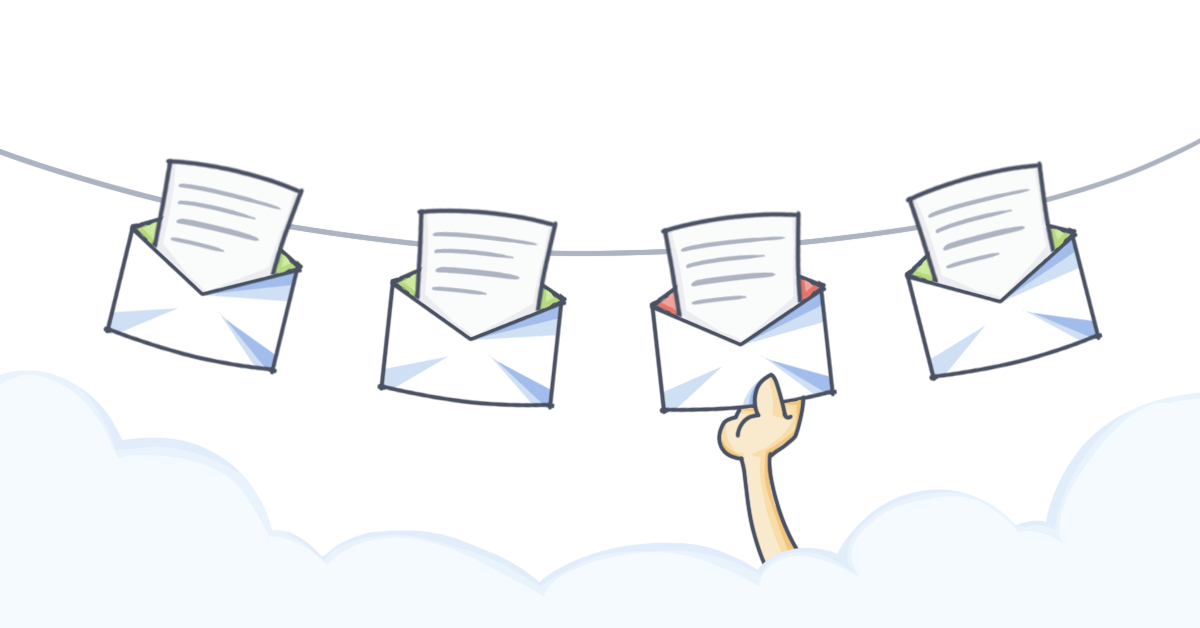 There is a significant negative impact of resending an email campaign without strategic planning. If you resend your email campaign without finding the right time, it may backfire on you. In the worst scenario, the email receiver might report you for spamming. So, before sending an email campaign for the second time, consider the following points:
Take your time with resending email campaigns
You must ensure that your email receiver has enough time to open your email. Then, after spending some days, you can resend your email campaign. Rinagil Isanan (email marketing strategist) suggests not resending an email campaign within 24 hours. She recommends waiting two days to one week before resending an email campaign. Therefore, you should resend your email campaign within one week. Otherwise, your campaign may become very old regarding trends, time, or scenarios.
Only resend the most crucial email campaign
It is recommended to resend email campaigns that won't get clicked by your subscribers mainly. You may feel all the unopened emails are essential. Yes, it is from your end, not your subscribers. So always think from your subscriber's perspective and choose only the necessary campaigns to create value for your customers. You may also run a hypothesis analysis on your previous successful email campaigns. Thus, you can get an idea of what email subject line or content triggered your customers the most. It will help you to choose and resend the essential old email campaigns.
Filter your email recipient list wisely
Hopefully, you already understood the time, condition and old campaign picking guidelines for resending email campaigns. In terms of resending email campaigns, you can only resend to some of your selected email recipients. Remember, your first try did not work well. So in the second attempt, you have to plan and take the resending step wisely. For example, instead of resending only to those email recipients who did not open, filter them and resend the campaign to those who did not open and click.
Pro Tip: MailBluster suggests counting email clicks rather than how many emails have been opened.
Best practices for resending email campaigns
The best practices are to go along with the fundamental strategies. If you follow, you can pull off the best results from your resending email campaigns without losing your subscribers. Here are the three best practices that you must consider. –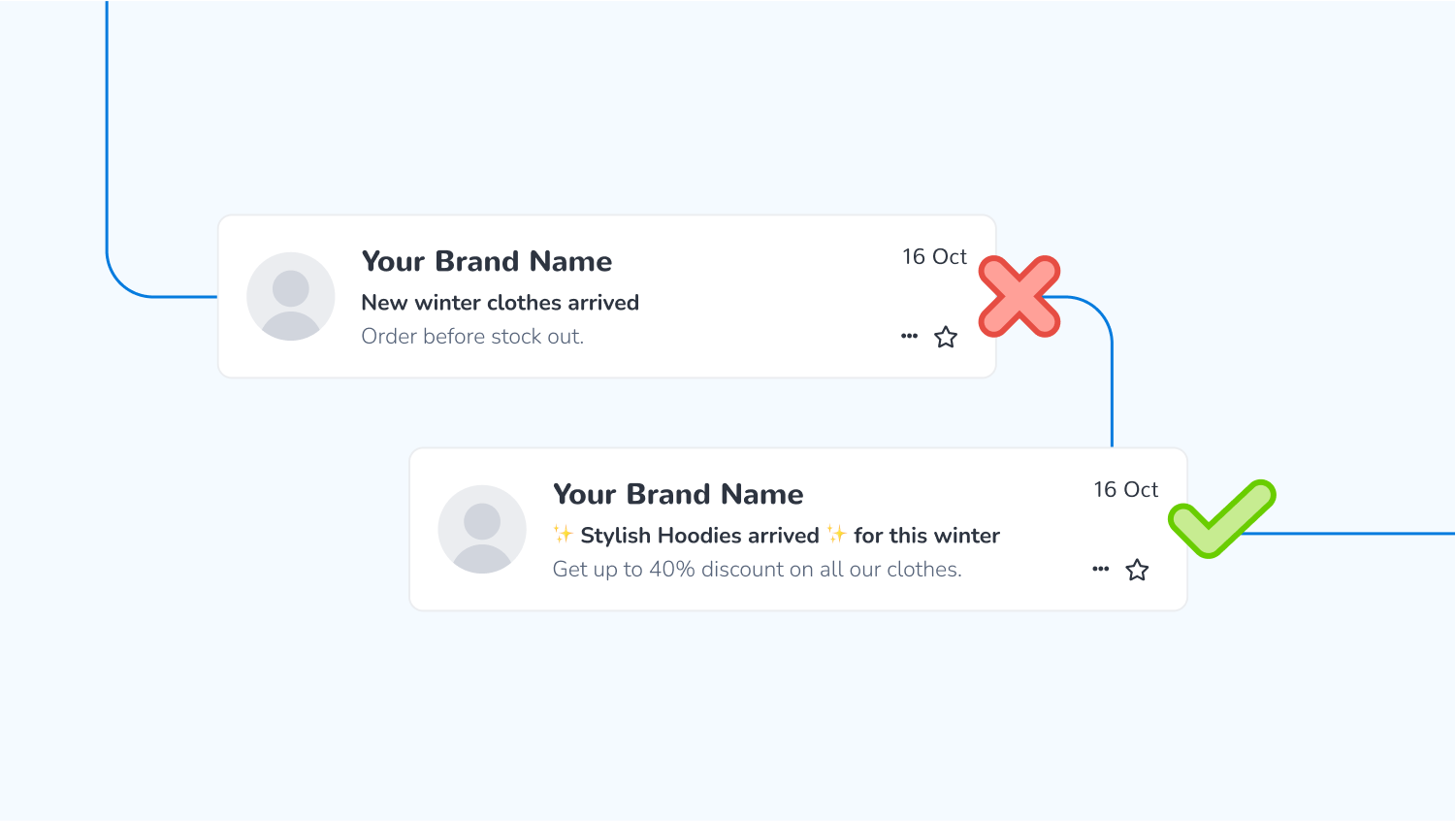 1
Modify your subject line and preheader text
Changing the email's subject line while resending an email campaign is mandatory. The email subject line is the first item in the recipient's inbox. There is a high chance your non-opener email receiver might see your old email subject line without opening it. Therefore, reusing the previous subject line for your new resending email campaign is a wrong decision. If you do so, your email recipient will ignore them and report your email for spamming. So, you must modify and update your old email's subject line to be more precise to deliver the core message of your resend email campaign. Apart from changing the subject line, using an engaging email preheader text can boost your resending email approach. Remember, a preheader text can secretly increase your email marketing effort.
Moreover, while updating your email subject line and preheader text, highlight your offer in them. Otherwise, your email campaign could get a low open rate. Email marketers make mistakes here and place all the email campaign's benefits inside of the email. You have to put it in the email body or email template. But remember that many recipients look at the subject or preheader content before opening an email. Therefore, you must attract them with the email subject line and preheader text so they can open it instantly to see the offer's details.
Pro tip: You can use relevant emojis to make your resending email subject line or preheader text more eye-catching. At the same time, be careful of overusing it.
2
Give your old email template a fresh makeover
After altering your email subject line and preheader text, your resending process still needs some touch-ups. You already used an email template for your old email campaign, and the email campaign did not work for any reason. And you are planning to resend it. At this point, you must re-design your template and outline of your email campaign. You may think most email recipients still need to open your resending campaign. Then why not use the old email template? But remember that it is wise to resend the email campaign to recipients who did not click but opened it. They might have seen your old email template too. Moreover, as you are updating your email subject line and preheader text. You must update your email template, including the newly modified email message.
3
Only resend your campaign once
Many email marketers mistakenly believe that resending an email campaign more than once will be effective, whereas it is the best practice to resend it just once. Assuming you plan to modify your email campaign elements to repeat the resending process from time to time. Since the actual message of your original email campaign will remain the same, it becomes annoying for the receiver. So if your email recipients do not open resent email campaign for the second time, it indicates that they are not interested in the offer and won't respond the third time.
How to resend an email campaign by MailBluster
You have probably understood the necessity of using this resend email campaign approach. With the help of MailBluster, you can easily resend your bulk email campaign. As mentioned earlier, filtering your recipient's list before resending your email campaign is recommended. So, using MailBluster, you can create a new segment with the help of a great feature called Standard Segment. After that, you can filter recipients of your old campaign by setting multiple conditions.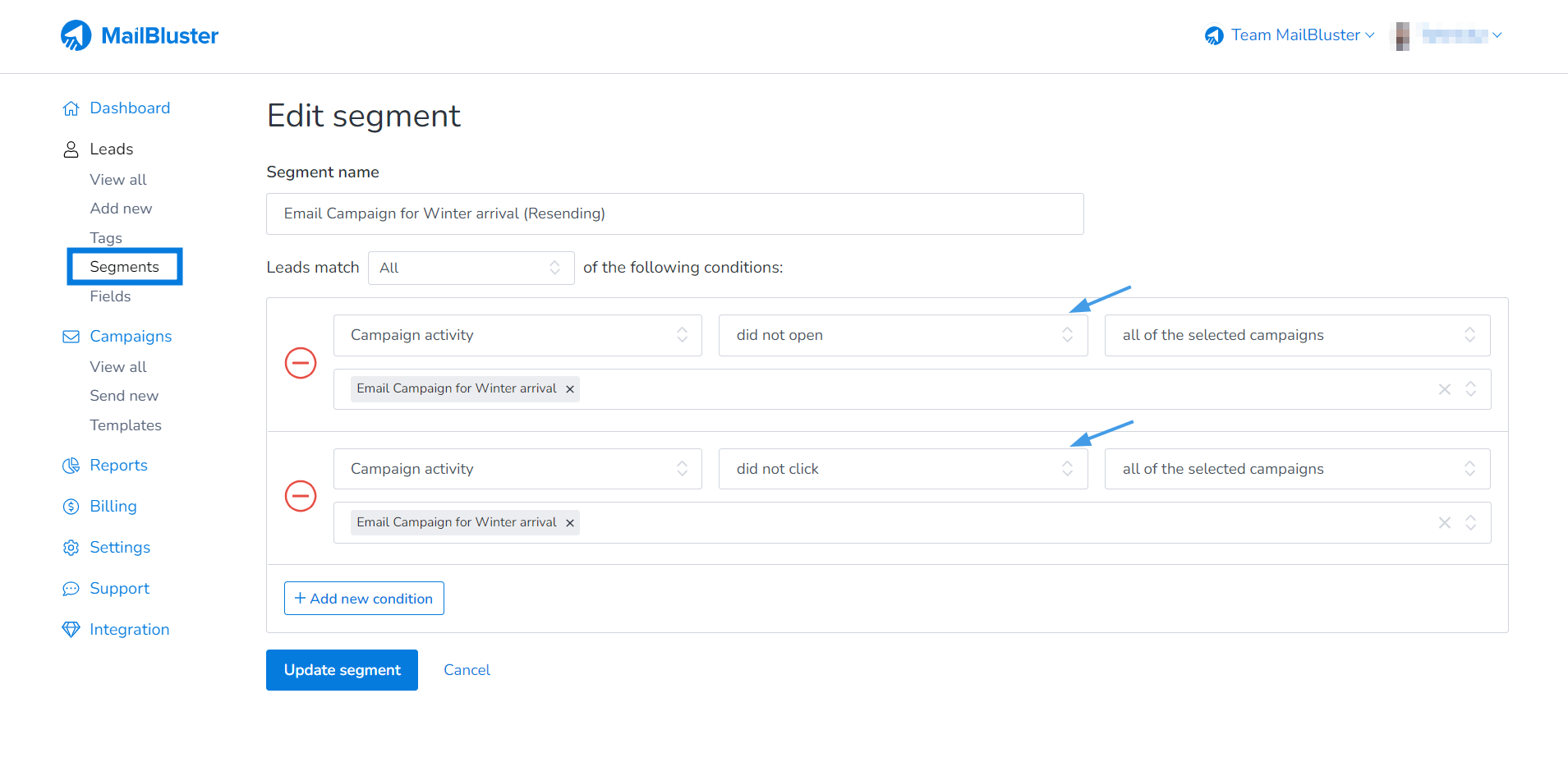 Note: You can implement multiple conditions with MailBluster's segments feature. For example, in the above picture, 'two different conditions were selected' to filter the recipients of the old email campaign – "who did not open the email" and "who did not click the email."
After filtering your recipients' list, you need to duplicate a copy of your old email campaign that has already been sent. MailBluster provides the option to "duplicate the email campaign" instead of resending it directly because it will help you thoroughly compare the results of the old campaign with the new one.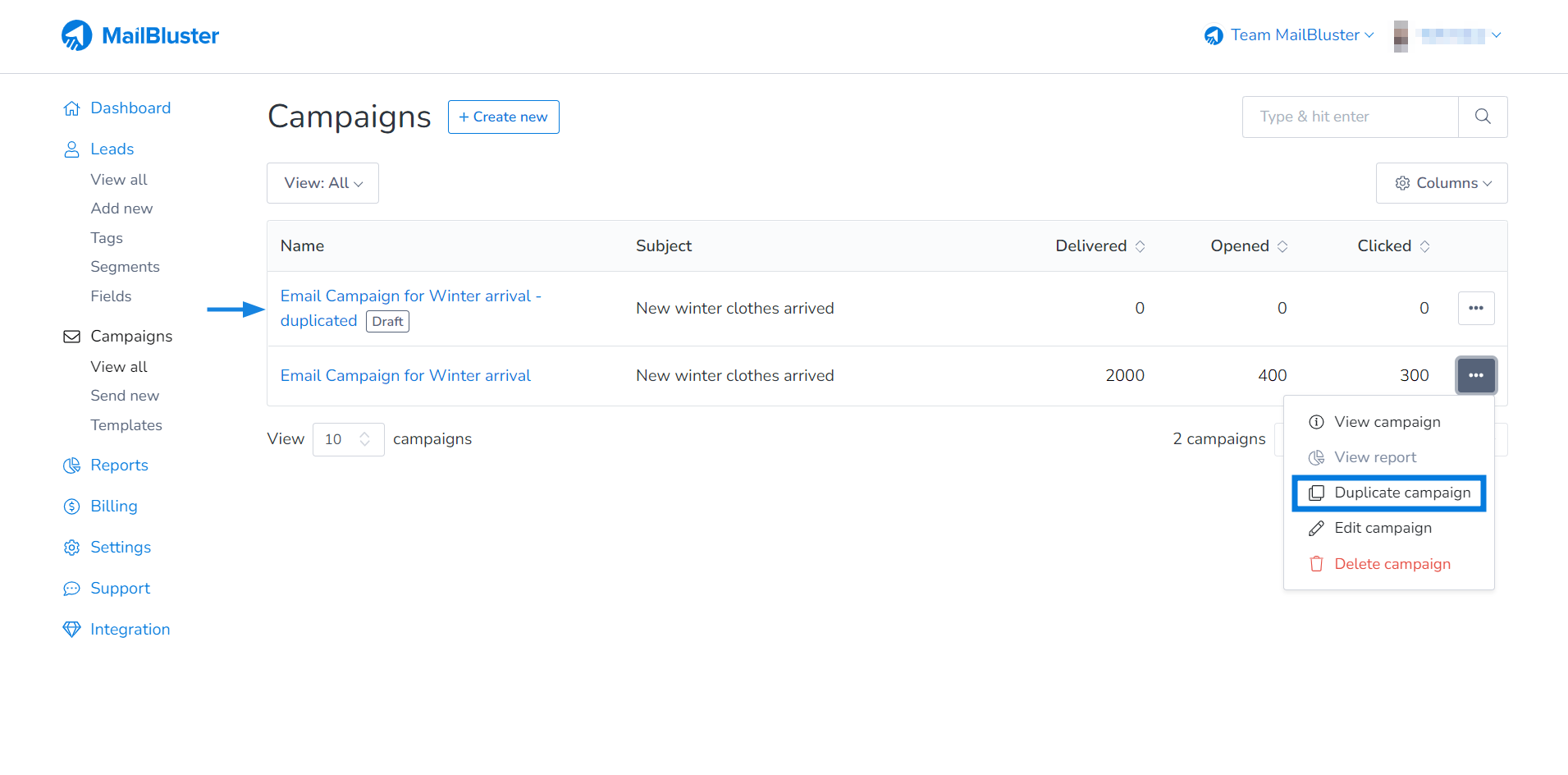 The above picture shows how you can make a duplicate copy of your old campaign. If you notice carefully, you can see the old campaign (Email Campaign for Winter arrival) delivered to 2000 people successfully. But the email campaign was opened by only 20% of the recipients and clicked by only 15%. The ratio is tremendously low according to the total delivered. Suppose any marketers face this situation and realize that the campaign is vital to reaching the audience. Then they may go for the resending email campaign approach with duplication of the old email campaign.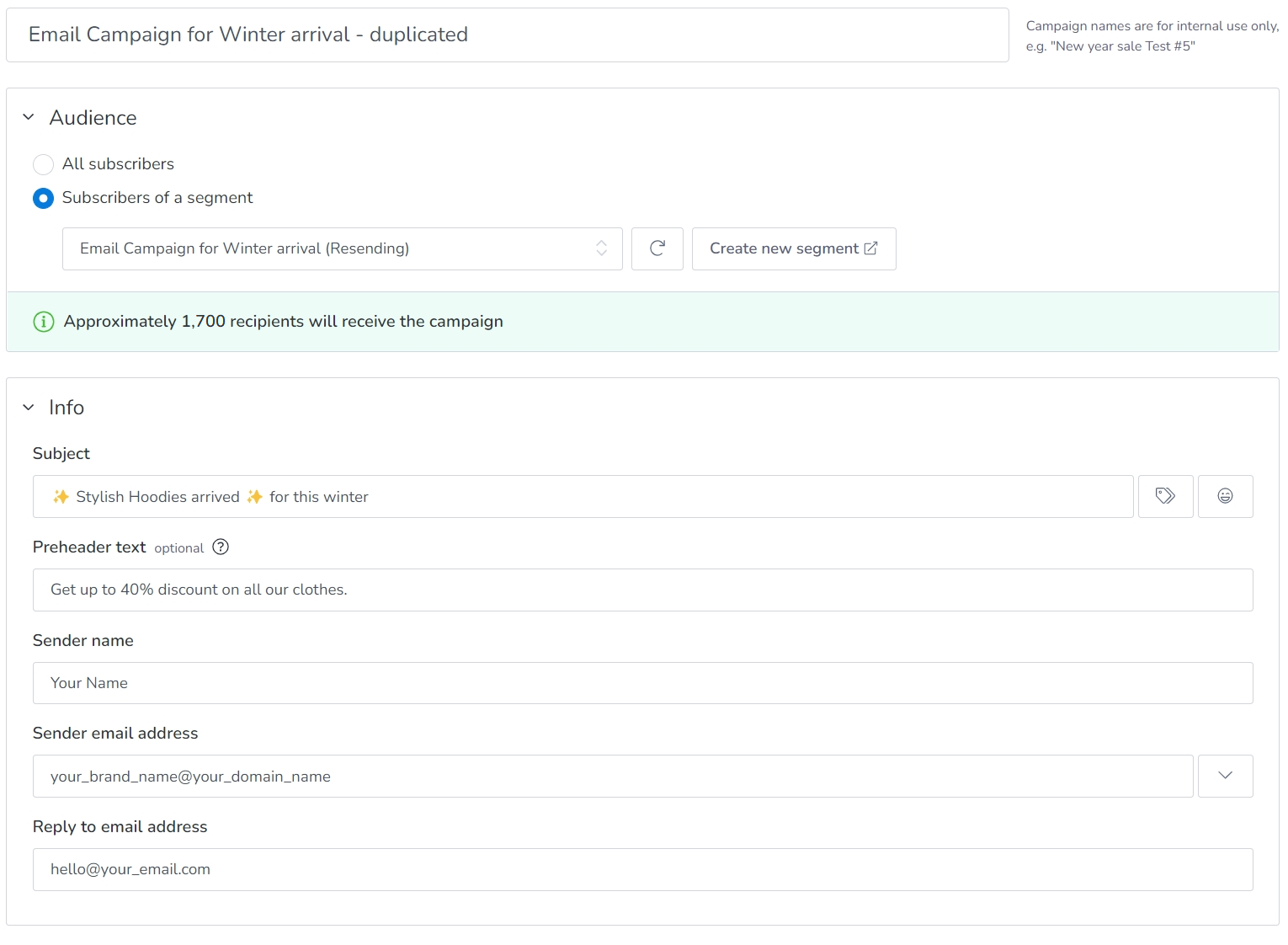 In the final stage, you can edit the email campaign that you duplicated utterly. For example, 1700 recipients are selected with a deduction of 300 who have already engaged successfully with the old email campaign. And the 1700 recipients were segmented through the Standard Segment of MailBluster at the beginning of the process. Moreover, here the subject and preheader text have been modified. It becomes more specific and lucrative. Thus you may change your old email template using the Drag and drop editor of MailBluster.
Conclusion
The resending email campaign approach will only be successful if you change your entire email content before sending it. Then it can increase your engagement massively and boost your overall open rate. But remember that you should only rely on resending emails sometimes, as it is not a sustainable approach. Yes, it is the best option to re-engage with your potential customers. But the ratio of resending your email campaign should be moderate.
Moreover, sending an email campaign a second time is not just to increase open rates; it also helps you to understand your target audience's test and preferences. You can learn from your resending email campaigns which modified element or strategy triggered your customer to open it for the second time. It will help you to increase the success rate of your future email campaigns on the first attempt.