Email marketing is one of the most effective ways to reach your target audience and promote your products or services. It allows you to send personalized messages to your subscribers at scale.
Halloween is a great time to do it if you're looking to invest in an email marketing tool, as the purchasing season starts with this.
According to Statista, total customer spending in the USA during Halloween 2023 will be $12.2 billion.
Submit your deal to our contact page.
Best Halloween Deals and Discounts for Email Tools, Themes, and Plugins
MailBluster
MailBluster is here to help you create and send Halloween email marketing campaigns that are both spooky and effective. Halloween is the perfect time to let your creativity run wild and send your subscribers terrifying emails. On the other hand, MailBluster is the cheapest email marketing tool ever to send bulk emails, which only costs $0.2 per 1,000 emails.
No matter what type of Halloween email marketing campaign you choose, MailBluster can help you quickly create and send it at the cheapest cost!
Our drag-and-drop email editor makes it easy to create beautiful and engaging emails, even if you have no coding experience. Besides, our powerful email marketing features allow you to target your emails to the right people, track your results, and more.
So what are you waiting for? Start planning your Halloween email marketing campaigns with MailBluster today!
Discount code: SPOOKY23
Discount offer: 30%
Valid date: October 25 – November 02, 2023
Deal URL: MailBluster
ThemeWagon

ThemeWagon is offering a Halloween discount of 20% on all products from October 25 to November 02, 2023. To redeem the discount, use the code HALLOWEEN20 at checkout.
It is an excellent opportunity to stock up on your favorite ThemeWagon products, HTML & Bootstrap templates. With the discount, you can save significant money on your next purchase.
Discount code: HALLOWEEN20
Discount offer: 20%
Valid date: October 25 – November 02, 2023
Deal URL: ThemeWagon
SKT Themes
Are you ready to give your website a spooky makeover this Halloween? We've got a special treat for you! For a limited time, enjoy a spine-tingling 50% discount on our premium Halloween WordPress themes. SKT Themes is a major WordPress themes retailer that operates the website sktthemes.org. As of today, we have no active coupons with an average discount of 50% off.
We offer the All Themes lifetime package which content 365+ best beautiful WordPress themes only for $199.
Discount code: Not Required
Discount offer: Flat 50% off on Lifetime and All Themes Bundle
Valid date: October 25 – November 05, 2023
Deal URL: sktthemes
WP Adminify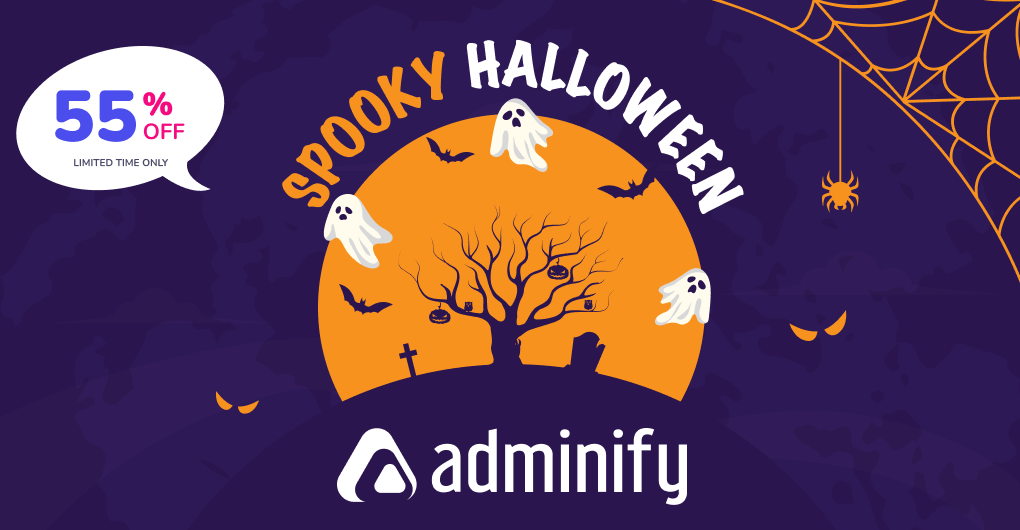 WP Adminify is the ultimate solution for WordPress users who are seeking a highly customizable WordPress Dashboard experience. With its exceptional range of modules and features, this plugin helps you to take your Dashboard to a new height.
Feel free to enable or disable any Module that seems less important to you in the WP Adminify Plugin. It not only ensures top-notch design standards but also enhances the interactivity of your Admin Panel.
The plugin is not only affordable but also offers a free version for users. Moreover, it boasts a large number of active installations, indicating its popularity and widespread usage.
Discount code: Auto Applied
Discount offer: Up to 55%
Valid date: October 25 – November 02, 2023
Deal URL: wpadminify
Master Addons
Master Addons is a powerful plugin that can enhance the functionality and look of web pages with the help of the Elementor page builder. It comes with 70+ of advanced features, extensions, widgets, and elements to provide users with everything they need to make webpages incredibly animated and productive. The plugin is popular around the world and has a huge number of active users.
The plugin provides optimal comfort to users when embellishing pages for dynamic websites. It offers both free and premium versions. It has the ability to open up huge possibilities for website customization.
Discount code: SPOOKY60
Discount offer: 60%
Valid date: October 25 – November 02, 2023
Deal URL: master-addons
HashThemes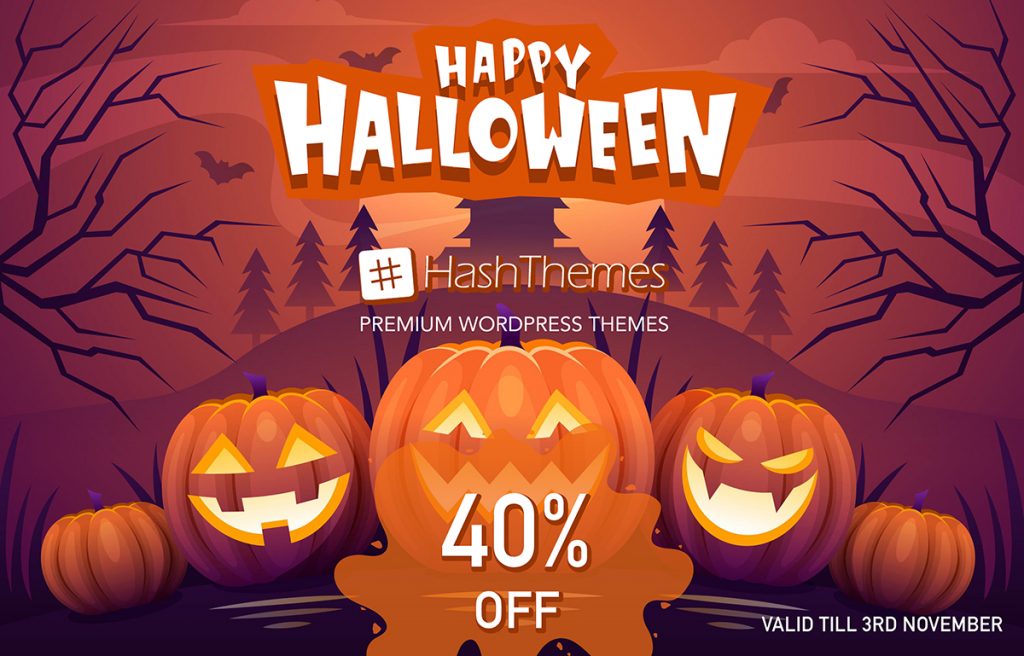 At HashThemes, you can find a variety of WordPress themes and plugins, some for free and some premium. They make sure to stay updated with the latest web development trends to provide you with stylish and user-friendly designs. This makes it effortless for you to create the website you've been imagining.
Some of the popular WordPress themes created by HashThemes are: Total, Square Plus, and Viral Pro.
This Halloween, they are offering a discount of 40% on all their premium WordPress themes.
Discount code: Halloween2023
Discount offer: 40% of All Premium WordPress Themes
Valid date: October 15 – November 03, 2023
Deal URL: HashThems
Next3 Offload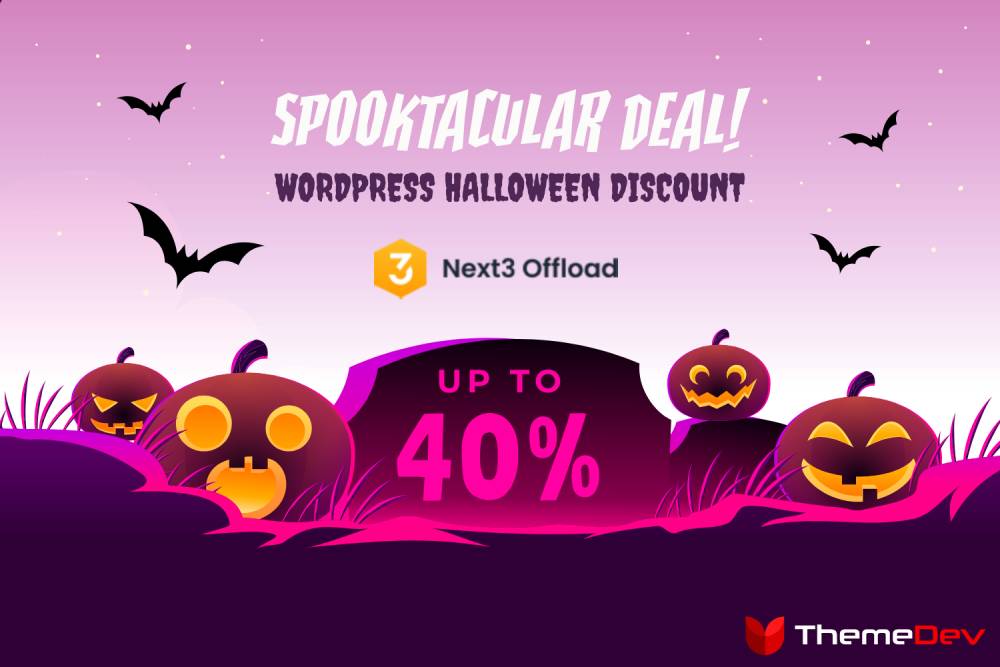 Next3 Offload is a user-friendly WordPress speed optimization plugin. It automatically Offload WordPress media library files to Cloud (Amazon S3, DigitalOcean Spaces, Bunny CDN, Wasabi Cloud). It automatically rewrites Media URLs.

Are slow loading times haunting your website's performance this Halloween season? Don't let your visitors be spooked away! Get into the spirit of a faster, more efficient website with our exclusive Halloween offer for the Next3 Offload Speed Optimization Plugin.
Discount code: HALL23
Discount offer: Up to 40% OFF
Valid date: October 25 – November 03, 2023
Deal URL: Next3 Offload
WPFunnels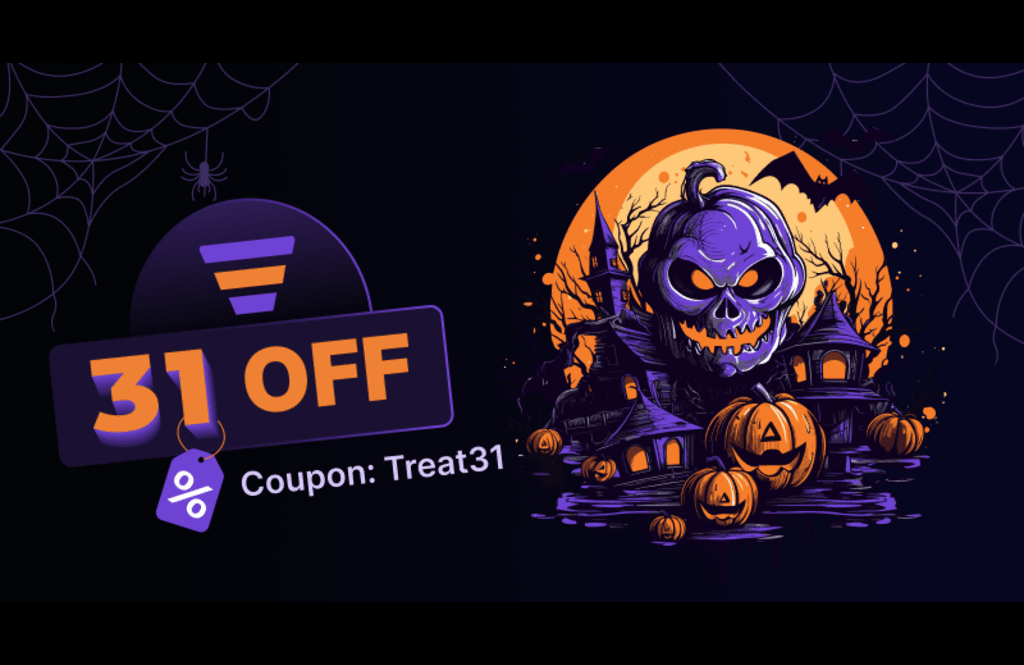 WPFunnels is the easiest sales funnel builder for WordPress which allows you to create a highly-converting sales funnel in less than 15 minutes.
Get a head-start on your Halloween campaign with a dynamic sales funnel promoting the right offer to the right audience.
With WPFunnels, you get ready-made templates that suit your needs. You can plan your customer's journey effortlessly using an intuitive drag-and-drop visual canvas. And see your funnel come to life as you design it.
WP Funnels seamlessly integrates with popular page builders like Elementor, Divi, Gutenberg, and Oxygen. Enjoy the flexibility of your preferred page builder while crafting your funnels.
Plus, you can maximize your revenue with relevant order bumps, dynamic upsell, and down-sell offers.
Get a flat 31% discount on all WPFunnels plans.
Try it now and experience the difference in your conversions and revenue.
Discount code: Auto-applied
Discount offer: 31%
Valid date: October 30 – November 03, 2023
Deal URL: WPFunnels
iThemeland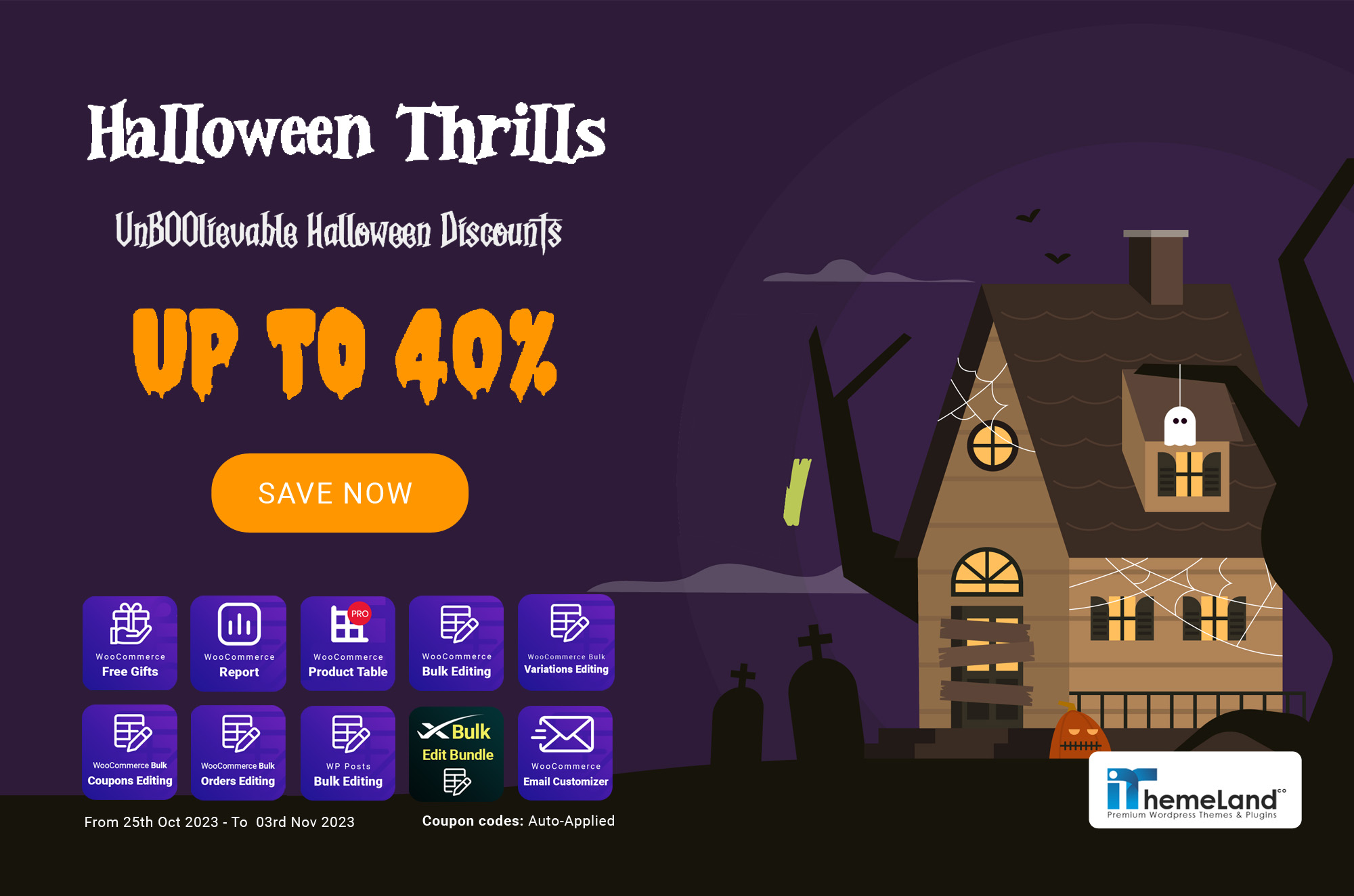 iThemeland is an international WordPress and WooCommerce plugin development agency. This Halloween enjoy massive discounts of up to 40% on all premium plugins from iThemeland.
Discount code: Auto-applied
Discount offer: Up to 40% discount on all plugins
Valid date: October 25 – November 03, 2023
Deal URL: iThemeland
Conclusion
Halloween isn't merely a holiday; it's also a great opportunity for businesses to engage with their customer, promote their products, and build a strong presence in the market. Businesses may stand out in the competitive market by leveraging the creativity connected with Halloween, creating captivating marketing campaigns, and offering appealing deals.
So, start your shopping now, take advantage of great offers, and enjoy a cheap, scary Halloween season! We wish everyone a very enjoyable and spine-tingling Halloween.