That's where Halloween email marketing comes in. It's like mixing a potion to brew captivating campaigns that engage your audience and boost sales. In this blog, let's see how to work Halloween magic into your email marketing strategy with great examples, making it a treat for your subscribers!
Let's dive into the enchanting world of Halloween email marketing.
Why Halloween Email Marketing?
Halloween email marketing is taking the marketing world by storm as more and more folks gear up to join in the spooky fun and make their Halloween purchases. The statistics below reveal that a whopping 73% of people in the USA are all set to dive into Halloween 2023, which is soaring higher and higher.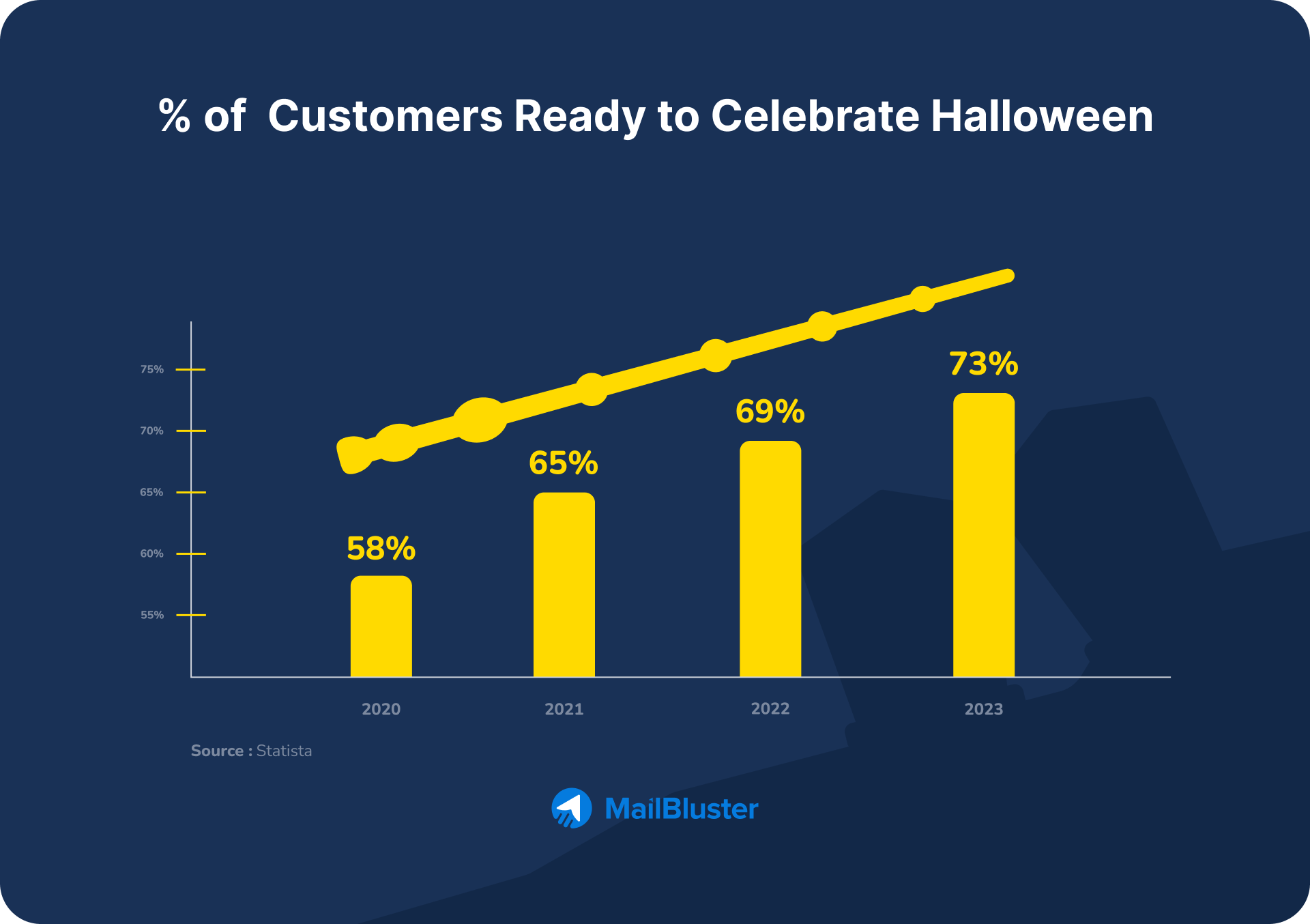 In 2022, Halloween had wallets opening wide across the USA, with a total expenditure of $10.6 billion. And in 2023, Halloween spending is about $12.2 billion!
Another Halloween statistics reveals that the average spending per customer in the USA in 2023 is a whopping $108. This figure is noticeably higher than in previous years, showcasing a significant surge in Halloween enthusiasm and spending.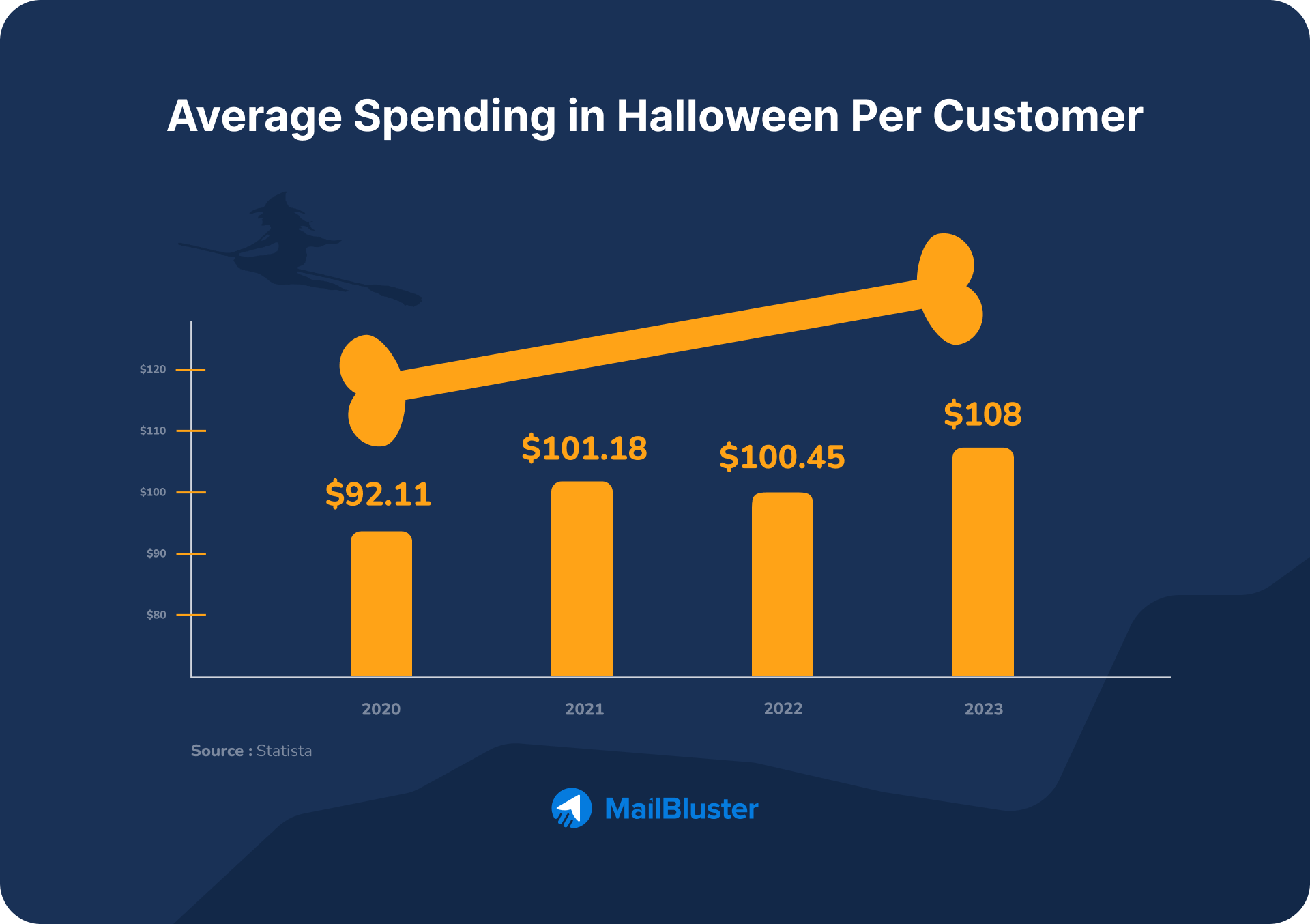 These numbers make it crystal clear: Marketers can really boost their chances of success on Halloween 2023 by crafting a top-notch email marketing plan.
How to Plan a Halloween Email Marketing Strategy?
You can plan the Halloween Email Marketing Strategy in three steps, as shown below.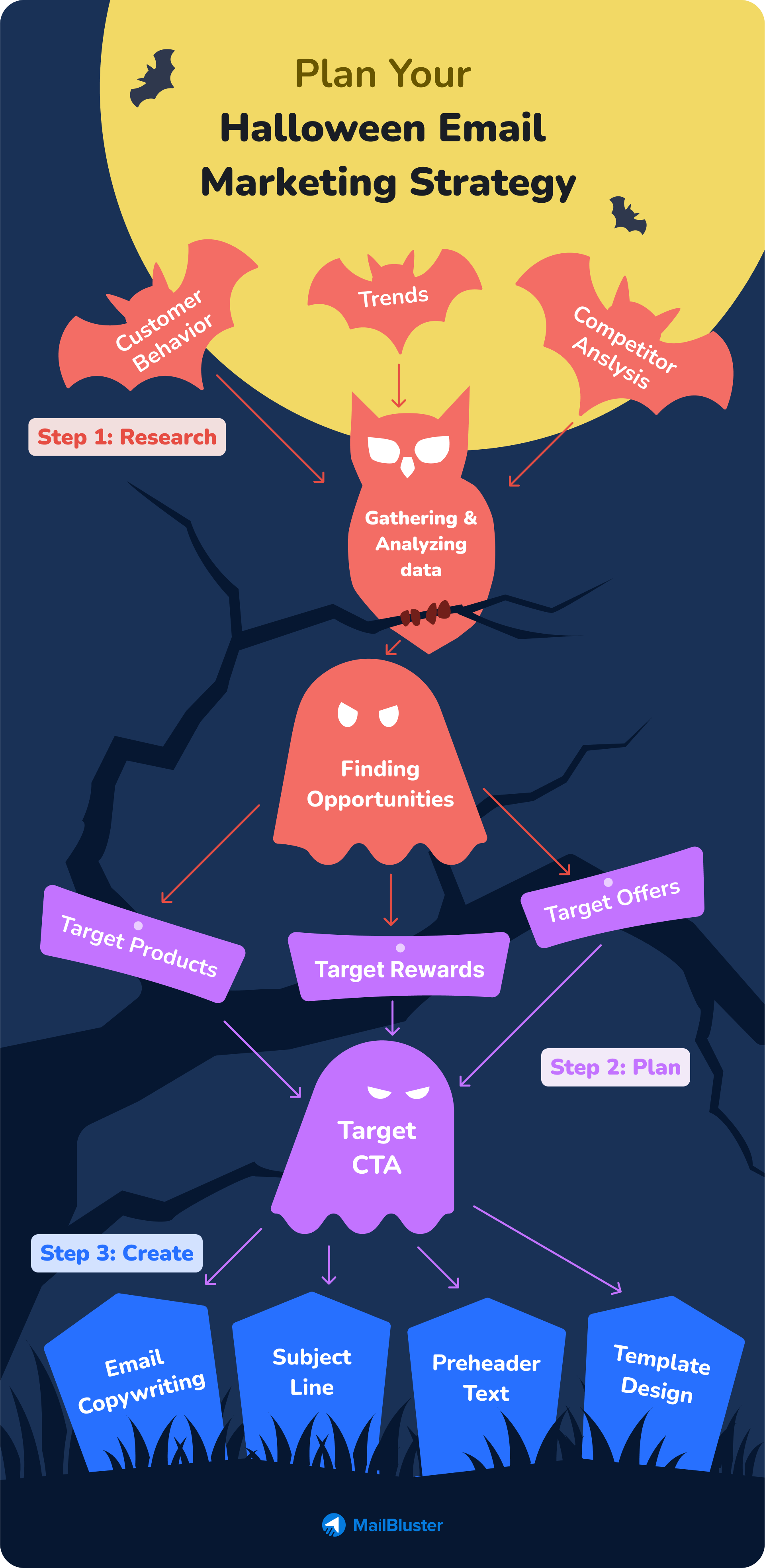 Step 1: Research
In the initial step of your Halloween email marketing strategy, you should focus on three key factors:
Learn about your audience's actions
Keep an eye on trends
Study your competitors
Understanding these three is crucial because it helps you discover opportunities for boosting your business conversions in your chosen target areas. Once you gather vital data from these three elements, arrange and analyze them to shape your Halloween campaign effectively with a perfect sales funnel.
Step 2: Plan
Once you've figured out your target audience's preferences, the current trends influencing them, and your competitors' strategies to engage the audience, you'll know what to include in your Halloween email templates.
In this phase, list your target areas using the collected data. Decide what offers to include, such as discounts or freebies, determine what rewards your customers should receive, and choose the best products to feature in your templates. The more you are sure about your target areas, the more engaging your CTA (call-to-action) will be.
Step 3: Create
Now, craft compelling email content using the insights you've gained from previous steps. Break down your email content creation process into four parts:
Write Halloween email subject lines
Compose Halloween email preheader text
Create the email body copy
Visualize Halloween email designs
Ensure that all four parts align with your central theme. In other words, ensure they convey your Halloween emails' central concept altogether.
You can effortlessly create your Halloween email templates with MailBluster's drag-and-drop editor.
Examples of Halloween Email Templates
Here are eleven types of Halloween emails with 30+ examples to help you gain a better understanding.
1
Different Ways to Say Happy Halloween
Let's look at the first example of a Happy Halloween Email. This one doesn't even have any CTA to convert their audience.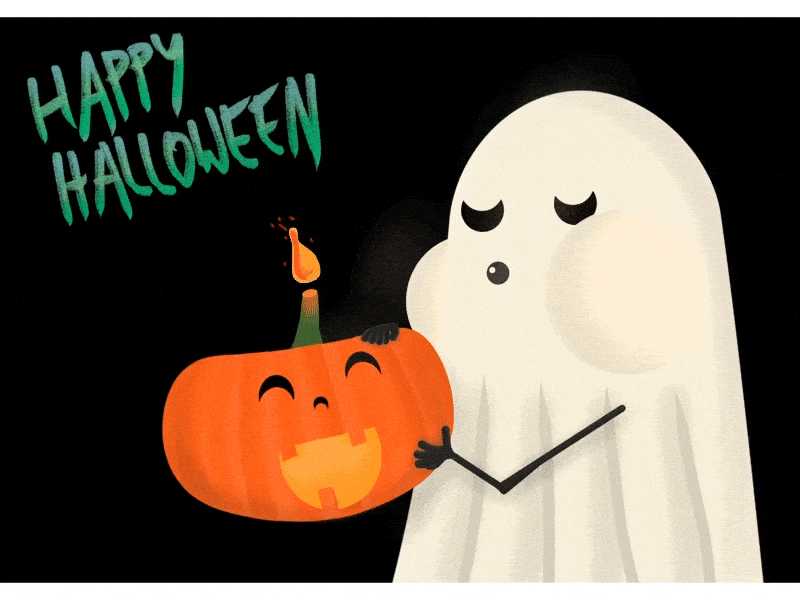 This template gets people interested instead of asking them to do something right away. After grabbing their attention, there will always be a chance to get them to take action with further emails.
Here's another Happy Halloween Email to kickstart your fall email marketing.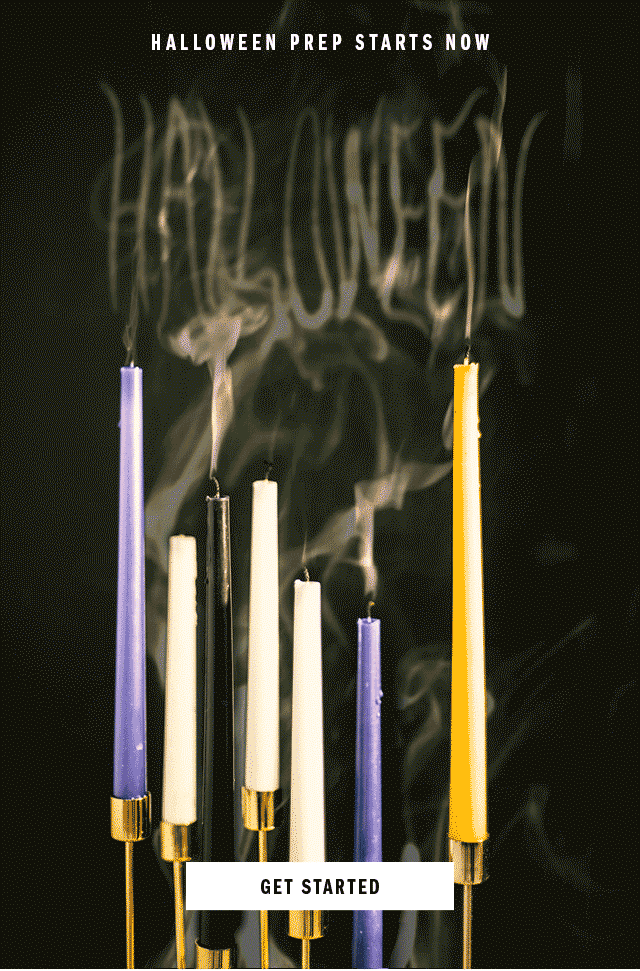 This one has a "Call to Action" with a countdown to engage the audience they're targeting.
You can find more ideas for your brand by looking at another Halloween countdown email with a spooky vibe.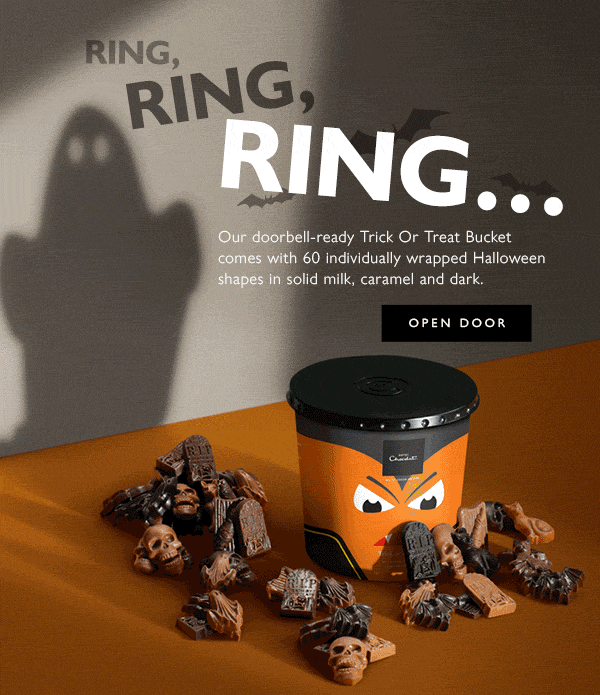 Regarding Happy Halloween Emails, making a solid first impression during this festival is essential. The first impression is crucial for gaining your audience's trust, and that only takes about 7 seconds.
2
Halloween Interactive Emails
Interactive emails engage customers, enhancing the marketing experience through gamification.
In this example, recipients can playfully interact with spinning offers, fostering curiosity, participation, and stronger brand connections.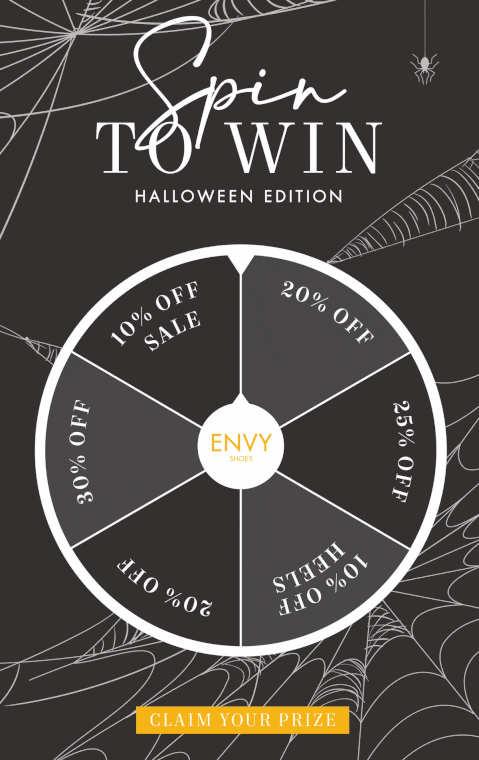 Explore another engaging Halloween newsletter with a gamified experience.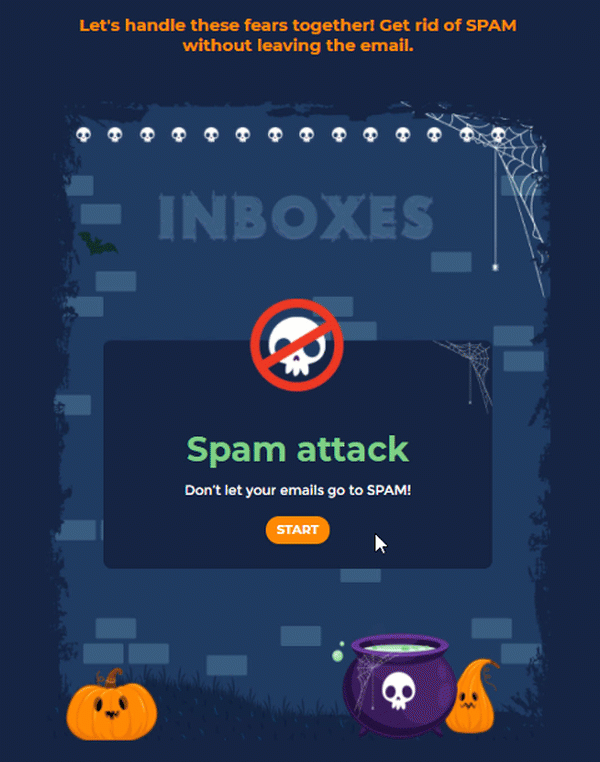 3
Discount on Halloween Sale Email
Discount offers during Halloween serve as a powerful incentive for purchases. Shoppers perceive them as excellent deals, which stirs a sense of savings and urgency, compelling them to convert and seize the limited-time opportunity.
Look at the template below, where Framebridge used a photo with a Halloween vibe to catch the audience's attention, aligning with trends, and then engaged the CTA with discount offers.

Here is another example, focusing on a craved pumpkin as the symbol of the Halloween festival.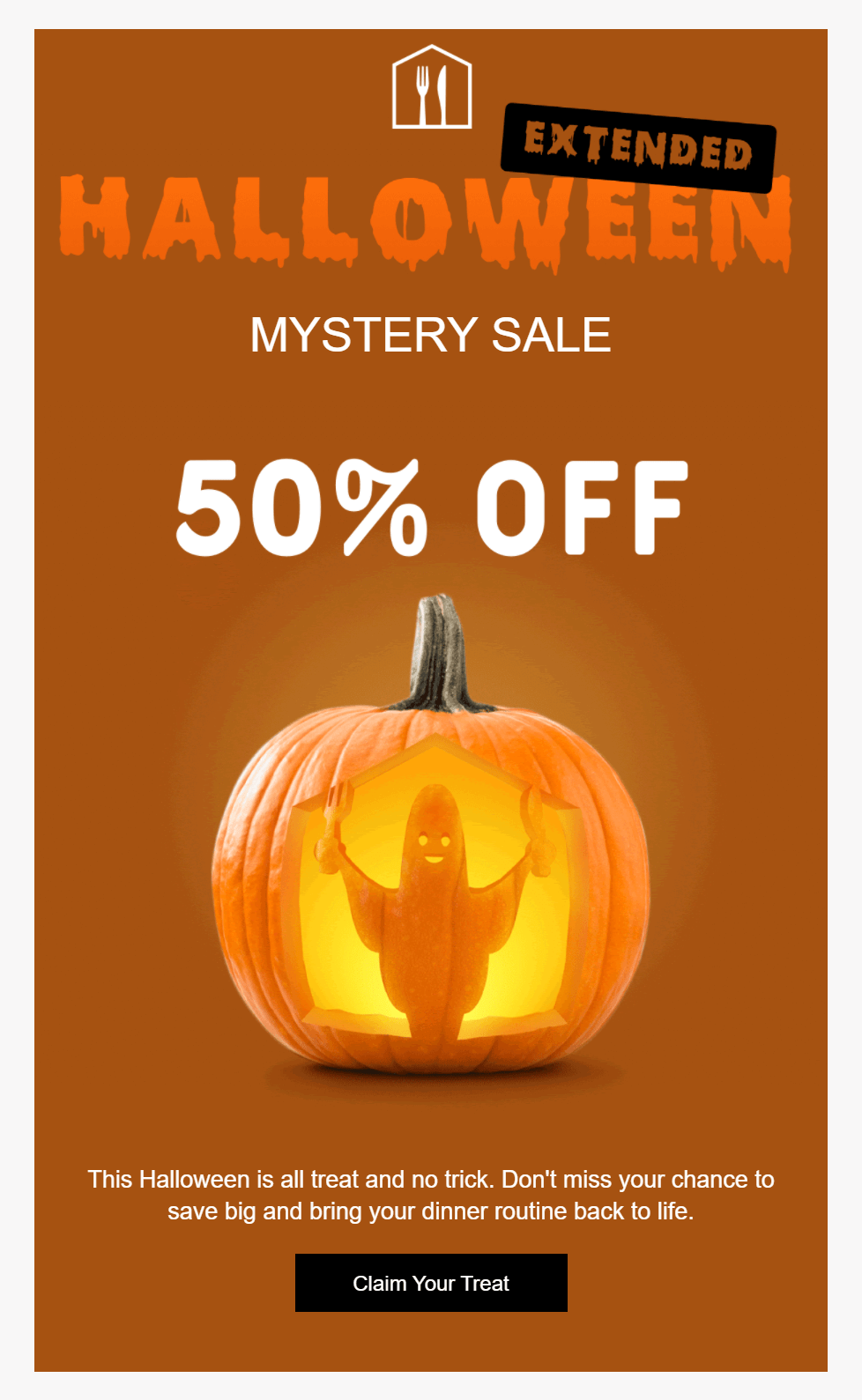 The below Happy Halloween template also offers a discount, making the first impression more engaging.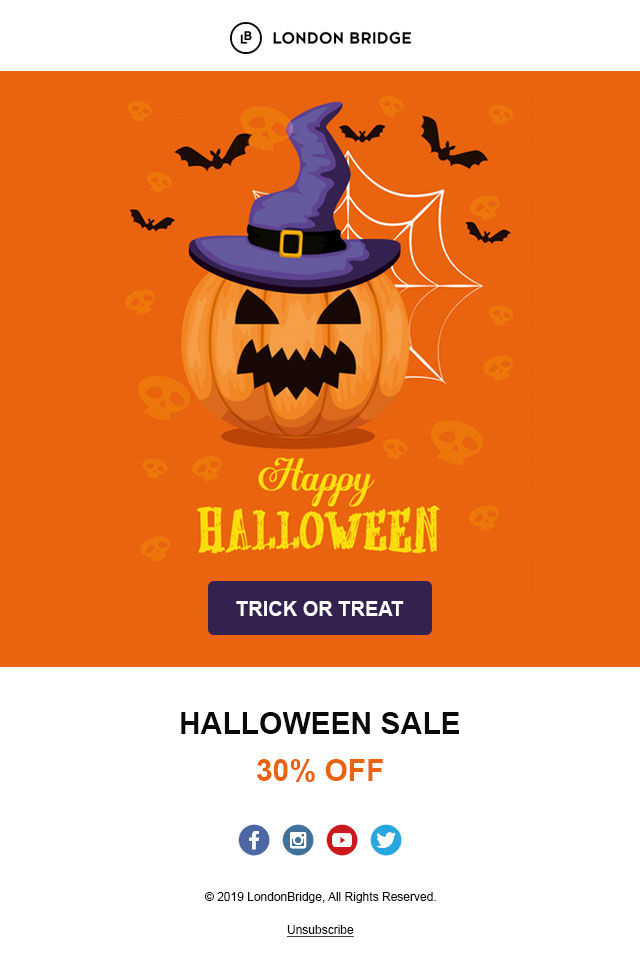 And this one is more Halloween-themed, as JackThreads used bones to form the typography, making it spooky.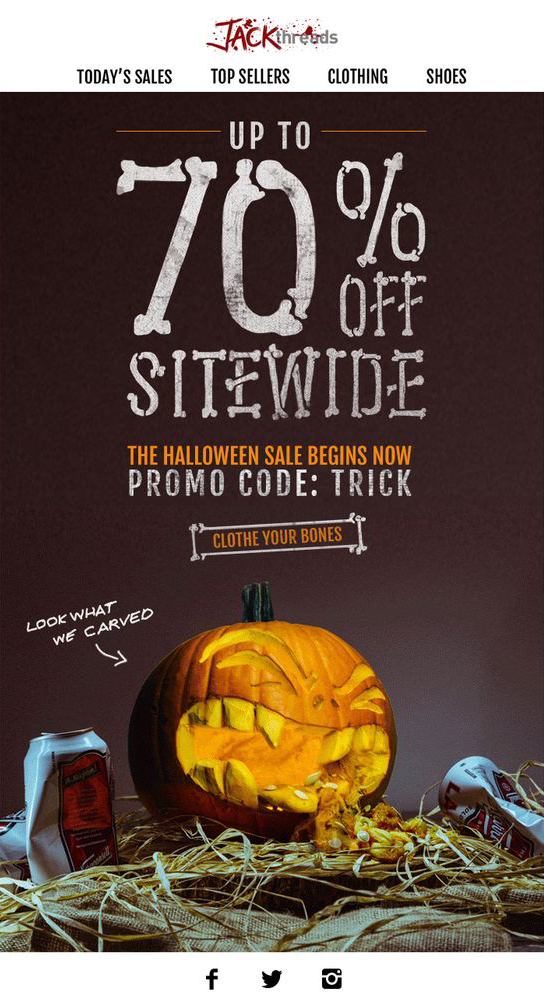 You can include several spooky elements like tombs, Gothic-designed prayer halls, bats, etc., like the below Halloween email background, that will engage your audience during Halloween and could make them click on the CTA.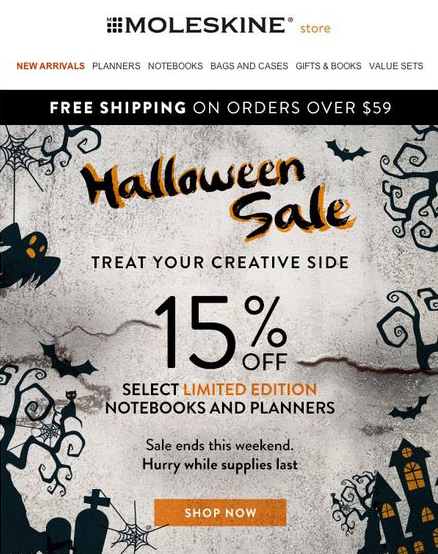 You also can horrify your Halloween email subject lines like this one below, where the background seems like a horror movie. This kind of design will engage your audience largely.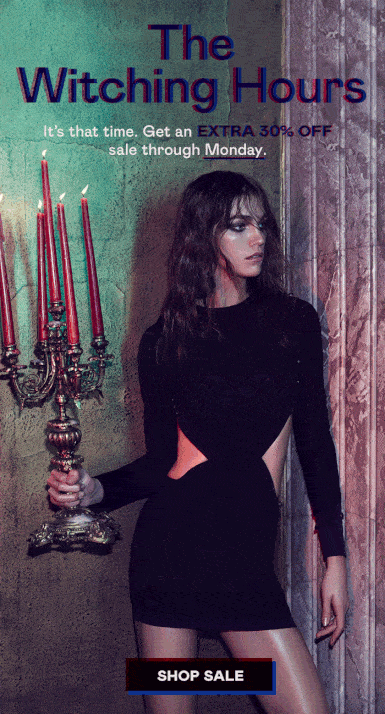 The example below focuses on a pumpkin that is floating on the template. Besides, several spooky elements took place in this Halloween email background. It can catch the attention quickly and encourage your audience to receive the discount offer.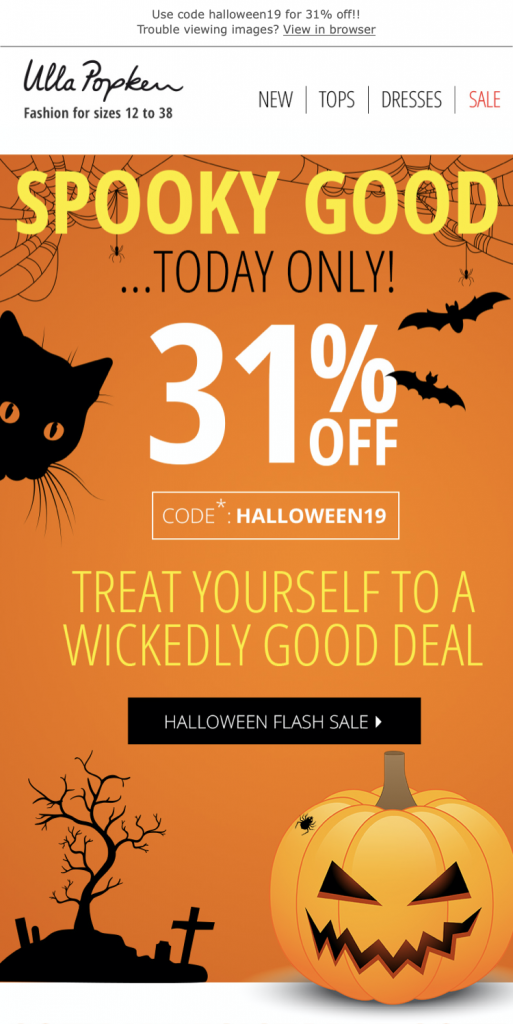 Orange on a black background can horrify your template offering discounts, like this one, where texts seem spooky.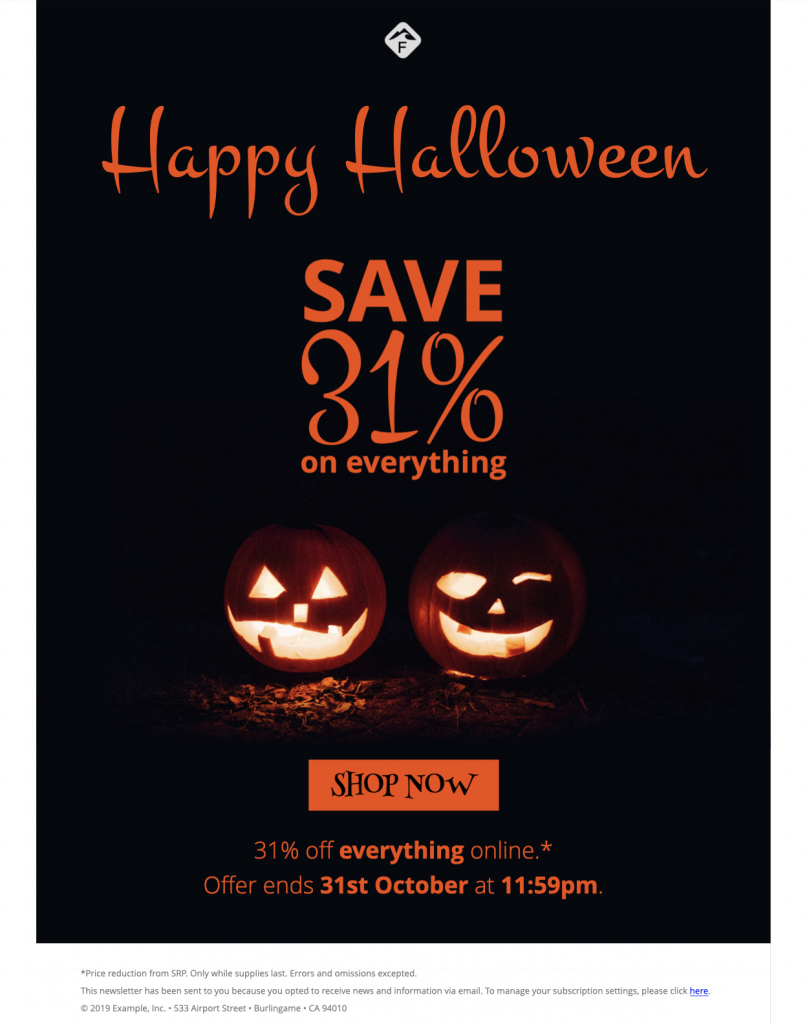 4
FOMO on Halloween Sale Emaill
Using FOMO (Fear of Missing Out) in Halloween marketing emails is a game-changer. Hubspot found that emails with FOMO tactics can boost engagement rates by 22%.
Take a look at the sample below, where a captivating clock visualization urges customers to chase deals before midnight strikes.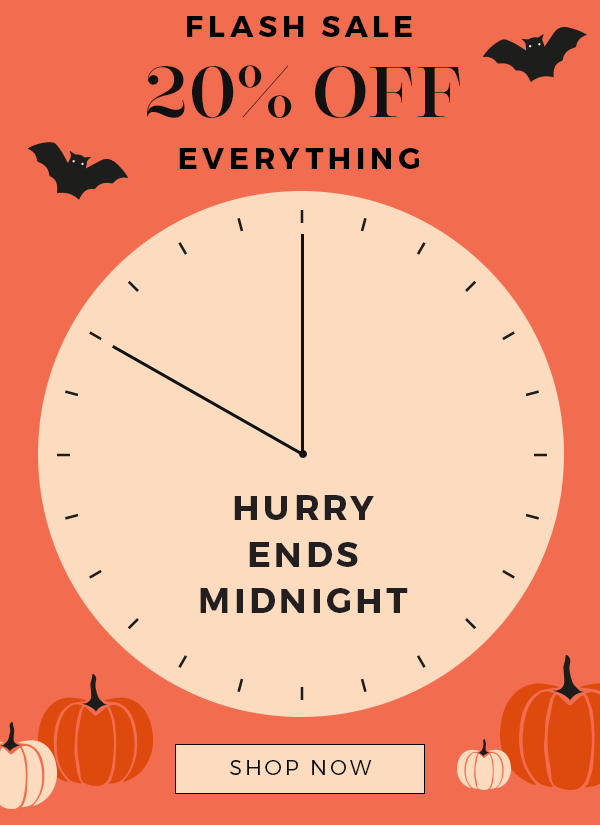 The following template is way more engaging, as Blue Apron brilliantly incorporates its products into a Halloween theme, showcasing how creativity can make emails stand out.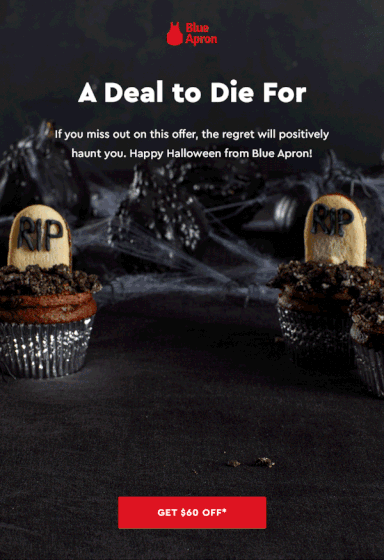 Another example from Maniology shows how a countdown timer builds anticipation, delivering a concise and impactful message.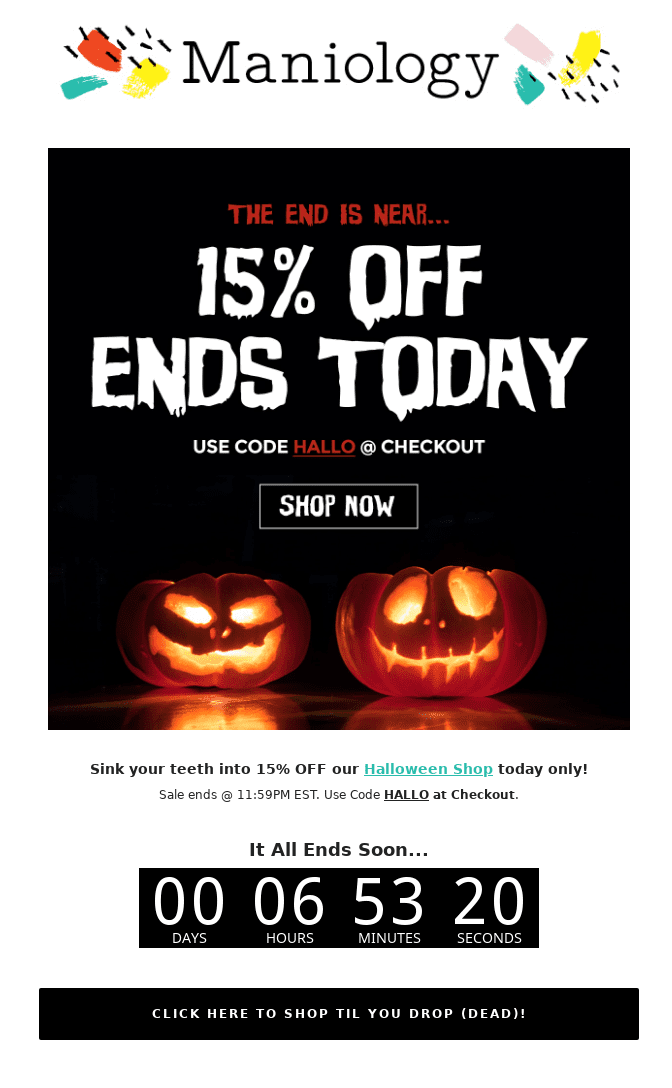 You also can engage your audience further with a countdown-as-a-title approach that leaves them eager for more, like this one.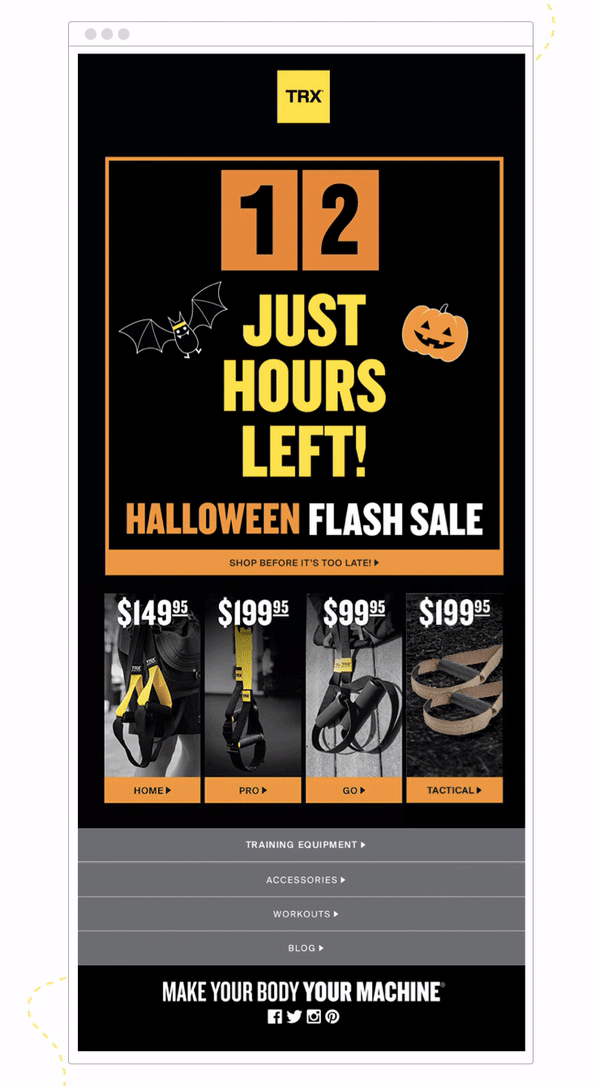 5
Halloween Emails Offering Freebies
The National Retail Federation says that 75% of customers find freebies a powerful incentive for holiday shopping.
Boost your Halloween brand loyalty by offering straightforward freebies, such as HomeChef, like this.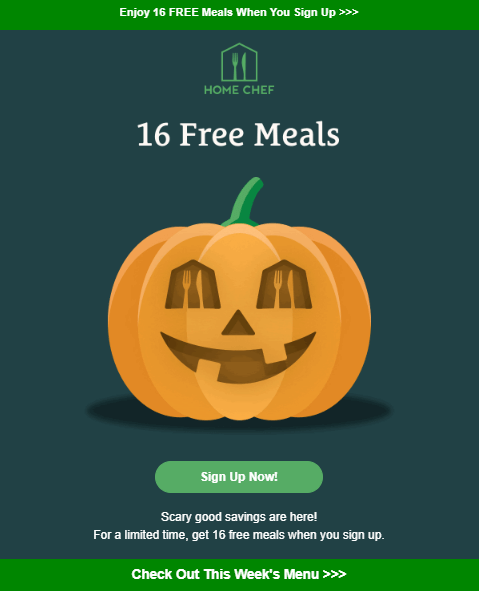 Alternatively, engage your audience with GIFs or provide freebies related to relevant services, as seen in the example below.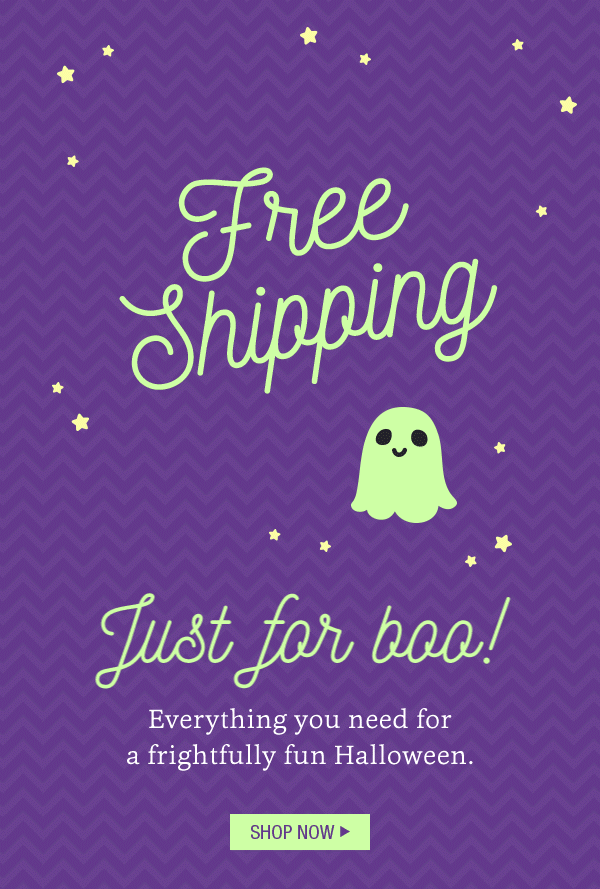 6
Halloween Emails with Several CTAs
If you're considering multiple offers and various CTAs in one template, that's perfectly fine. Look at the template below, where three pumpkins showcase different offers, each with unique expressions.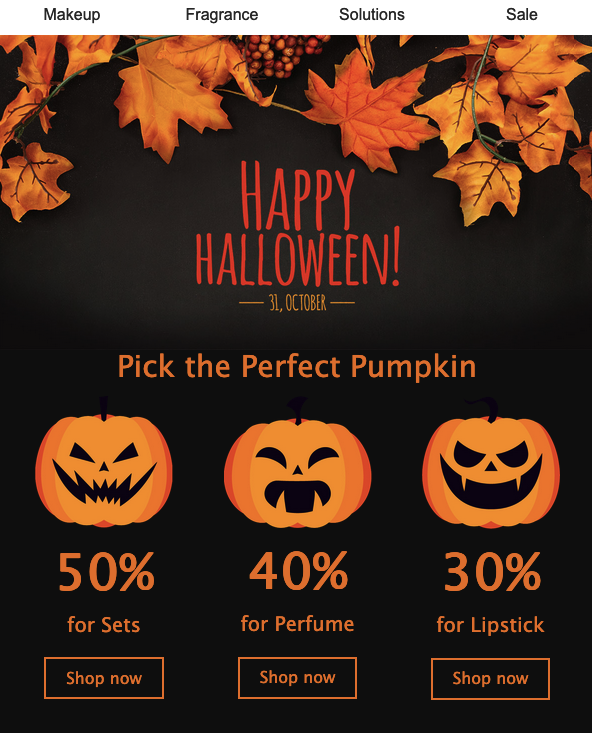 7
Trick or Treat Halloween Email Marketing
Boost engagement and conversions by using surprises as treats and engaging content as tricks. Themed emails like these, according to Mailchimp, increase Halloween open rates by 26%.
Check out this example, where a simple yet clever black-and-white template with a ghost image.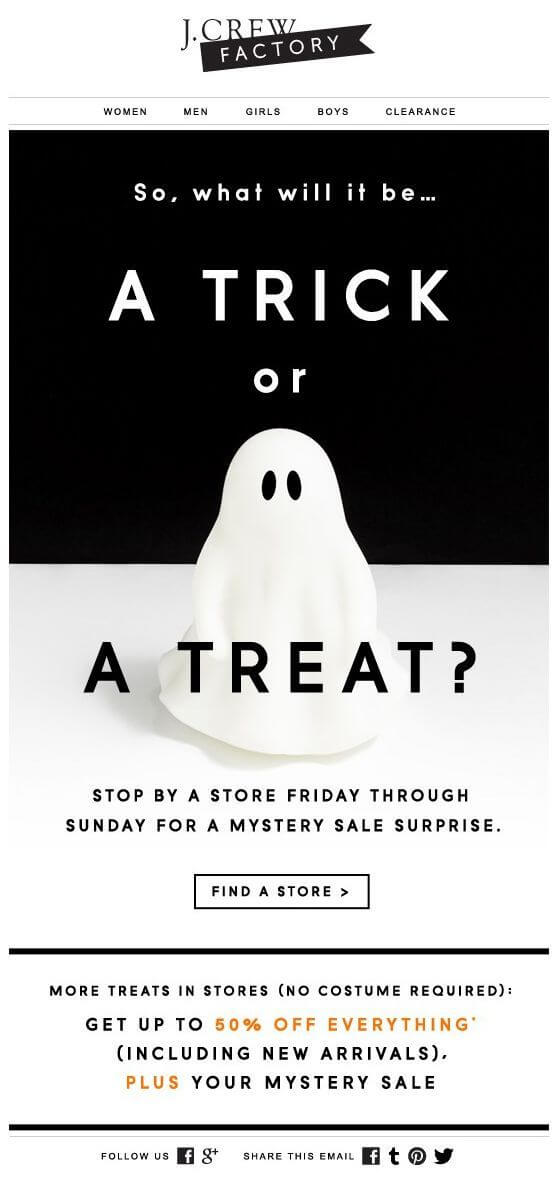 This one presents a giant-sized template with a "no tricks, just treats" message.

Here is another with a similar approach.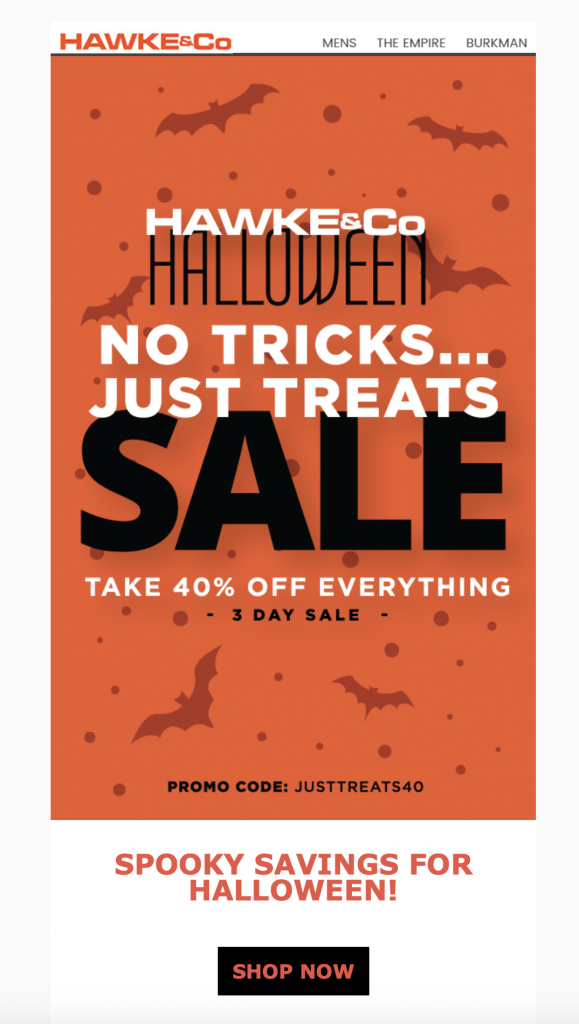 And in the example below, you will find a heartwarming design with cute illustrations and a symmetric layout for a friendly Halloween campaign.

8
Halloween Costume Contest Email Template
Licence Global says Halloween costume sales prediction is about $4.1 billion in Halloween 2023.
So, hosting a Halloween Costume Contest with an eye-catching email template would be best! Look at the one below.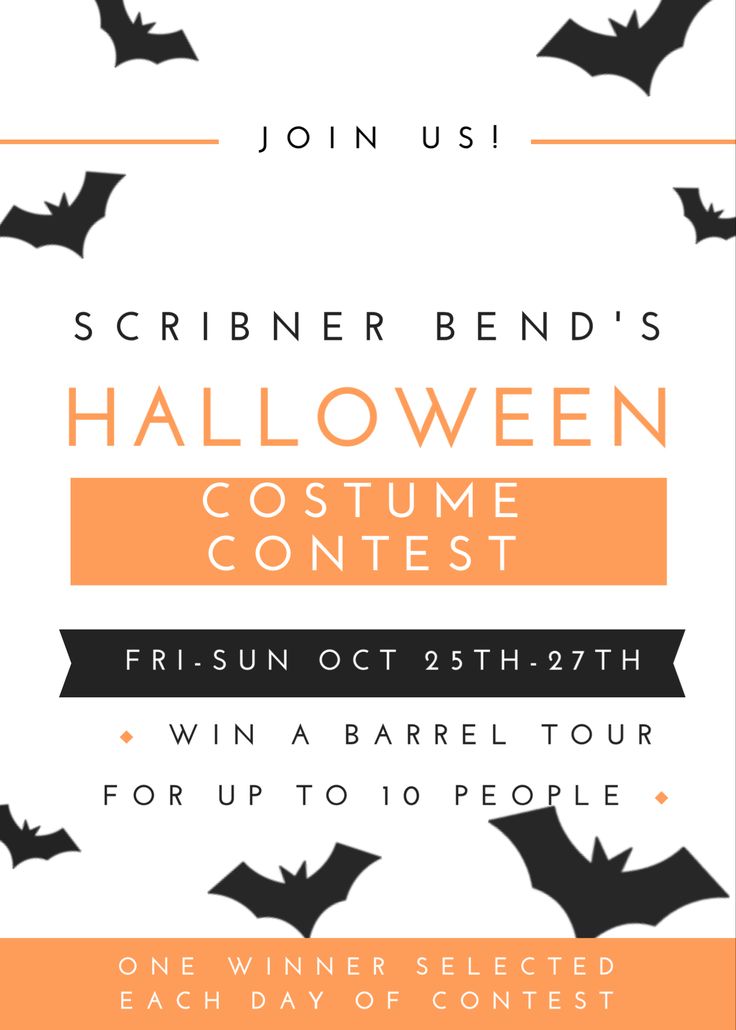 9
Spooky Story Contest Email Template
Elevate engagement with our Halloween Spooky Story Contest, as Halloween-themed contests magically boost email engagement during this event.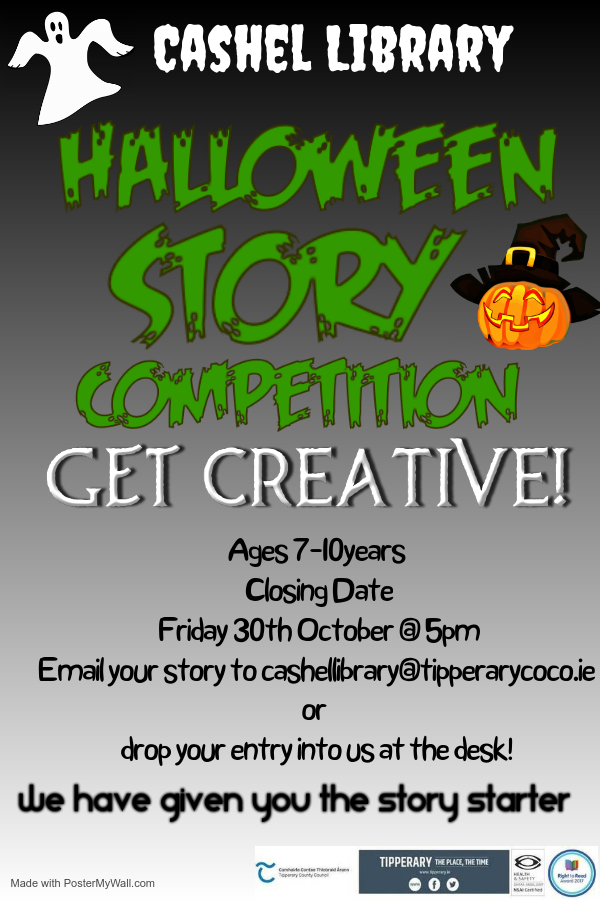 10
Characterizing Products in Halloween Email Marketing Content
Turn products into Halloween characters or elements for engagement. Experian Marketing Services says Halloween-themed emails enjoy a 29% higher transaction rate.
Adding personality and creativity creates memorable experiences, boosting sales and loyalty. Explore the example below, transforming chocolates into Halloween-themed treats.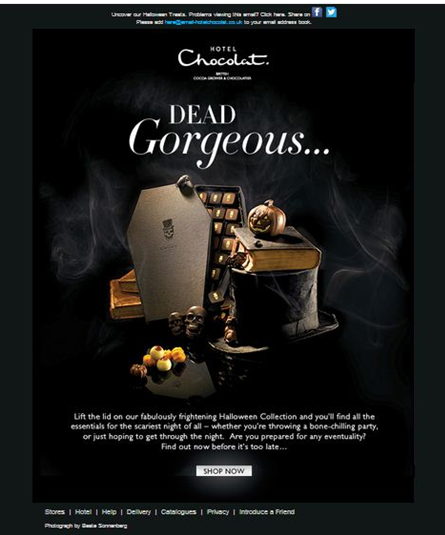 Here's another example of clothing designed like a black cat.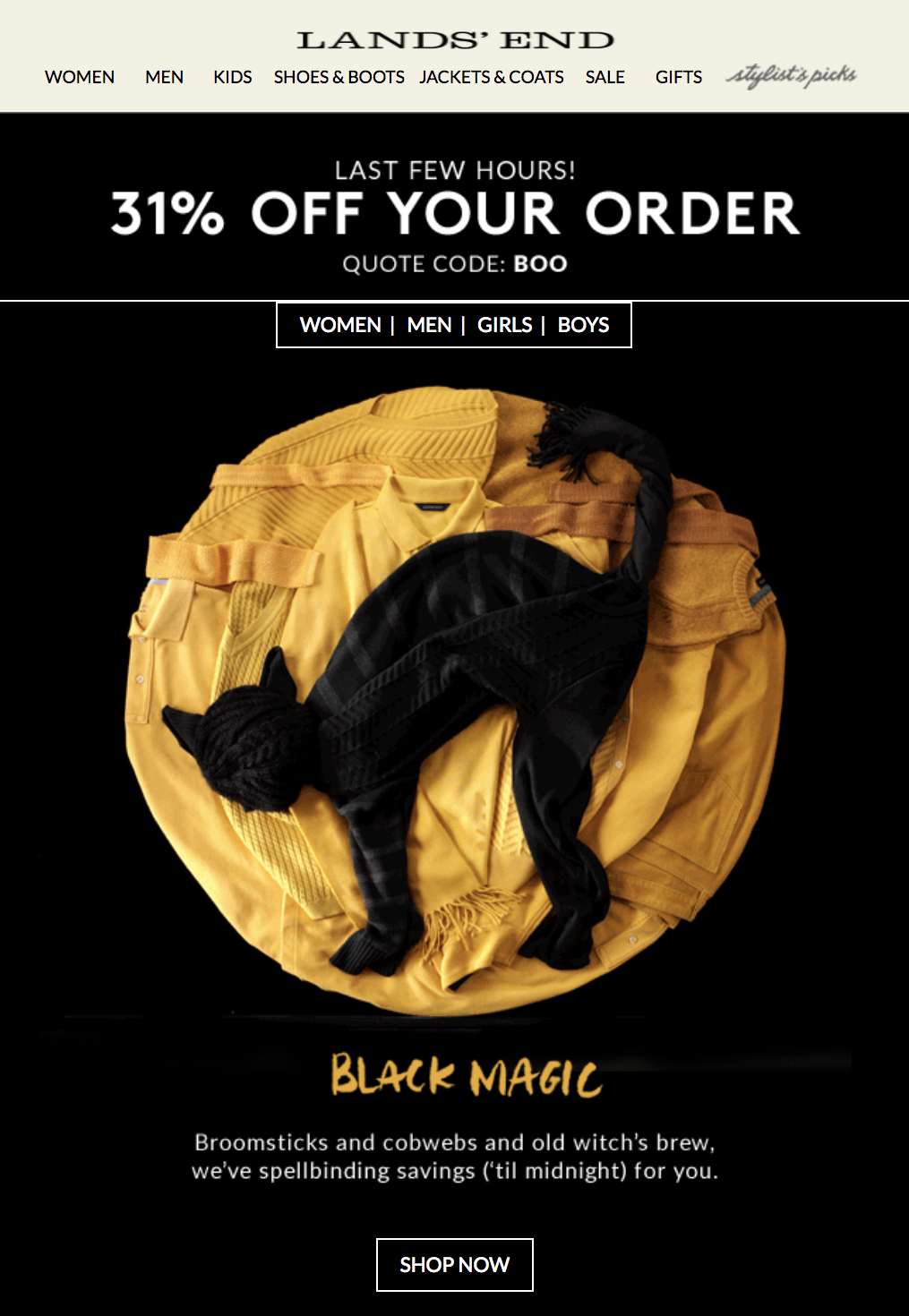 In the Middle Ages, people believed witches transformed into black cats to hide. That's how this character complements the Halloween theme perfectly.
11
Scary Tone in Halloween Email Marketing Copy
As per the National Retail Federation, 70% of Americans see Halloween as a time for fun and entertainment. The excitement of fear, with its added adrenaline rush, makes it a popular choice, letting people enjoy the thrilling side of life!
Look at this template featuring scary copywriting for an exciting experience.

And here's another, with a catchy and spooky subject line to amp up the excitement!

Crafting a product positioning statement rooted in thorough research is pivotal in enhancing your copywriting efforts in scary emails.
Wrap-Up
In email marketing, engagement is the secret potion that fuels success, especially during festive seasons like Halloween. Whether sharing spine-tingling ghostly tales or offering exclusive treats, the suggestions above for Halloween email campaigns have illuminated the path to forging unforgettable connections with your audience.
Halloween Email Marketing FAQ
When should you send Halloween emails?
Choosing the right time for Halloween emails is very crucial for engagement. Email marketing studies suggest sending them in the first two weeks of October. It allows people to plan costumes and parties and avoids crowded holiday inboxes. Sending early in October boosts open and click-through rates, ensuring your Halloween email campaign succeeds.
So, send your Halloween marketing emails ahead of time to captivate your audience!
Do you capitalize Halloween in a sentence?
Yes! "Halloween" should be capitalized in a sentence, as it's a proper noun, like Christmas or Thanksgiving.
Describe two ways you have been marketed to for the Halloween season?
Here are two intriguing approaches to Halloween marketing.
Creating Urgency and Scarcity
Halloween campaigns are masterful at invoking the psychology of scarcity and urgency. They play on the fear of missing out (FOMO) by offering limited-time deals or showcasing exclusive items. It's all about making you feel like you've stumbled upon something rare and time-sensitive.
Crafting Compelling Brand Stories
Halloween marketing isn't just about products; it's about emotions. Brands weave captivating narratives that stir nostalgia, anticipation, or even a touch of spookiness. By connecting with your feelings, they take you on an emotional journey, making their offerings more than just products through brand storytelling – they become part of your Halloween experience.