Efficient email cadence helps to draw attention and boost audience engagement. Your subscribers/customers might feel frustration/irritation if they receive two to three emails in a week but nothing for a month or two. Actually, audiences' frustration/irritation depends on both ways. They can be irritated if they get too many marketing emails in a short period. Also, they can feel frustrated if they receive very few emails from you, which will loosen the engagement bond. Both ghosting subscribers and over-emailing them go against email marketing best practices. So, you must balance sending marketing emails by scheduling and following an effective email cadence suitable for your audience.
In this blog, I will discuss and help you find the right email cadence for your email campaigns.
Table of Contents
What Is Email Cadence?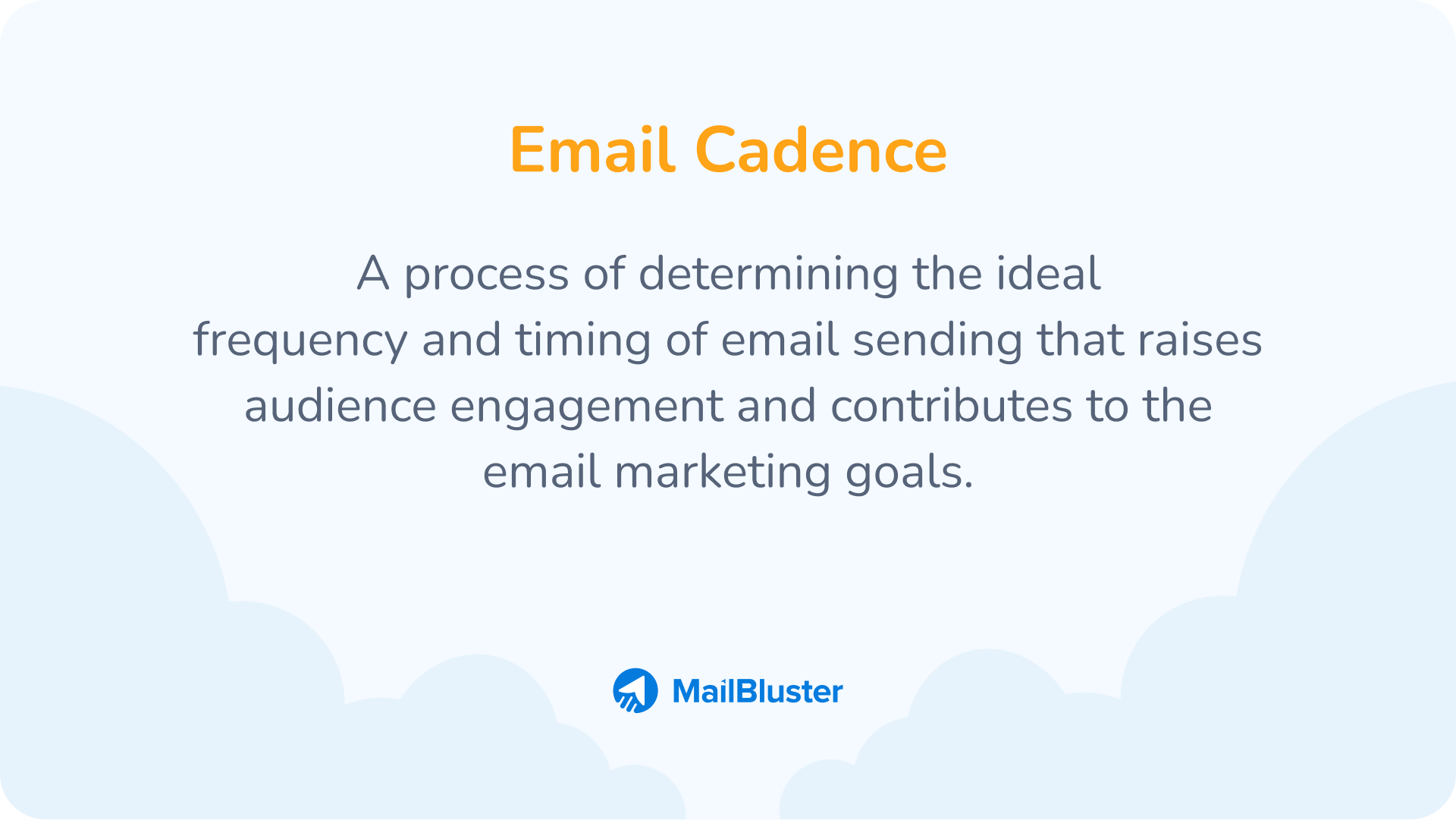 It is a process of determining the ideal frequency and timing of email sending that raises audience engagement and contributes to the email marketing goals.
Email Cadence vs. Frequency
Some people consider email cadence and frequency to be the same thing. But it's not, they are similar but not exactly the same. Though these two are very similar, they do differ subtly. Let's learn their differences.
| Cadence | Frequency |
| --- | --- |
| It's a more general concept that includes frequency, timing, and email pattern. | It refers to how many emails are sent in a specific time frame, as in the frequency of emails. |
| For example, you might have an email pattern where, whenever someone buys something, you send them a confirmation email, and after that, 2-3 days, you email them for shipping details. | For instance, if someone sends two marketing emails in a week, the email frequency will be 2. Or, if you send eight emails in a month, your email frequency will be 8 monthly. |
How to Find the Ideal Email Cadence
Keep your subscribers interested and informed using the right email cadence. How would you determine how often to send marketing emails? Let's go through some "how-to's" of finding the ideal one.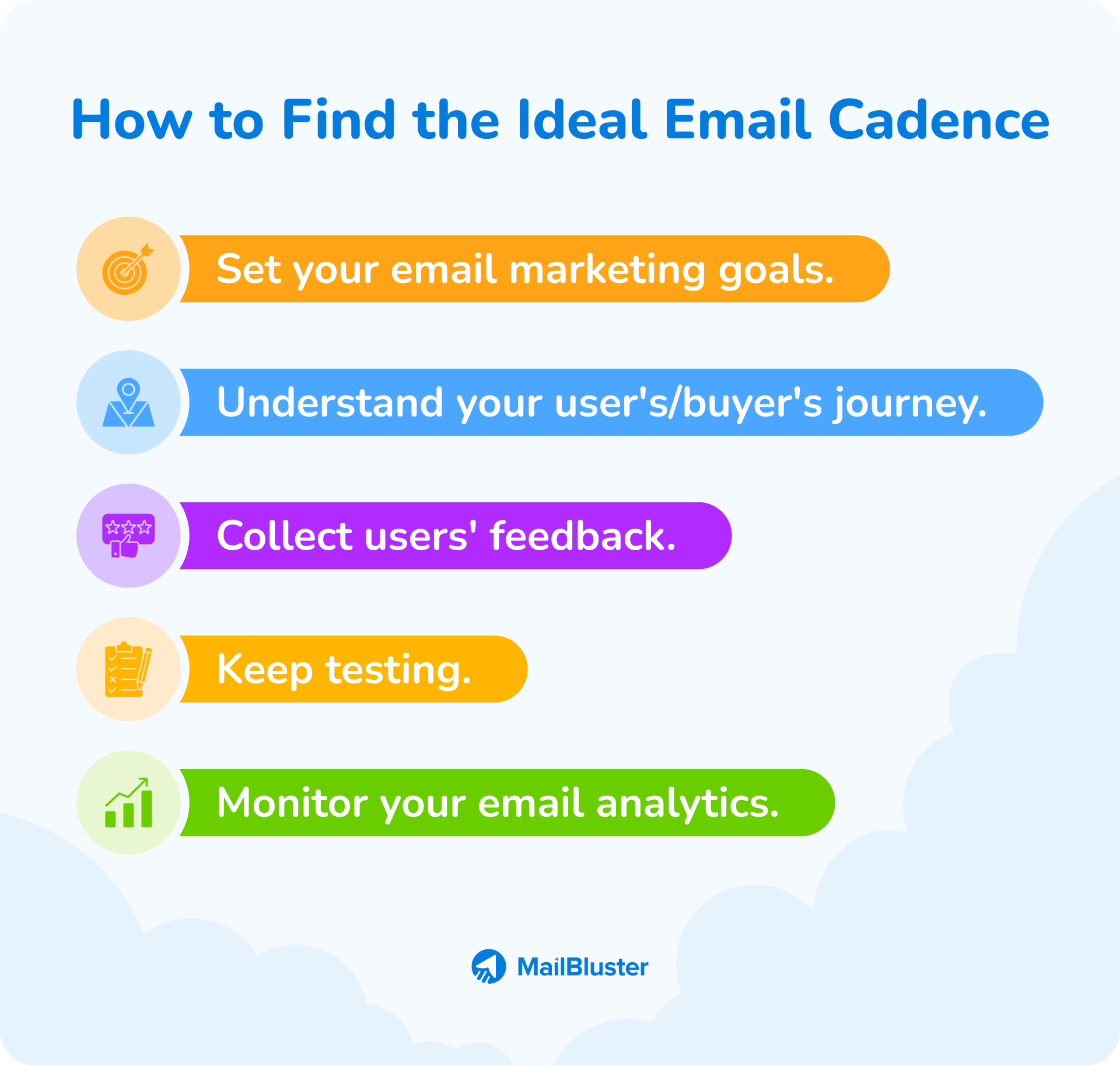 1
Set your email marketing goals
Firstly, think about what you intend to accomplish with your email campaigns and how you would set your email marketing goals. It's a must before planning and deciding the specificity of your email cadence. You can't suit an email marketing cadence per your expectations without setting a goal.
2
Understand your user's/buyer's journey
Secondly, understand your user's/buyer's journey. You can map your buyer's journey through behavioral targeting techniques, too, to understand their buying process. Without it, you can't arrive at your destination. You can't determine the ideal email cadence without knowing where people are in the buying process. For example, the new subscribers are just beginning to know your brand/business. Hence, you can set an email cadence suitable to their buyer journey because your email frequency will be more important to them than the regular users.
3
Collect users' feedback
Asking users directly is the only surefire approach to learning their preferences. So, collect their feedback via surveys/forms. For example, by sending surveys and forms, you can ask consumers what kinds of emails they wish to receive and how many marketing emails they would like to go through. And then map your email cadence accordingly!
4
Keep testing
I cannot emphasize enough how important it is to experiment with your email content, frequency, send times, etc., in order to get the correct rhythm. Try A/B testing various email frequency options on your segmented audience and keep track of the timings and content that result in the highest engagement and conversion rates. You should know exactly what you want to accomplish with this testing as you execute it. Around 40% of email marketers apply A/B test to find out effective send time/day.
5
Monitor your email analytics
Where are users in their journey, and how can you tell? How will you be able to tell which test email flow had the greatest outcome? Or how do you plan to monitor unsubscribe rates, spam, etc.? Email metrics are the solution. Finding the ideal cadence depends on email analytics/statistics. So, keep track of your email campaigns' open rates, click-through rates, deliverability, etc., metrics
Email Cadence Statistics
An estimated 333 billion emails per day were sent and received globally in 2022. By 2026, this number is anticipated to reach 392.5 billion daily emails.
The following picture shows DMA's statistics in 2021 regarding the average percentage of emails sent by marketers per week vs. the percentage of emails received by consumers per week. You'll get some sort of idea of which one will work for the better.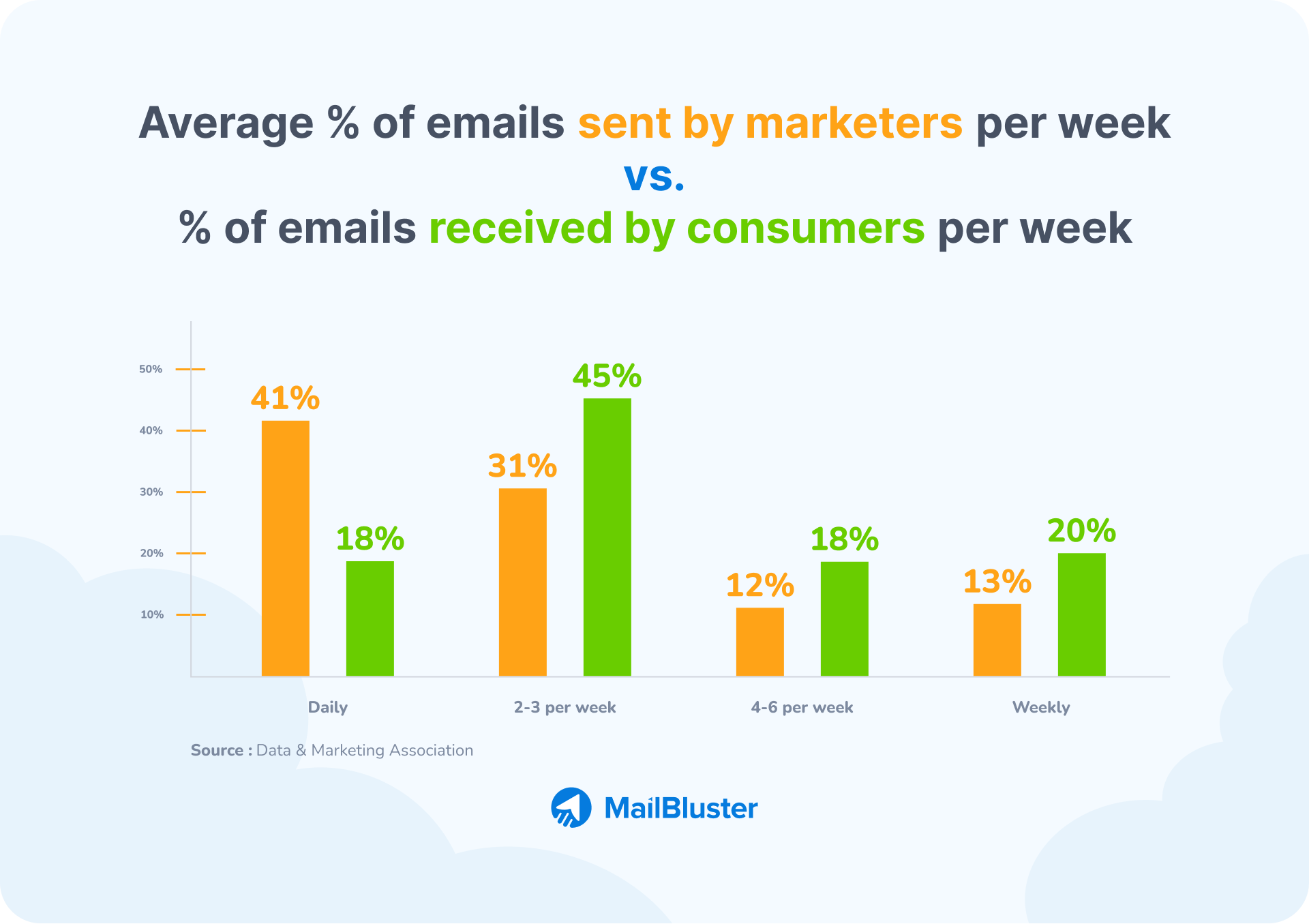 Best Time To Send Email
The best time to send email campaign basically depends on the content/topic of the message, habits, the lifestyles of your audiences, and the day of the week.
Best day to send email
Let's talk about the best day and time to send an email campaign, and it would also aid in enhancing your email campaign ideas. The best day to send email campaign could be Tuesday, Wednesday, and Thursday, as Monday is usually the week's busiest day.
Regarding Friday, people try to finish their weekly tasks and not leave anything for the next week. So they don't have any rush next week. Hence, it will be wise to avoid Friday.
And now we are left with Saturday and Sunday only. So how about these two days? Well, these two fall on the weekend, making it a bit problematic. See, weekends are mostly for family and are often considered family days. Most people like spending their weekends with family or just relaxing without any mood for email readings.
Best time to send email campaigns
Morning is the best time to send emails, as a majority of people have the habit of going through their phones in bed after waking up. About 58% of adults start their mornings by checking their emails.
From 8 pm to midnight is an efficient time and holds a high possibility for your emails to get seen. Because people are usually free during that time, and most of them have a habit of going through their mailboxes before going to sleep.
Worst Hours to Send Email
Let's focus on the worst hours to send email rather than the worst day to send email. It's better to avoid working hours as people would be involved and busy with their work. The lunch break hour wouldn't be a wise idea either, as they will be busy having lunch. And especially, ignore the rush hours as people commute for their work/home. Because their minds would be occupied with commuting stuff. So, it would be inconvenient for them to read emails during rush hours. Hence, rush hours could be the worst hours for sending email campaigns.
How to Determine the Best Time to Send Emails
You need to A/B test your emails to select the best time for sending emails. A/B testing is a feature that simultaneously tests two or more page variations to determine which performs the best. So, segment your emails and send them at different times to see which time zone works best for you. Use MailBluster for a handy A/B testing experience!
Wrap Up
Email marketing is the most effective marketing strategy; you must have the right email cadence to nail it. Throughout this blog, I've discussed email cadence in detail and emphasized finding the right one. Hopefully, you'll get help from this discussion and include the lessons in your email cadence best practices.