Relevancy is essential for reaching your audience in the crowded world of digital marketing, and behavioral targeting is the best medium for that. Knowing about your audiences and their interaction with your business is vital for highly personalized and timely marketing. Hence, behavioral targeting is the most applied technique in the digital marketing world. Any digital marketing platform, such as email marketing platform, Facebook, Instagram, etc., you name it- all these apply behavioral targeting to ensure higher conversion and sale rates.

Are you wondering how behavioral targeting works, why it matters, and how you can use it in your marketing strategy? If you are interested in learning about this amazing technique in detail, you are on the right page!
Table of Contents
How Does Behavioral Targeting Work?
Metrics Used in Behavioral Targeting
Confusions Regarding Behavioral Targeting
Difference Between Behavioral Targeting And Contextual Targeting
Benefits of Behavioral Targeting
Behavioral Targeting In Email Marketing
Recommending An Effective Email Marketing Platform
What Is Behavioral Targeting?
Behavioral targeting is a technique that monitors users' behaviors, online activities and uses the collected data to deliver personalized advertising. This term is also related to "behavioral advertising." It's a better individualized approach tailored to create a good engagement and ROI (returns on investment).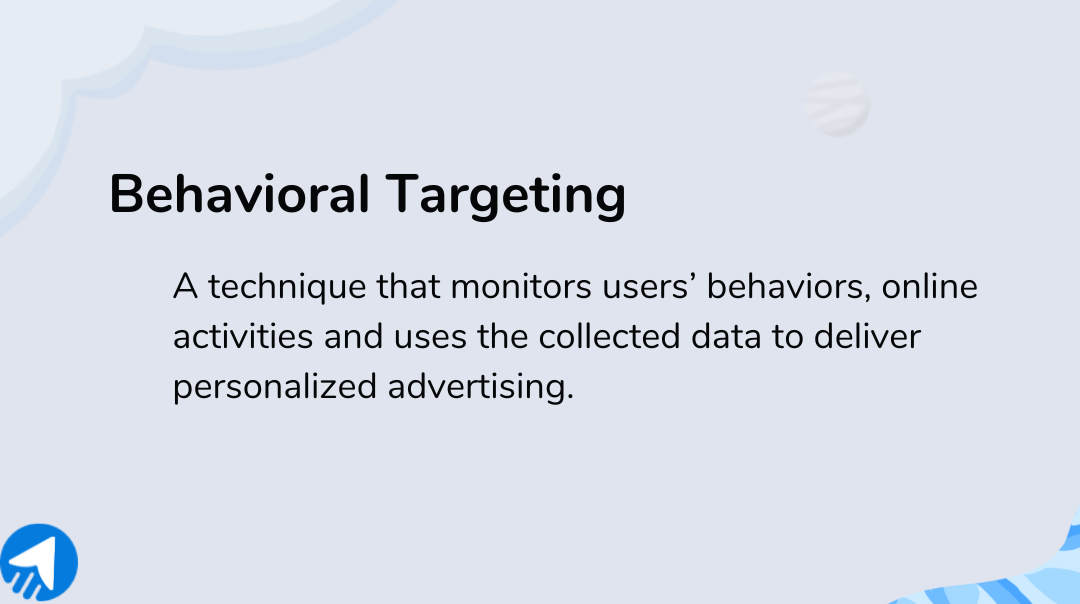 More than 40% of customers prefer to view interest-based digital ads over random ads. And with this marketing technique, advertisers can gather and use data regarding users' online activities to produce and display ads specifically tailored to each consumer. Also, business owners can apply these user data in their email marketing strategy. In other words, it is the process of using specific data to deliver an advertisement to the most likely interested audiences. These data sets include online activities such as browsing history, website searches, recent visits, spending time on a particular website, travel habits, reactions, comments, texts, shopping cart, and interactions with ads and every button you click.
Creates digital persona
To be frank, it records your every single move on the internet. And the collected data are frequently combined into single informational user profiles, which assist marketers in comprehending their target market. They create a user profile according to the users' digital persona, often known as user persona too. Mostly users' website activities, online behavior, and purchasing habits are the basis of creating a digital persona of a user.
And these customer profiles provide insight into various topics. Including what the target audiences are interested in and what they tend to avoid—their particular passions and preferences, the messages most appeal to them, and more. As a result, applying users' primary interests allows advertising agencies to develop more effective and engaging campaigns.
Example of behavioral targeting
Let me give you an example of this technique for better understanding! Consider a customer who searches for information about a particular smartphone every day for two-three weeks. The user goes through reviews and compares models. Now, the ads will be more effective if an advertiser targets this user with a product similar to what they are searching for.

Check out the following picture from Amazon. They displayed it based on a user's behavior, and they're recommending smartphones as per user preference.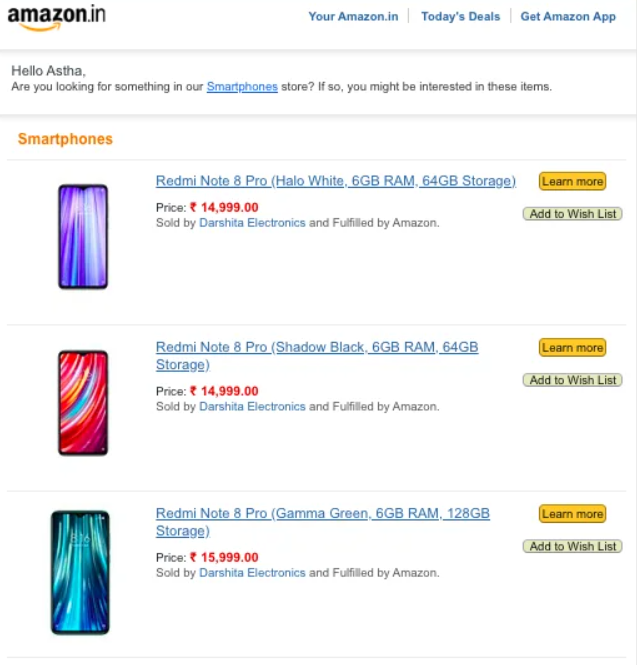 How Does Behavioral Targeting Work?
Let's learn about how it works! The procedure of behavioral targeting can be broken down into three steps. It transfers data from a cookie's unstructured mass to the user's personalized content delivery.
Data collection
User information is the key element of behavioral targeting. The success of a targeting campaign depends on the number of collected data sets. The more information collected and examined, the more successful your targeting campaign will be. Hence, data collection is the first step in this process. Multiple data-collecting sources exist, such as websites, marketing surveys, pc/mobile apps, device data, third-party data providers, customer relationship management (CRM) systems, data management platforms (DMP), and so on. Since data originates from various sources, there are various ways to collect them. For example, apps on mobile devices use GPS location tracking, while websites use cookies to monitor user behavior. Then, DMP or advertising technology store these data to use them in marketing automation systems.
Segmentation
The second step is data segmentation; this process divides consumers into groups based on the collected information. Simply put, it segments people based on their behavior and preferences. Many different behavioral targeting segments can be used, such as those who are into music, games, traveling, arts, etc. Even those who stay up late, and many more. It depends entirely on the advertisers' intent whether any trends, buying patterns, or interests they can use as segmentation criteria.
Targeting and application of data
The first two steps are to prepare for the primary step, which is the actual targeting. The campaign's success may be determined by how well this phase goes. After collecting the data, an advertiser should decide which visitor groups to target. Now, it's time to develop relevant marketing plans and campaigns targeted at these niche markets. Then, one should carefully customize content to maximize the effects of the behavioral ad targeting campaign and deliver top-notch personalized ads. If everything goes according to plan, users who exhibit similar interests and behavior the next time they visit a website will find exactly what they're looking for at the appropriate time and location. That's how the behavioral targeting process mainly works.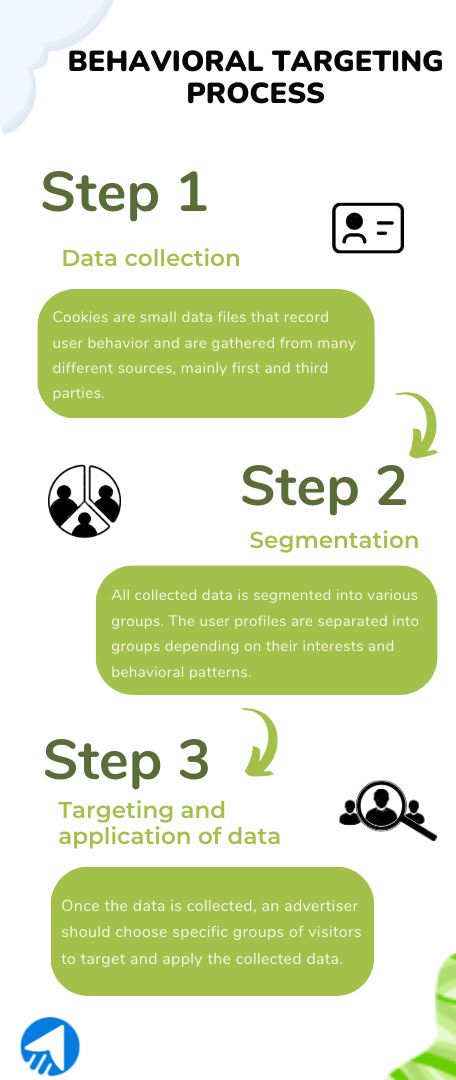 Types Of Behavioral Targeting
Now, let's learn about behavioral targeting types. You've probably realized by now that this is a broad concept. And this method deals with massive amounts of information that need good management. There are two major types of this technique; one is onsite, and another one is network behavioral targeting.
Onsite behavioral targeting
Sometimes, people use "behavioral targeting" and "online behavioral advertising" interchangeably, which isn't right. In fact, "behavioral targeting" is a method that serves as the foundation for behavioral advertising. Meaning online behavioral advertising uses behavioral targeting at some stages. Like, with an email marketing platform, advertisers can provide behavioral ads in email marketing campaign. And they could only do it by using this behavioral targeting technique in their marketing strategy.
Network behavioral targeting
Moreover, more than an extensive data analysis from onsite behavioral targeting is needed for personalization and retargeting. As a result, some advertisers choose alternatives that can provide a more comprehensive view of online user behavior. And this type offers such substitutes. Through this technique, information is collected and distributed using a variety of online platforms. This technique gathers user information, such as name, address, and phone number, through cookies and IP addresses and then segments users into distinct categories based on their data. Algorithms can determine a user's age, gender, and potential purchase options. DMP or other third parties then supplies these collected data. Suppose, they can provide it to the business owners who would use it in their email marketing strategy or in other marketing strategies. However, they avoid providing user names, phone numbers, and email addresses for privacy issues.
An algorithm will interpret a user's frequent visits to websites targeted at a particular age or gender group as evidence of that group's interests. For instance, a person who searches for the best quality hoodie collection of a certain boy band merch is probably a teen/adult woman. Hence, the user will see tailored advertisements as a result.
Let's learn about other types of behavioral targeting related to the abovementioned types.
Website engagement
What visitors browse and click on your website is called website engagement. By doing this, you can tailor the user experience on your website. A portion of website visitors may see tailored advertisements based on their interests. Remarketing advertisements are an additional strategy for maximizing website traffic and regaining lost visitors' interest.
Purchase behavior
Purchase behavior refers to the items a person looks at, adds to their cart, or purchases and falls under onsite behavioral targeting. It is the most common and effective method of this technique. When you visit an e-commerce site, you will undoubtedly see recommendations for similar services and products. That is behavioral advertising in action. You can use your leads' purchase behavior data to recommend products that customers will like, show your appreciation, and even provide incentives for them to make the purchase.
App engagement
Engagement with your app refers to the actions users have taken or have not taken. For example, app targeting enables you to reach out to users who have downloaded your app but have yet to log in or to congratulate users in your app on their first purchase.
Email campaign engagement
Effective email campaigns from the email marketing platform increase engagement with the users. And to make it effective, you can target people based on who opens your emails, who doesn't, and what they click on when they do. And this happens with the aid of email campaign engagement. This type of targeting enables you to modify how you set up your audience and produce content for email marketing campaigns.
Metrics Used in Behavioral Targeting
Marketers use any kind of data that they can use to boost engagement and conversions during a campaign as long as it provides valuable insights.
The most common metrics collected for this marketing technique are:
Purchase history
Through purchase history metrics, retailers can clearly understand where and when customers are most likely to shop. Along with what kinds of marketing content they might be interested in, if they prefer to purchase again, and other information by using purchase history data, which shows who buys what and when.
Browsing history
Like the purchase history, this one also helps to get information about the user's preferences on websites or things they are into. And based on that, the marketers will display ads.
Geographic location
By tracking users' geo-location, marketers can display ads. For example, suppose a user's current location is in New York. Marketers now would display ads for available products and services near them.
Type of devices used
By tracking users' devices, advertisers can display ads compatible with that particular device. So, like, iPhone users would get advertisements that are friendly to their Apple devices, and Android users would get ads friendly to their devices.
Visiting information/data
Advertisers can send marketing campaigns by tracking users' visiting data. Visiting information helps market products available during those particular visiting places and times.
Transactional data
Tracking transaction data helps in determining users' transaction habits. Based on it, marketers can recommend services and products that give similar transaction processes to the users.
Confusions Regarding Behavioral Targeting
Moving on, let's discuss some common confusions regarding behavioral targeting. By now, you've learned what this technique really stands for. So, you should also know what it isn't or doesn't stand for. By doing this, we can prevent the typical ambiguity of related terms.
Online behavioral advertising
Sometimes, people use these two terms, "behavioral advertising" and "behavioral targeting," interchangeably, which isn't right. In fact, "behavioral targeting" is a method that serves as the foundation for behavioral advertising. Meaning online behavioral advertising uses behavioral targeting at some stages.
Retargeting
"Retargeting" can be confused with "behavioral targeting" on occasion. Here, the main distinction lies in the size of the data used for campaigns. For example, retargeting is used to reach users who have already visited or engaged with a company's website. In contrast, behavioral targeting uses much broader information and frequently uses first-party and third-party data.
Contextual targeting
Confusion between contextual and behavioral targeting is another frequent error. The difference between these two can be seen in the definition itself, as contextual targeting primarily depends on the context of the advertisement. In contrast, user behavior is the basis of this technique. Ensuring the relevancy of published ads on the website is the primary goal of contextual advertising. Therefore, it doesn't involve information about users as a whole. Instead, it focuses on the information given on the webpages where the advertisement is displayed.
Difference Between Behavioral Targeting And Contextual Targeting
As we have cleared the basic confusion between behavioral targeting and contextual targeting, let's go through some key differences between these two marketing techniques. Look at the following picture;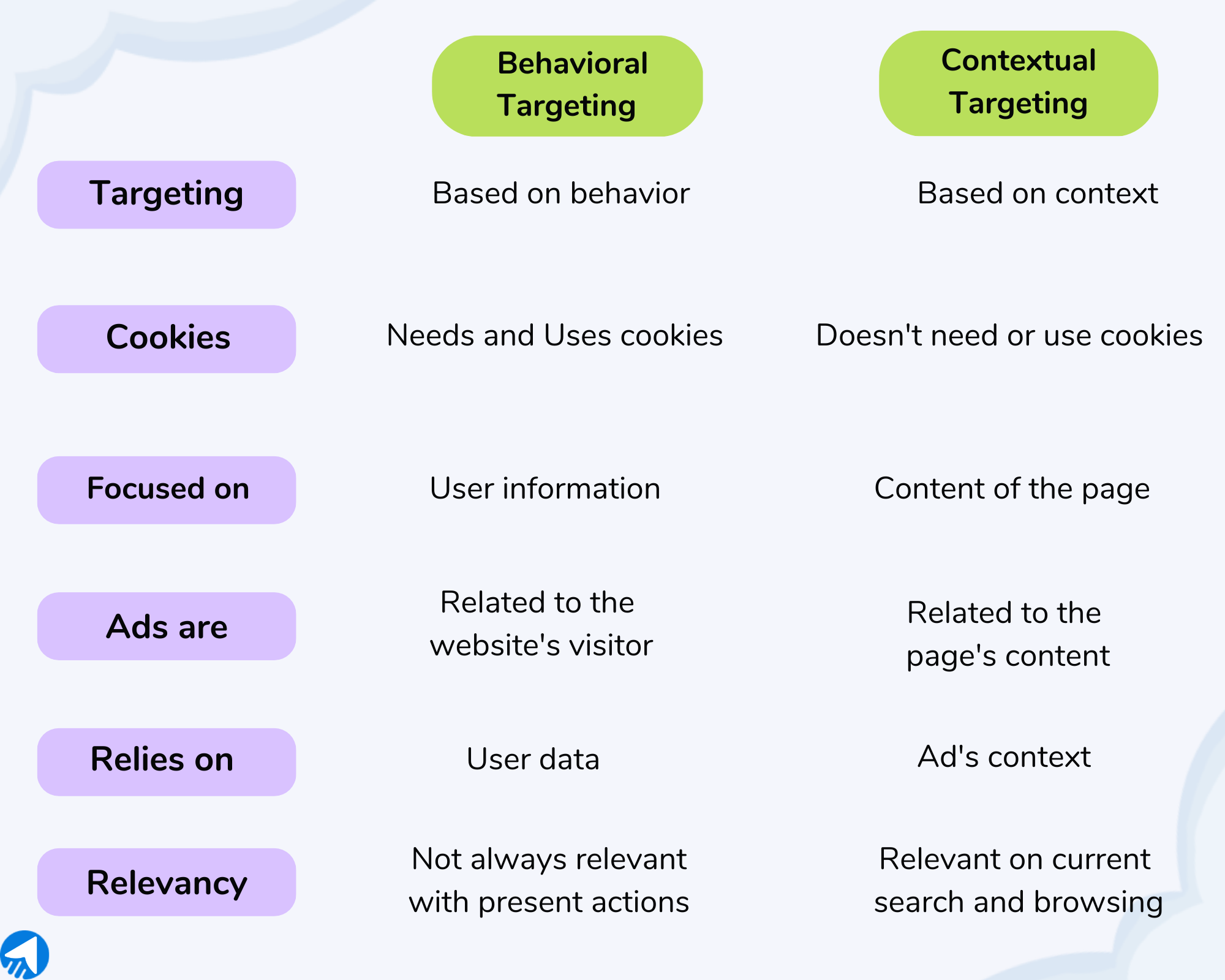 Benefits of Behavioral Targeting
We've discussed behavioral targeting and how it works. Now, the question remains; why would you use this type of targeting over others? Why does it really matter? The vast amounts of data gathered online for this marketing technique make website visits much more efficient and advantageous for both users and marketers, is the answer! Let's go over some of the benefits of this technique in detail.
Benefits for advertisers
First, go through its beneficial aspects for the advertisers.
More engagement
By better understanding the customer needs, it can produce more appealing content. Additionally, behavioral targeting enables the placement of an advertisement in front of every user at the ideal time and location, increasing interest and engagement. 76% of consumers expect personalized experiences, including (but not limited to) engagement with their preferred contact method, account type or status, and product recommendations based on purchase and search history. Hence, applying it is essential to gain more consumer engagement.
Higher conversion
Behavioral targeting helps you with higher conversion. As mentioned above, people expect personalized experiences, so your personalized ads will attract new customers. According to Insider Intelligence research, this technique can double ad effectiveness. Advertisements that are tailored to a specific market and reach that market are more likely to convert well. Viewers are far more likely to complete a purchase or request additional information. As a result, it typically increases sales and repeats customers for businesses.
Higher ROI
The more engagement, the higher the conversion, which is more or less a byproduct of the first two mentioned above. Increased conversion leads to increased sales. Aside from increasing the number of purchases, it can also reduce your spending on advertising that only works for you. Because behavioral targeting ensures that your ads reach the right people. B2C or B2B, no matter which business you're doing, maintaining relevancy is important. 80% of consumers are likelier to buy from a company that provides a tailored experience. Higher sales and lower advertising costs produce a higher ROI than many other techniques.

Higher Click-Through Rate
Who wouldn't want their advertising campaign to have a higher click-through rate!? The viewer assists in moving down the sales funnel. A personalized advertisement that reflects the needs and preferences of the viewer is much more likely to be clicked than one that does not. The same goes for email marketing campaigns, people would click relevant email campaigns rather than irrelevant ones.
Benefits for users
Now, moving on to its beneficial aspects for the users.
Better user experience
47% of consumers block ads or sites because they find them irrelevant. Since people dislike seeing irrelevant advertising and some may become irritated by it, personalized advertisements improve the user experience. Also, irrelevant email campaigns often get stored in the spam folder of the user, and trust me, people don't like spammers! 62% of consumers said a brand would lose their loyalty if it provided an unpersonalized experience. And the share was at 45% a year earlier.

As mentioned, behavioral targeting uses cookies to collect user data. Sometimes the users get notifications or popups regarding the collection of cookies. They do it to provide a better user experience on their website by showing relevant and preferred content. When a website asked them if they wanted to accept cookies, nearly 32% of respondents said they always did. The rate was highest among respondents 25 to 34 years old and lowest among those 45 to 54 years old. Look at the example of such an occurrence given in the following picture. Here, the GWI website displays a popup regarding cookies.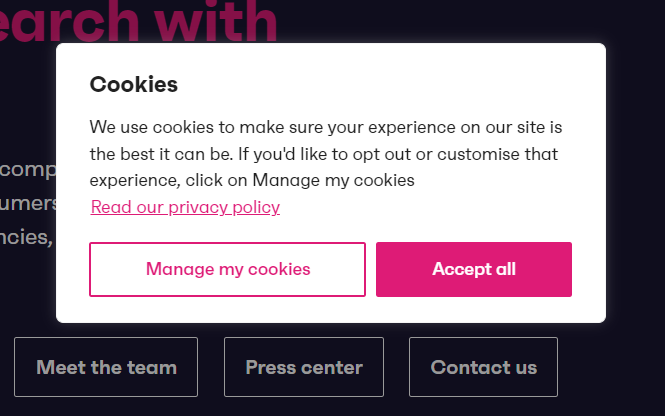 Comfortable online shopping
The online shopping process is now even simpler thanks to the introduction of behavioral targeting! This is because some users no longer need to waste time looking for a product they need as the user has already seen the ad based on their behavior. With this system, completing the purchase requires the user to click on an advertisement only.
Reminders and alerts for products
A user is likely to be interested in additional products from a brand if they have previously purchased something from that brand. Using behavioral targeting, what products will be relevant to users and when they need reminders about the products to become predictable. Also, it offers a second chance to purchase even if a user hasn't made a purchase yet but has indicated an interest in the brand. Suppose, with this technique, you now know what products are preferred by who, right? So, you can send similar product recommendations by sending such email campaigns through your email marketing platform.
Behavioral Targeting In Email Marketing
By now, you're well aware of this fantastic behavioral targeting technique. Also, now you know how it works and its benefits for users and advertisers. So, there should be no doubt about its effectiveness in digital marketing either. Popular social media platforms like Facebook, Twitter, Instagram, etc., use this amazing technique for marketing/advertising. A successful email campaign is helpful in your marketing journey. Email marketing or email blast is still effective when done correctly.
Let's see some statistics! 58% of adults start their mornings by checking their emails. Additionally, 319.6 billion emails are sent and received each day around the world, and Statista predicts that by 2025, that number will rise to 376.4 billion. See? No doubt it still works!
Example of a behavioral email

Here goes an example of a behavioral email for you! Check out the following picture; the Casper shop sends a behavioral email to a user. It urges them to complete the checkout process. How did they know the user had yet to make the purchase? Of course, the behavioral targeting technique tracked the user's buying habits!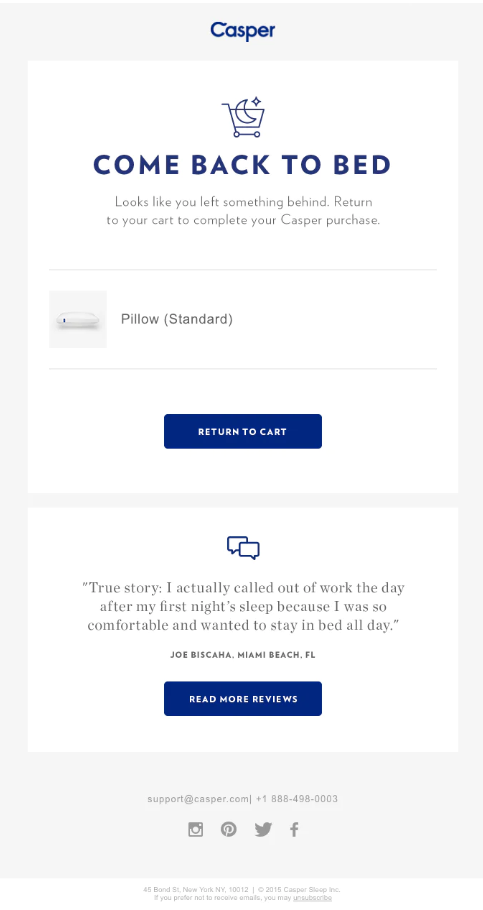 Ensures higher ROI
Furthermore, this marketing medium also ensures higher ROI than other platforms. For example, a company can expect $40 in revenue for every $1 spent on email marketing. As this medium is the best field for marketing purposes, let's have some insights regarding behavioral targeting in email marketing.
Sending tailored and personalized emails
Email marketing platform uses this technique to send tailored and personalized emails to subscribers. As mentioned, people prefer relatable content/ads; hence, tailored/personalized emails are essential in email marketing strategy. Segmentation according to consumers' online behavior and preferences is necessary for an effective email marketing journey. Also, email campaigns using segmentation that is tailored/personalized have a higher open rate, which boosts sales by 39%.
Recommending An Effective Email Marketing Platform
Undoubtedly, implementing this method in email marketing campaigns or email marketing strategy is valuable! You can do it through an effective email marketing platform, also known as an email marketing tool. Hence, I recommend our MailBluster, which is one of the best free email marketing tools, often known as email blasting software. Because this one could be your best choice as it provides well-tailored, personalized features like segmentation and automation for effective email marketing.
Don't Overstep
There's a saying you must have heard before, "too much of anything is good for nothing"- excessive amounts of something can have negative impacts. So, don't oversend behavioral emails, and don't over-display behavioral ads. Otherwise, your audience will get creepy vibes! They will be panicking, thinking you're watching and tracking each of their moves.
Some digital marketing platforms overuse this marketing technique. Take Facebook ads, for example! Sometimes they even display ads tracking chat history or voice conversations, and that often freaks me out! For example, there was a time when I talked about something I didn't want to buy, but still, they displayed ads on that particular thing by tracking my conversation with my friend. And this kind of situation can be irritating, trust me! Hence, try to send personalized emails with your email blasting software and display behavioral ads on a moderate level.
Wrap Up
Behavioral targeting is an essential technique for an effective marketing journey. Both the advertisers and the users are benefited from this wonderful method. Using this technique, relevant email campaigns can be sent using free email marketing tools. People want to see relevant content/ads and this marketing technique ensures that it happens. This blog has covered all the basics of this technique, along with the necessary examples. I have discussed its definition, procedures, types, benefits, implementation in digital marketing, etc., subjects for your better understanding. Hopefully, you will get enough clarification on behavioral targeting and can successfully implement it in your email marketing platform and other digital marketing strategies.