Business-to-consumer or B2C email marketing involves emailing consumers to engage them with the company and persuade them to buy products or services. This marketing strategy enables you to communicate with customers, promote your products and guide you in accomplishing the sales funnel. If you own a B2C business or thinking about starting and growing one through email marketing, you are on the right page! Here, I'm going to discuss all the aspects of this beneficial approach of B2C email marketing.
Key points of this discussion:
Difference between B2B and B2C email marketing
Importance of B2C email marketing
Types of emails you can send in B2C business
Tips for writing emails as B2C business
Choose an email marketing tool
What Are B2C And B2B?
The term B2C stands for "Business-to-Consumer." It describes a business or company that sells directly to an individual buyer or consumer. On the contrary, B2B stands for "Business-to-Business." And it describes a business or a company that provides products or services to other businesses.
Need examples? Suppose you're a gardener who grows red roses, and you've harvested around 2500 red roses this year that you would like to sell. Now, you need to decide whether to go for the B2B or B2C route. If you go for the B2B route, you need to reach out to other business owners or retailers who would purchase your red roses wholesale. So, you need to find a florist or flower shop that needs red roses in bulk. Hence, you will be their source of collecting red roses through wholesale or discounted prices. And they'll sell it to the customers at a higher price. Here, you're dealing as a B2B business. And the retailers or those who've bought from you are dealing as a B2C business.
What happens if you choose the B2C route instead of B2B? If you choose the B2C path, you'd need to set up a flower shop and might create an online shopping page for flowers. It would require more time, but you can sell them at a higher rate. In today's world, Amazon is one of the big B2C businesses. Any shops, such as clothing, flower, online shops, supermarkets, restaurants, etc., fall under the B2C route.
Check out the following picture to know the differences between these two business routes.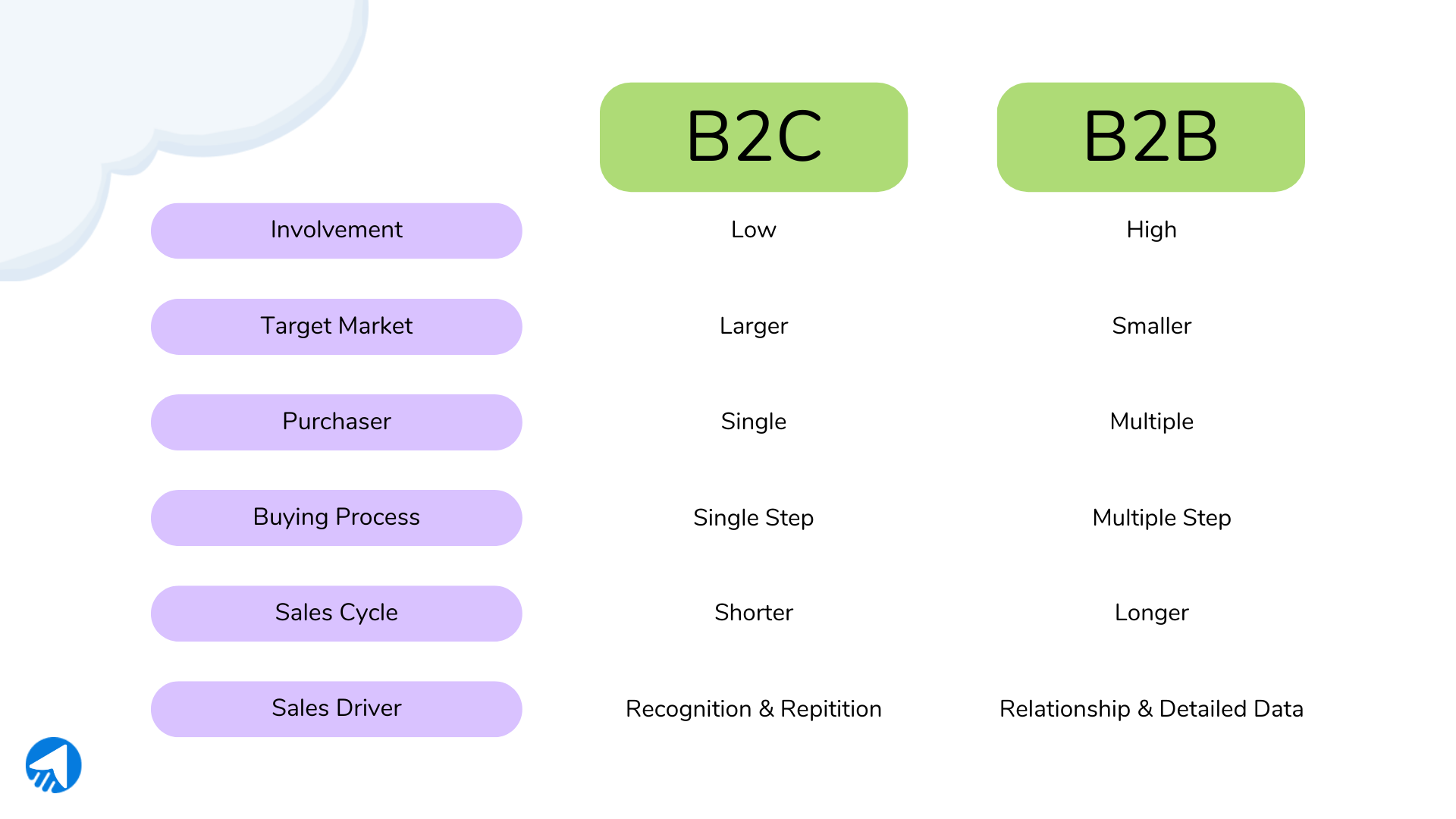 Want to know the differences in the sales funnels of these two business routes? Look at the picture below;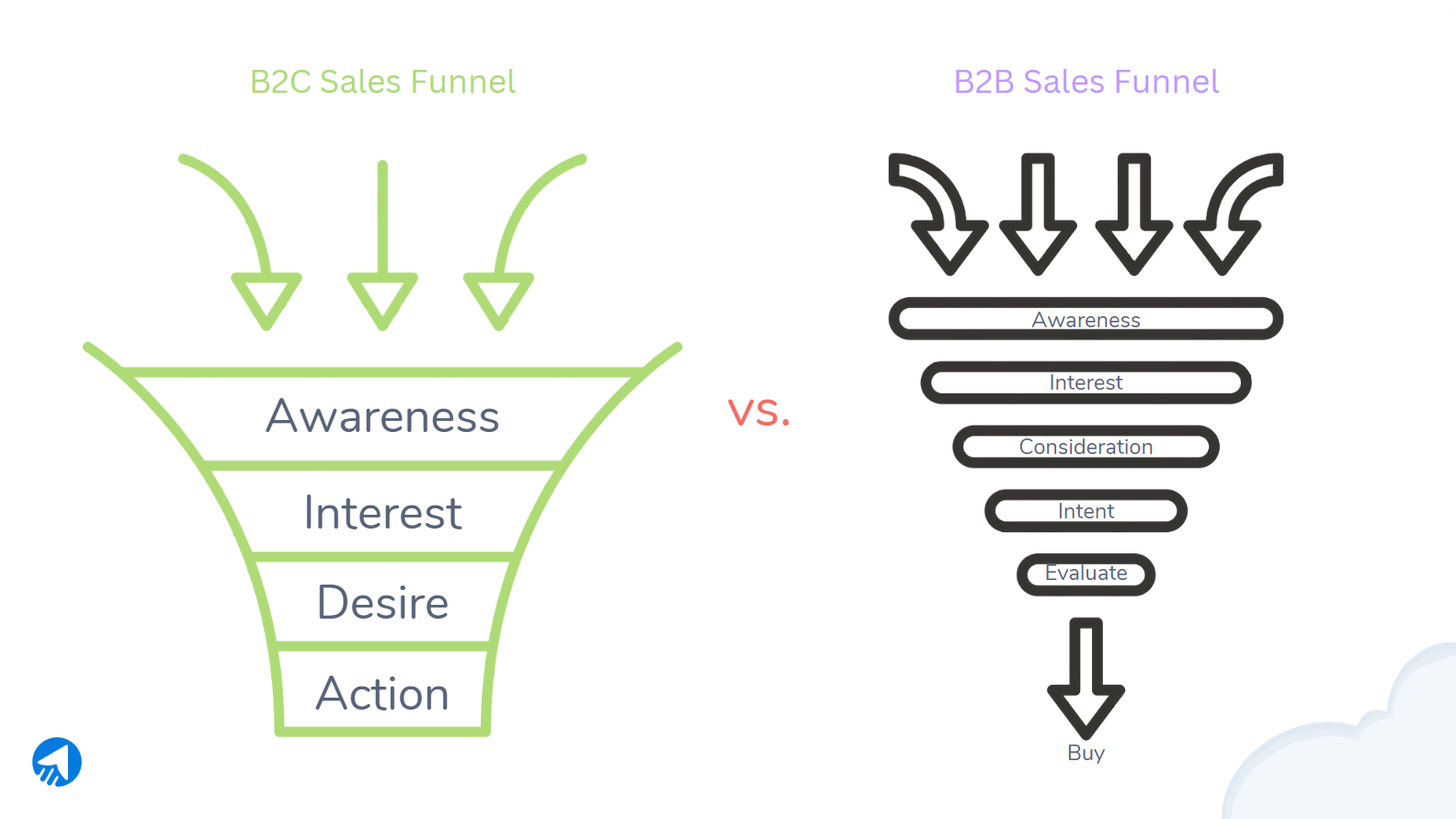 What Is B2C Email Marketing?
B2C or business-to-consumer email marketing refers to sending email campaigns to promote products or services of the business. Unlike B2B, emails are sent only to individuals rather than business owners. B2C email marketing falls under the umbrella of email marketing platform, which is still very effective. The strategy is also known as "email blast" as bulk emails are sent to the consumers. This strategy is to engage the consumers with the business and make interest, and desire among the customers. So that they will take action by purchasing your products or services.
See the example of a B2C email campaign's template; an American fashion house called Kate Spade sends a "thank you" email to their subscribers.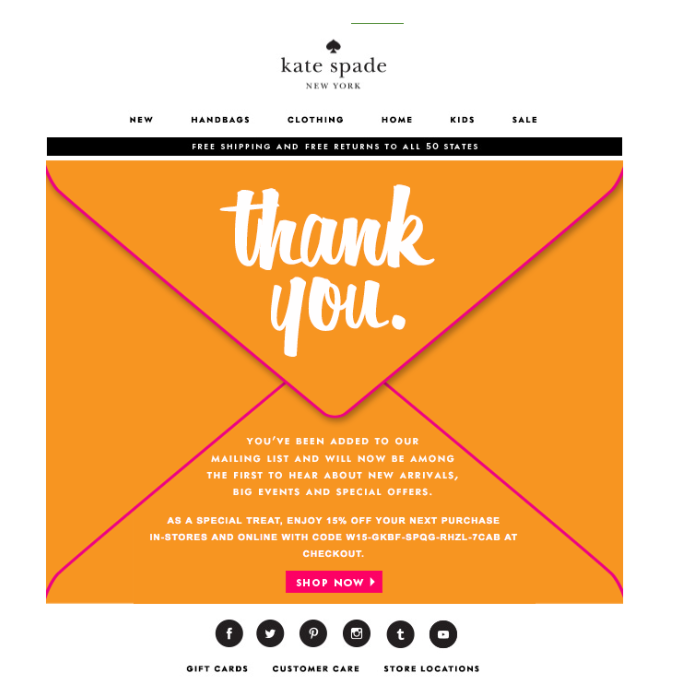 Difference Between B2C and B2B Email Marketing
B2C or B2B, it doesn't matter which one you're into; you must include email marketing strategy in your marketing agenda to grow your business. However, you need to know the basic differences between B2C and B2B email marketing to ensure you're on the right track. So it's crucial to understand their differences.
Key difference
The key difference between these two is that B2C email marketing involves engaging everyday consumers. Whereas B2B email marketing involves other businesses and decision-makers of those companies.
Length of buying cycle
The most significant difference between these two email marketing is the buying cycle. The buying cycle of B2C email marketing is a short process. Here you'd only appeal to one decision-maker. Since the sales cycle only involves one person. Hence, moving the leads toward conversion is relatively quick. In B2C email marketing, you can send emails to potential customers based on their progression through your sales funnel. And also deal with the pain points individually to move them toward conversion.
In contrast, B2B email marketing is a long process. It takes more time to turn prospects into customers than B2C email marketing. Here, multiple decision-makers help the company towards conversion. Since people can bounce throughout the flannel stages, B2B email marketing needs to know where the leads would be at the flannel. So the emails they send would be appropriate.
Tone of writing
Both have different tones of writing. B2C email marketing is informal and follows a simple, straightforward communication style. It's more casual, and unlike B2B, it avoids corporate jargon or technical terminology. The emails are more relatable and conversational. And speak to emotions as targets more on the emotional sides of the reader. B2B email marketing maintains a formal tone because their emails would appeal to businesses and professionals.
Content
Both differ in terms of content too. For example, B2C's response time is quite quick. And emails include a sense of urgency or a CTA (call of action) that nudges the recipients to get back to action immediately. Also, emails can share helpful information and promote products or services for fast consumer conversion. They mainly focus on promotions and quick conversions. In contrast, B2B email marketing focuses more on delivering information. Content focuses on the industry's pain points and follows an educational approach, unlike B2C ones. They provide helpful information to multiple decision-makers and by doing that, they continually prompt them towards converting.
Layout
In B2C, consumers tend to be more responsive toward the written copy's visual aspects rather than reading lengthy emails. But B2B is different. Here, they care more about the value, information, proposition, and taking the next step rather than the written copy's length or visual aspects of emails.
Importance of B2C Email Marketing
Why do you need to go for email marketing? Why would you invest in B2C email marketing? Have you been asking these questions to yourself? You must have heard that this email marketing platform is crucial for any business's growth. But deep down, you're really searching for the facts and reasoning behind it. If my assumption is correct, then no worries! Here, you're going to find out the answers.
Still effective
In today's world of digital marketing, many new marketing strategies have been included, and some old ones have faded out. Except for the old one, email marketing. An email account is necessary for people in their professional and personal lives. So, a vast population uses it in their daily lives for communication purposes, including consumers. The number of global email users is 4 billion, which might increase to 4.6 billion users by 2025. Also, 58% of adults start their morning by going through their emails. According to Statista, 319.6 billion emails are sent and received daily worldwide. And this figure can increase to 376.4 billion emails daily by 2025. 
Competitors are doing too
As email marketing is still effective, there's no doubt your competitors are doing it for their B2C business growth too. In addition, 89% of marketers use this medium as their primary channel to generate leads. Also, sales representatives spend 21% of their workday writing emails. So, to keep up with your competitors; other B2C companies in your industry, you need to go for B2C email marketing to have its benefits.
Consumer prefers email
According to Statista data, 79% of U.S. consumers prefer to be contacted by brands via email. And 57% of Generation Z also agreed with it. Also, 80% of people preferred to be contacted by the sales reps through email.
Helps to reach receptive audiences
Emails are a reliable way to reach out to your target audiences. Most emails are sent to subscribers who willingly signed up for your emails/newsletters. So, they're happy to know about your brand via email. That means they receive your emails positively, which guarantees to help you reach receptive audiences.
Cost-effective
B2C email marketing is significantly more affordable than many other forms of marketing. For instance, there aren't any expenditures associated with publishing, advertising, or media space. The cost varies depending on the management of your business. The average monthly fee for a mid-sized business that manages its email marketing in-house ranges between $9-$1,000 per month, depending on the platform.
Higher ROI
The ROI (return on investment) is quite higher in this marketing field. According to WebFx, the ROI is $44 for every $1 spent. Excellent, right? It's a great strategy to increase revenue for your B2C business.
Easily measurable
The emails are easy to measure too. Because email marketing platforms use metrics. Such as delivery rate, open rate, click-through rate, conversion rate, etc., to measure them. It helps to maintain a good email list.
Types of Emails You Can Send In B2C Business
There are various types of emails that you can send as a B2C email marketing strategy. Let's talk about some popular email marketing campaigns and how you can use them to help your business grow.
Newsletters
Email newsletters are one of the most common and popular email marketing campaigns. You can send an email newsletter to provide subscribers with helpful information and tools. Create engaging content. Including thought leadership, how-tos, and announcements about new services/products. Do these to add value to your subscribers' mailbox. And to determine your newsletter's effectiveness, consider whether the content helps engage with the subscribers and build relationships.
Promotional emails
Promotional emails are an excellent way to increase sales, sign-ups, and new product offerings. Introduce new products or services, and cross-sell products to your subscribers. Also, promotional emails contain offers that attract your target audience to purchase a new product or service. Send promotional emails to reward engaged subscribers and regular customers with exclusive offers.
Lifecycle campaigns
Lifecycle campaigns are based on the stage of the subscriber's lifecycle. This type of email is sent according to your subscribers' interests. Which you can track using an email marketing tool's segmentation and personalization features.
Retention emails
Retention emails ask for consumers' feedback, provide knowledge, or offer rewards to your recent buyers. This is a very effective email campaign strategy for keeping your hard-won customers. Consider sending retention emails for your business as an email marketing campaign. Your B2C business can keep the communication lines open by sending a message requesting feedback. Or by offering to subscribers who last interacted with your business, or email campaigns a while ago. It will likely be in favor of your business's well-growth.
Acquisition emails
Acquisition Emails can assist your business in acquiring customers. You can send this sort of email to the subscribers who have consented to receive your emails. But have yet to convert them into consumers. By creating appealing offers and informative content, you can demonstrate the value of becoming an active customer to those on your email list. Acquisition emails are an excellent way to move leads through the conversion funnel quickly. It helps to grow your business, and drive additional revenue. Also, target users who have expressed interest in what your company offers.
Transactional emails
Transactional emails are receipts, invoices, order confirmations, billing statements, etc. And buyers prefer to receive transaction history through emails. So, your B2C business will be appreciated more if you send transactional emails to your customers.
Seasonal emails
Send seasonal emails to your consumers. It's time for a seasonal campaign when the days start to resemble holidays! Seasonal campaigns are often associated with well-known holidays. Such as religious festivals like Eid, Puja, Christmas, Easter, Thanksgiving, etc. You can also send them during the summer, fall, and winter holidays. Also, you can send seasonal email campaigns on Black Friday, Mother's-Day, Father's Day, Valentine's Day, and other special days. You can even send subscribers seasonal emails after a holiday with post-holiday offers. Even though you only send seasonal emails to your customers a few times a year, doing so will significantly boost your revenue.
Check out this seasonal email example below; TOMS sends emails on Mother's day.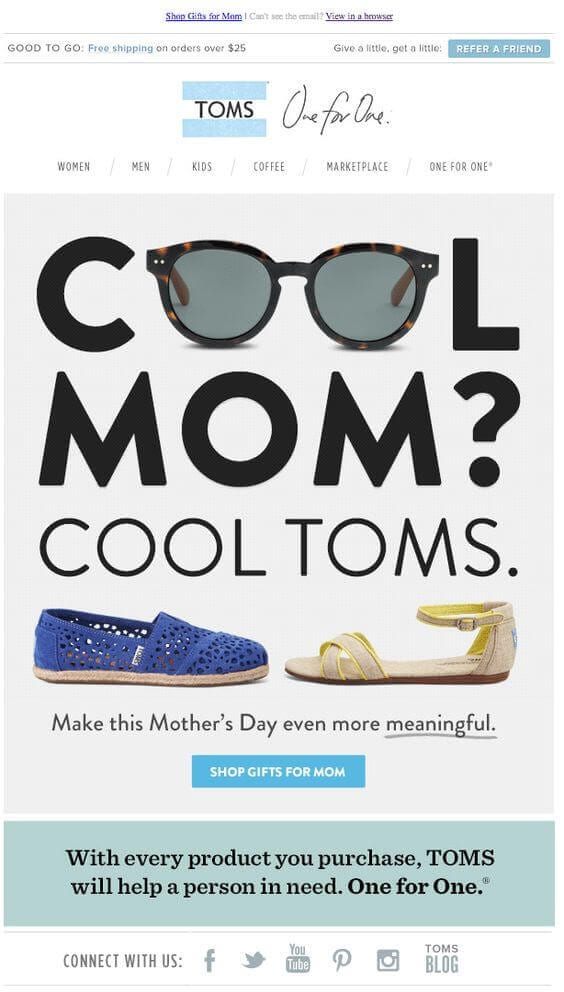 Tips For B2C Email Marketing
In B2C email marketing, there are certain things that you need to keep inside your head to be on the right track. Here, providing some tips for your happy email marketing.
Set your budget
Start with budgeting! First, you must set a budget plan and focus on what fits best for your company. After that, set aside some of that budget for B2C email marketing.
Invest Time in B2C email marketing
Spend time developing your B2C email marketing strategy. Your results will reflect the level of effort you put into your email marketing strategy. If you want to be successful, you must spend your time wisely. Put time and effort into your email marketing strategies. Then you will be able to deliver engaging emails to your audiences. Along with leading to higher engagement rates and better email marketing outcomes.
Set a good email list by well-segmentation
An email list is simply a collection of emails gathered by businesses from people who willingly want to receive information, updates, discounts, and other details about your business through email. Segmentation is a process that segments the recipients based on age, geo-location, gender, behavior, and their responses to the emails. According to Snovio, segmented email campaigns have a higher conversion rate. Resulting in a 39% increase in revenue. Also, 58% of revenue is generated solely through these segmented and personalized emails. Therefore, you need to set your email list through a well-segmenting process. So that you can send appropriate and relevant emails to the audiences that would increase your revenue.
Send data-driven campaigns
You can learn more about your customers by integrating data-driven campaigns. It helps in building appropriate profiles and delivering the content the consumers want. Use data to help personalize your audience experience, resulting in more engagement-worthy emails for the subscribers.
Send mobile-optimized emails
The majority of people use mobile devices for communication and information sharing, including emails. The growing number of mobile phone users necessitates mobile-optimized email templates. And 81% of users prefer to read their emails on their smartphones or tablets. Hence, your emails must be mobile-friendly. If your emails are optimized for  Smartphones/tablets devices and have a clearer design, it is obvious that your subscribers will be satisfied.
A/B test your emails
A/B testing simultaneously tests two or more page variations to determine which performs best. Simply create two identical emails in your email marketing tool except for one variable. Such as a different subject line. Then send those two emails (naming A and B) to a small sample of your subscribers to see which one is more effective.
Simply put, send "email A" to half of your test group while "email B" to the other half. The email version with the most opens and clicks will be the winner. And you will send it to the rest of your subscribers.
Cold emails
Any email sent to a potential customer, subscriber, or another business contact with whom you don't yet have a connection is regarded as a cold email. You could wonder if sending cold emails is okay in B2C email marketing, as you'd be sending emails to those who aren't your subscribers. Well, the answer is yes; it works when done effectively! Cold emails can be a great way for your business to reach prospects. Also, these emails set a casual, informal tone than formal. This fits the B2C email marketing vibes; as mentioned before, B2C business follows a simple, conversational style too.
Send emails justly
Last but not the least, send your emails to your subscribers justly. Don't just send a few emails to your consumers that would weaken the engaging bond with your business. Also, don't over-send emails to them either because it could irritate your subscribers. Which might put you at risk of losing them. Avoid sending unnecessary updates. And maintain a standard manner in terms of sending emails to your audiences.
Tips For Writing Emails as B2C Business
To ensure success in your B2C email marketing journey, you need to focus on your emails' written copy. You need to write your emails with a manner that would engage your readers more. And drive you to a higher conversion rate. Here, giving you some email writing tips for your B2C business:
Engaging subject lines
The text line people see in their email inbox that hints at what the email will contain, is called the subject line. This one line of text frequently determines whether a reader will fully open your email to read it or delete it. According to OptinMonster, only the subject line prompts 47% of email recipients to open a message. At the same time, 69% of recipients of emails mark them as spam based only on the subject line. Therefore, your email subject lines must be catchy enough to grab your subscribers' attention.
Relatable and reader-friendly email copy
Write your emails in a manner so that the reader can relate to them and also find no difficulties reading them. As mentioned, B2C follows a casual, informal voice. So you must also write to your consumers in that tone. Make your email content relevant and with easy words to make it reader-friendly. Use simple words and sentences in your B2C emails. That would make it easy to read and non-monotonous among readers.
Appeal to the reader's emotions
As previously stated, emotions drive B2C sales. Therefore, your messages must evoke strong feelings in your readers. Talk about issues that matter to them. And demonstrate how they can affect change by identifying with your brand. In other words, please do everything you can to reinforce their opinions and beliefs. Your chances of generating conversions increase with the emotionality of your arguments. Write your email content in a way that would capture the reader's emotions. And accurately reflect the personality of your brand.
Include lead-magnets
Include lead magnets in your email copy. Lead magnets are specific materials that you can offer to draw users' interest in your emails. For example, you can offer a free product demo to the users who signed up for your emails. Or you can give discounts. A lead magnet is useful for efficient lead generation. It helps to get good engaging readers and grab their interest. So, include compelling lead magnets in your email.
Contain a sense of urgency
Creating urgency is beneficial for B2C email marketing. So, it's vital to contain a sense of urgency within your email. You can make it by sending limited-time promotional emails that entice and convince subscribers to purchase. Special promos or discounts are great for getting more subscribers. And it urges your customers to buy your products. It attracts your consumers to your emails so they don't miss out on your limited-time offers.
Include CTA
In email marketing, CTA (call to action) is a button or hyperlink text that directs a user to a website of a brand's choice. When consumers interact with your email, you want them to take action, don't you? The purpose of a CTA is exactly that! It's intended to motivate consumers to take action. They are crucial because they raise click-through rates by indicating to the reader what action they should take next.
You can include multiple CTAs in your email. However, it's better to insert only one CTA to increase the click-through rate of your emails. Because a single CTA in an email campaign increases click-through rates by 42%!
The following picture is an example of an email campaign providing CTA from Nike.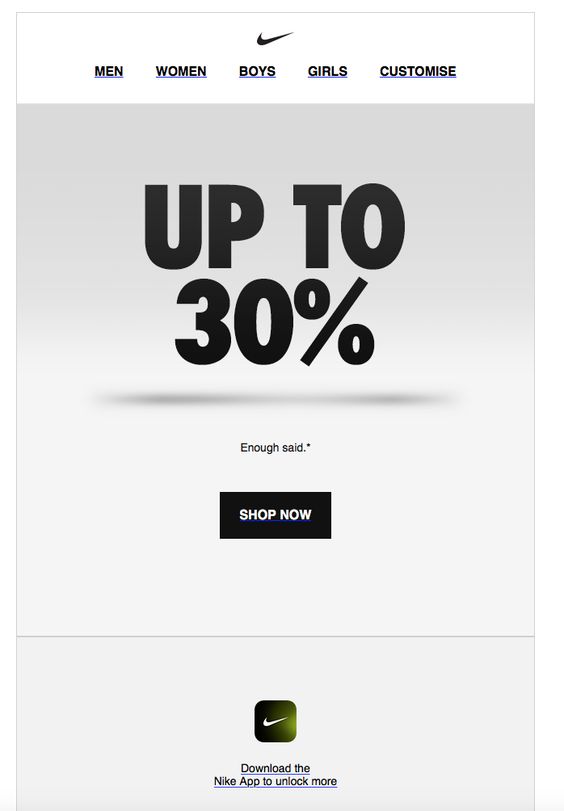 Make emails well-designed and organized
Your product-oriented emails should be well-written. From addressing your audience to the end of your message, you should maintain a polite, gentle tone. So that your email can capture readers' attention and engage them effectively. You need to consider the visual aspects of your emails too. Your email's design and size are also important. Suppose your email is cluttered with unnecessary, irrelevant information and needs to be more concise. In that case, your customers or subscribers are less likely to see and read it. Hence, write precisely to the point and avoid unnecessary talks.
Choose An Email Marketing Tool
You can use an email marketing tool for your B2C email marketing instead of doing it all on your own. All the necessary facts have been discussed here. So, you already know exactly what you need to do and maintain for a successful email marketing strategy. After writing your email, you can do the rest of the work easily from an email marketing platform/tool. An email marketing tool provides all the necessary features like segmentation, personalization, A/B testing, etc. Not only that, you can have a variety of email templates to design your emails. Also, it is cost-effective. You don't have to spend lots of money to use and implement it. 

Hence, suggesting you email marketing tools for simplicity and efficiency. And our MailBluster is right here for you to do that! It's very user-friendly. You don't need to be a tech genius to use it. You'll find many beautiful templates for your email's design and organize them as you see fit. You can have all the necessary features like segmentation, A/B testing, etc., and it's very cost-effective too. This email marketing tool will let you connect with the subscribers and use all the essential features for email marketing with its flexible pricing. It's free, but there's a monthly limit of 62,000 emails. And if you want to go unlimited without branding on all the outgoing emails and unsubscribe pages, then you will be charged only $0.20 per 1000 emails. Excellent, right? So, consider choosing it in your journey toward better B2C email marketing.
Wrap Up
Email marketing is still effective and essential for the well-growth of any B2C business. This blog has covered every pertinent detail you need to know about this marketing strategy. I have included all the essential information, advice, examples, and recommendations for your better understanding of this topic. Hopefully, you will grow your B2C business successfully by implementing these suggestions and using a better email marketing tool.