Lead generation is a process of getting leads to whom you want to sell your products or services.
Let's assume you participate in a survey on an automobile service-based website to learn how to take care of your motorbike. After days, you get an email from that website offering your needed help. If your needs and their timing match, then there is a probability for you to purchase.
You have become their lead whenever you participate in that survey with your contact information. After marketing through email, the automobile business can convince you to be a paying customer.
What is a Lead?
In the business context, a lead is a person showing interest in a company's products or services by providing an email address.
It's an essential component of your business as it lets you know to whom your advertising is worth. Just to let you know, providing contact information means that the subscribers want to hear from you. So, you have the maximum opportunity to sell your services or goods to these subscribers who have become your leads.
There are several kinds of leads –
Marketing qualified leads: Contacts connected with the marketing team's effort but not ready to buy yet.
Sales qualified leads: Contacts showing interest to be paying customers by taking action.
Product qualified leads: People who used your trial products and are interested in upgrading by purchasing.
Service qualified leads: Customers indicating their interest to your service team to be your paying customers.
Each kind has a different tendency that you should maintain. Trying to sell your product to someone who doesn't trust you enough yet to purchase is not a brilliant idea. Instead, giving more effort to build trust seems nice for this segment.
What is email lead generation?
Lead generation is a way to get leads by attracting them with opt-in forms through diverse digital marketing channels.
Email lead generation is a collection process to generate email addresses showing interest in your products. However, the email lead generation strategy doesn't end here just collecting. Nurturing these leads into paying customers through Optimizing the conversion rate is the ultimate goal of email lead generation.
According to Capterra, 89% of online businesses grant email as a medium to manage marketing campaigns online with generated leads.
Following no plan and sending marketing emails to anyone might increase your email bounce rate and reduce deliverability. I just wanted to let you know that's why you need to generate leads looking for your services. After getting leads, you have a chance to make a long-term relationship with them through email marketing.
Lead generation is the process of getting leads when lead nurturing can turn these leads into paying customers by developing trust.
Influencer Marketing Hub says that 46% of traders think email is an essential medium for lead generation. In comparison, 47% consider it to nurture leads.
Ways to Lead Generation
It will need effort and determination to get leads that can grow your business. Lead generation is not possible overnight as you have to consider things for getting users' information.
Let's focus on the practices that can generate leads for you.
Understand Your Customers' Pain Point
It would be best if you considered that your prospective customers are having problems and are looking for solutions. You can't help them with their situation if you don't know what exactly their concerns are.
If you have an automobile business, you need knowledge of what kind of troubles a motor car owner generally faces. They're more likely to become your leads if they realize you care about them and their problems.
Create Standard Contents
It doesn't matter where you will collect leads; you need content meeting your prospective customers' needs. People use search engines to get guidelines or solutions, and the search engines follow standards to rank the contents.
Suppose your prospects are on social media. In that case, you must create content that maintains social media standards as it ensures that they are interested in your products.
Create Lead Magnet
Contents make the users interested in your products. It's convenient because you have a positive image of your services or products when they are interested. Now you need something that can attract them. The lead magnet is such a thing. A lead magnet forces your site visitors to exchange information like email addresses. It can be a piece of content such as an ebook or newsletter. Its content drives awareness and provides information that helps potential customers engage and find interest in your product or service.
As mentioned before, a lead is someone interested in your product and providing an email address. A lead magnet offers freemium products or services in exchange for filling up a form containing the email address and other information. Content interests them, while the lead magnet can turn them into leads.
Create Landing Page
The landing page, known as the lead capture page, is the web page containing a lead magnet. People don't want to trade their information for unnecessary offerings. So, the landing page will filter out others.
You get a lead whenever an individual fills up the form with their email addresses and other private information. Your content helps prospects find the best way to handle their situations. On the other hand, the lead magnet on the landing page attracts them to provide data.
CTA
A simple CTA (call to action) can clarify your landing page. You shouldn't expect people to spend time understanding what will happen when clicked. Clarity can make them click, and the CTA will take your prospects to the landing page.
Considering their passion is a way to a successful CTA. When you know about their pain points, it will be easier for you to connect your prospects with the CTA. Timing is also vital for CTA because they may not need your help anymore if it's late.
Create Buyers' Persona
Buyers' persona is a database based on the users' various characteristics and attributes. It will help you specify the needs of your prospects. It is essential when you create segments for email marketing.
Buyers' persona can be both positive and negative. A positive buyer persona contains data about prospects. A negative one represents those who you don't want as customers. Not all the leads are going to make profits for you. This persona contains those who are too advanced with your products, students using your freemiums without purchasing anymore or potential customers who are too expensive to get. It's about cutting fat that has more expenses than profit margin.
Influential Factors
Some other factors play roles in getting leads for you as well as assisting you in maintaining your business reputation.
Optimize Your Website
It would be best to consider which mediums or devices your customers use. 60% of web searchers use mobile as a medium. If your website is not mobile-friendly, you are skipping most of your potential customers.
Loading time also plays a vital role in attracting leads. You will lose 32% of your customers if it makes them wait for one to three seconds. Smartphone users browse or shop on websites instead of mobile applications.
The design of your website also matters. If it looks backdated, it will be hard for you to gain customers' trust.
Try Guest Posting
Guest posting, also called guest blogging, is writing content for other businesses to attract traffic to your site by adding external links. Guest posting can boost your SEO strategy as the prospects will catch you more effectively. Write relevant guest blogs matching your website's offerings so that users can cop up easily.
If you have a food business, you can write a guest blog on the foods your company provides and link it to your website because there are potential customers on the site you just wrote. They can be the traffic to your web page by clicking on the external links.
Referral System
It's a way to convince your existing customers to bring leads for you. A referral system offers rewards for onboarding someone on your business. Rewards can be financial, discounts or a product.
In short, through a referral system, your customers include their surroundings to your business as your potential customers. Many well-known companies (such as Uber) use the trick to meet new possibilities.
Build Your Brands' Online Community
A study shows that people spend 19% more after joining the brands' online group. Creating a public group on social media can gather prospects interested in your products or services. These prospects have the maximum possibility of being a lead in your business.
Whenever you post content containing an offer with a simple CTA to your brand's online community, many people will click on that CTA. The CTA will take them to your landing page containing a lead magnet. The lead magnet will attract them mostly to be your lead.
Generate Genuine Leads
You can use one of the double-opt-in processes to make the users willingly give you their email addresses, as you send them a link containing their desired offers directly to their inboxes. Those who open your email with that link are your potential customers. One of the Mailbluster customers, ThemeWagon, uses this trick to get genuine leads.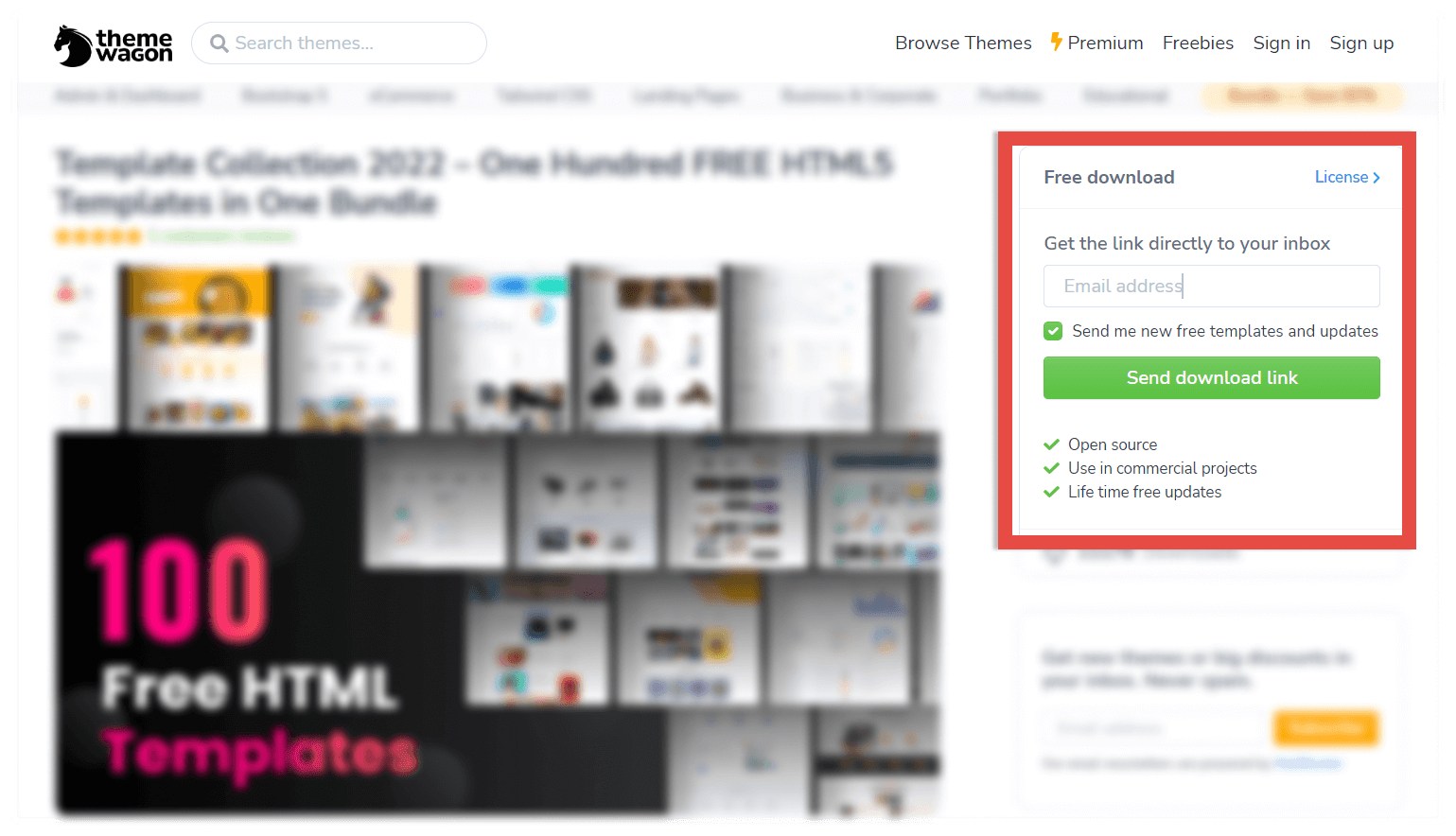 ThemeWagon lets the users download the first freemium from the webpage without their email addresses. After downloading the first one, they must provide their email addresses to get another freemium. It is one of the most effective lead-collecting machines you can follow using Mailbluster.
Why Shouldn't You Buy Leads?
Let's assume you have 1000 visitors, and 100 of them took action on your website. So, the conversion rate would be 10%. The conversion rate might decrease if you run an email marketing campaign with buying leads, harming your business reputation to the ESP. Some may think a list of leads will only increase their customer base, but that's incorrect. It will be harmful in the long run.
It is impossible to understand the bought-off leads because they are strangers to you. Communication goes wrong if understanding is lacking, and that is the cause of increased bounce rate and decreased deliverability in any business. A smaller customer base is better if it's more effective than a larger one. Growing business slowly by getting organic leads is the best way to success.
After creating buyers' persona with new leads, you are ready to run an email marketing campaign. An effective campaign can turn your leads into paying customers using a sales funnel.
You might be worried about the cost of email marketing. Mailbluster is a cost-effective and easy-to-use tool with helpful features that can assist you with a successful campaign! Using this tool, you can make segmentations based on the buyers' persona, which will help you be relevant while communicating with your potential customers.