Reactivation email is the only possible way to re-engage with your inactive subscribers, also known as sleeping subscribers. Their email address is not invalid, but they are not active at the same time. Not every subscriber opens or reads every email they get from the marketer. If subscribers lose interest in your email campaign, they might avoid your entire email altogether. You can activate your subscribers by running a reactivation email campaign, which will be the best solution to activate them successfully.
In this decade, email marketing has been overgrowing. According to Statista, about 333.2 billion emails are sent every day worldwide. The number is expected to grow to over 376.4 billion by 2025. Marketers are using email marketing channels as it is way more cost-efficient than other marketing platforms. Marketers can easily reach out to their subscribers/customers through email marketing.
The necessity of reactivation email
A reactivation email is generally a trigger email sent to inactive subscribers to get them to respond. So, when you clearly understand the necessity of a reactivation email, you know its importance. There are some key advantages for you to operate a successful reactivation email campaign. Such –
Converting your unengaged subscribers to active subscribers.
Figuring out the genuinely inactive subscribers who don't go to be involved anymore.
Revealing why your subscriber becomes inactive.
Updating your email list with active and potential subscribers.
Redesign your email marketing strategy so that you can minimize future reactivation occurrences.
Increasing your email campaign's open, click-through, and email deliverability rate.
Improving your inactive customer engagement stats.
Ultimately it will increase your sales by getting responses from old and inactive customers.
What you can do about inactive subscribers
Ignore them – You can ignore the inactive user. You don't have to send a reactivation email to them. You avoid them and concentrate on your currently active subscribers. This way of dealing with your sleeping subscribers is the simplest way but the worst option as well.
Discard them – Before abandoning your leads, send one reactivation email to inactive subscribers when you get no response. You remove their email address from your primary list. This way is moderate, as at least you are trying to engage with your inactive customers.
Hook them with an offer – You must work hard to hook inactive subscribers. Suppose your inactive subscribers do not respond to one reactivation email. Then you have to redesign your reactivation email and send them several times.
Steps to reactivate your sleeping subscribers
1
Identify the cause:
First, you must discover the real cause behind your subscriber's inactivation. You may take genuine feedback from inactive subscribers through an 'exit survey.' Getting a fast response on an exit survey from them is a pretty complex and lengthy process. But you should send an email with an attractive and lucrative subject line. Your subscriber needs to get triggered to respond to that email before going to ignore your future email. Thus you can have some chance to get their honest opinion. It will help you redesign your reactivation email with a more eye-catchy subject line.
Now you must dig deeper to discover other reasons your subscribers fall asleep. Because inactive subscribers can be your potential customers too. However, there can be a couple of key reasons, such as –
Subscribers no longer feel interested in your service or product.
The email campaign does not meet the expectation of your subscribers.
You are sending too many email campaigns to your subscribers.
For any reason, your subscribers' email addresses have changed.
Lack of optimization in terms of sending mobile-friendly emails.
Your subscribers blacklisted you.
After finding the specific reason behind the inactivation behavior, you must take some careful steps accordingly. It would be best to redesign your email marketing campaign according to inactive customers' needs and demands. Don't send too many unnecessary emails to your subscribers. Also, you need to keep updating your subscriber's profile in your database. So that if they change their email address, you can update your list. There is a high chance of having too many smartphone users. Therefore, you must create a separate mobile-friendly campaign for those segmented users. Last but not least, always try to avoid being blacklisted by your subscribers.
2
Segmentation of inactive subscribers:
Segmentation is an essential strategy for any email campaign. When it is for inactive subscribers, then it must be on your to-do list. However, to warm up your inactive subscribers, you must segment their response pattern to your emails. Here are some key strategies that you need to keep in mind while segmenting them –
You need to segment your sleeping subscribers according to their inactivity time period.
You have to track and segment them if they open any of your emails.
You need to plot your inactive subscribers by demographic segmentation.
These segmentation strategies will help you plan your reactivation email process more accurately. Thus, you can send targeted reactivation emails to your customers to keep them from going cold.
3
Offers for returning:
How effectively your reactivation email will work entirely depends on your proposed offer. In your reactivation email, you need to engage your inactive customer. You must provide some returning offers to them, such as:
Upgrade their subscription plan – You may need to increase the time of their current subscription plan or any other user's facility according to your service.
Provide exciting offers – According to your inactive subscriber's segmentation, you can design exciting offers for them. It depends upon your service and your customer's expectation. Such as time-limited offers, welcome-back offers, discounts etc.
Use imagery in the email – You may use the "We have missed you," "We haven't seen you in a while," or "One more try!" taglines in your reactivation email subject line or the email body. Besides, using images in your reactivation email will be very effective. According to Snov.io, emails with images had a higher open rate (27 %) and click-through rate (4.5 %) than text-based emails (20% and 3%). You can add your offers inside your image too.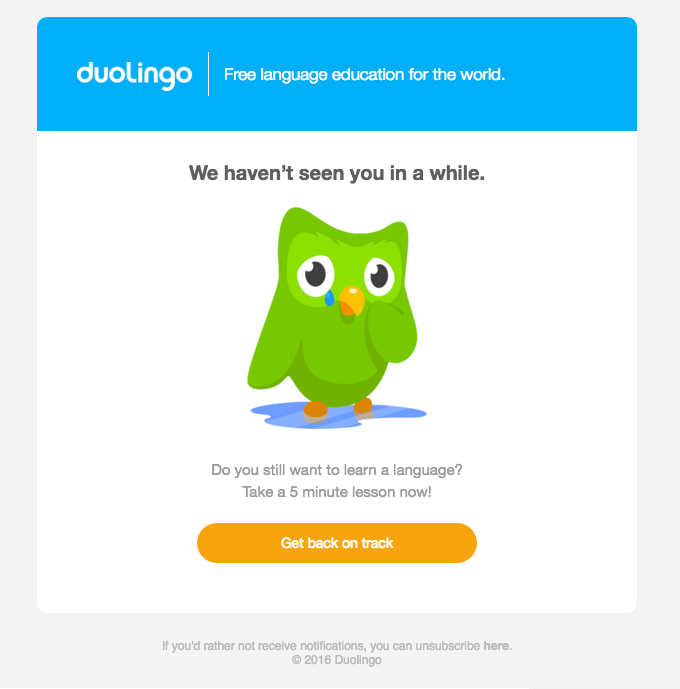 4
Set reactivation email limits:
You must perform two things simultaneously in this phase. You can't always send a reactivation email to your consumer. After a certain period of time, you must stop sending them reminder emails. If you send your reactivation email on a scheduled basis, it will be more effective. To plan the schedule for your reactivation campaign with mailbluster, you may check this out. After finding out who your real inactive customers are. You must remove their email address from your primary email list. Every outcome is critical to your success. So, you should keep a close eye on them. Thus, you'll be able to establish a successful reactivation email campaign.
Mistakes that you should avoid
A marketer can make common mistakes while sending reactivation emails, such as –
Many email marketers stop sending their reactivation emails after one attempt. But there is a high chance that you may need to send more than one email to win your sleeping users back. So, never do this first of all.
On the other hand, you can not send too many reactivation emails to your inactive customers. It will backfire hard as they might report your email or block you.
You must avoid sending the wrong type of reactivation email to your inactive users. You have to email them according to the segmentation strategy mentioned above.
You can not stop updating your email list. Many marketers stop updating their email lists after a particular time, which is incorrect. But you should separate inactive customers fast from your email list. It will help you maintain your email list clean.
Do not waste your time sending a reactivation email to any dead user's email. You have to figure it out first. It will undoubtedly save you time on your whole reactivation process.
Planning a reactivation email campaign is one of the worst decisions without segmenting your inactive subscribers. So be mindful regarding it.
Conclusion
You now know what to do and what not to do regarding your reactivation email campaign. Reactivation email is a critical campaign for reawakening your sleeping subscribers. If you engage with inactive subscribers appropriately, they might become your potential customers.
Furthermore, you may also learn genuine feedback from your inactive users by properly sending the reactivation email campaign. For example, why do your former subscribers ignore your email campaigns? Why have they lost interest in you? That is why you must rethink your email marketing strategy. Consequently, it will assist you in increasing the percentage of the success of your future email campaigns. To ensure all your plan execute properly. You may take advantage of an email marketing tool that can assist you in quickly creating a reactivation email campaign.