Few individuals are aware of a strong, well-written email subject lines' strong influence and its vital role in email marketing. Compelling and catchy email subject lines are essential for increasing open rates.
And in this blog, I'll explain an email subject line and its significance. I will discuss the essential things of email subject lines that you need to keep in mind while writing a marketing email.
What is an Email Subject Line?
An email subject line is the first single-lined text the recipients see right after the email sender's name. In short, it's a single-lined brief of the email. And that's why it's an essential part of an email, as it previews the email content. So, readers will get the gist of what the email is about and sent for by reading the subject line. Also, as it is the first thing the reader sees in an email, it's responsible for setting expectations and leaving a good first impression of the email.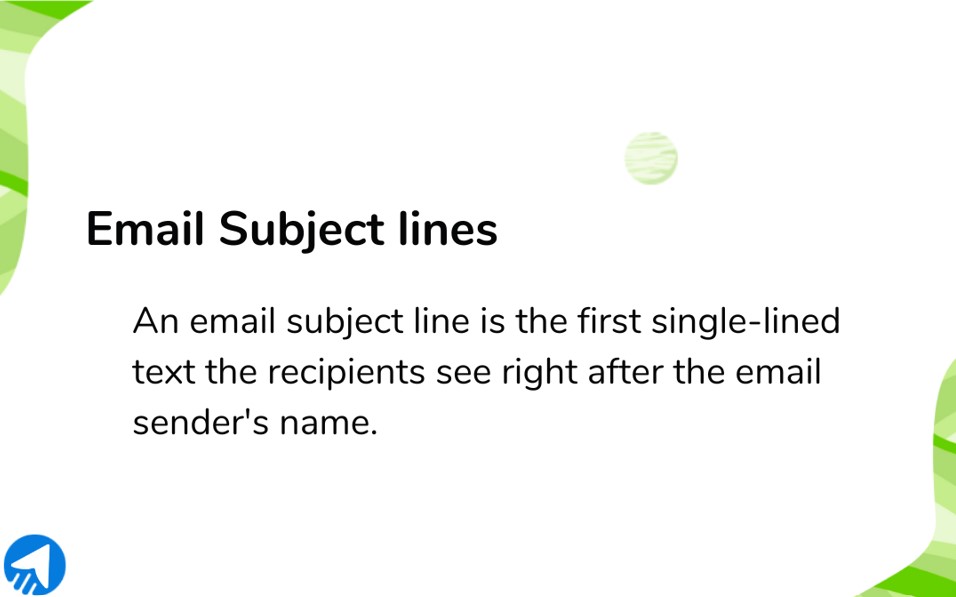 Why Catchy Email Subject Lines Matter?
An email's subject line is significant because it gives an overview of the email's content in a single line. Reading the email's subject line makes it easier for the recipient to figure out what it is about, which might assist them in deciding whether or not to open it. A strong subject line may boost the recipient's probability of opening the email. Based on the subject line, 47% of email recipients decide whether to open an email or not. Furthermore, 33% of email receivers open emails because of catchy subject lines.
A catchy email subject line grabs attention, sets expectations, and ensures deliverability.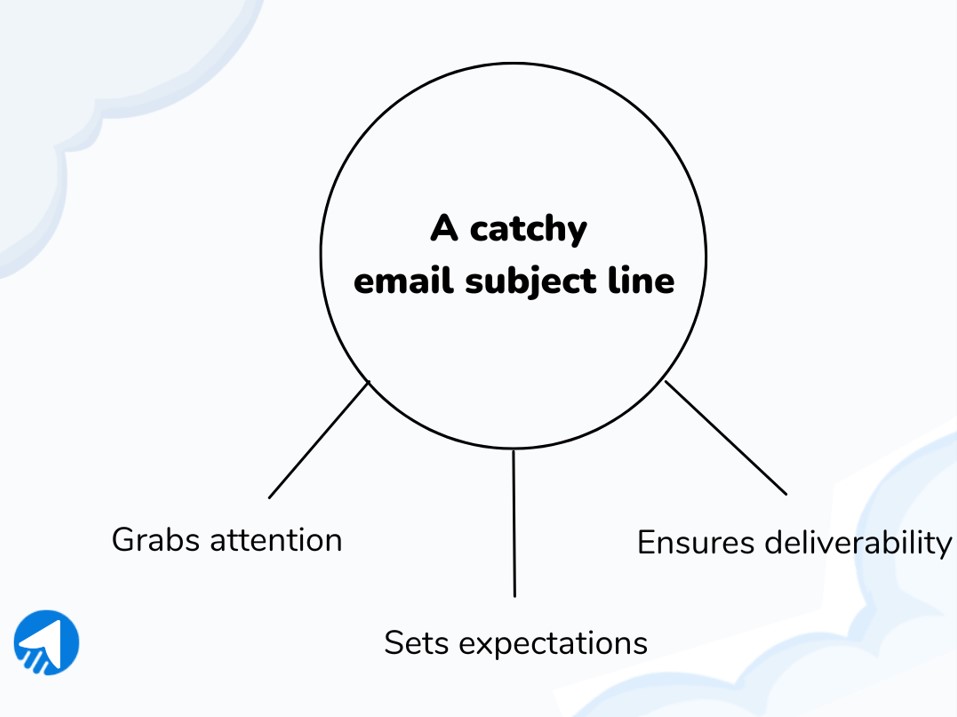 You can raise open rates and, click-through rates, conversion rates by using catchy email subject lines.
Other factors contributing to the importance of email marketing subject lines include:
Grabs attention:
The first thing users see when they receive an email is the subject line, which is vital in grabbing and attracting their attention and persuading them to open the message.
Sets Expectations:
The Subject line also implies the email's content. The receiver should be able to infer from a well-written subject line what to expect from the email. Thus, the email subject line sets the expectations.
Ensures deliverability:
Certain words, terms, and phrases can set off spam filters, marking your email as spam and a potential delivery failure or placement in the recipient's spam folder. Creating subject lines without using certain trigger words or terms ensures deliverability.
How to write Catchy Email subject lines
Let's go through some tips on writing catchy subject lines that will grab the readers' attention and increase open rates. And also, see some necessary examples of catchy email subject lines that get opened mostly;
Apply FOMO concept
FOMO stands for fear of missing out, and this type of email subject line consists exactly such notion—for example, fear of missing out on a limited offer or edition. Apply this psychological concept in your email subject line; people will read it due to the "urgency." Include words that will imply urgency, alertness, or importance so the reader will find it hard to resist. This strategy works amazingly for creating urgency around any event, sale, or item. So, give it a try!

Check out the following FOMO-type email subject line example for a better idea. Amazon Web Services (AWS) sent this email with the subject line that contains a fear of missing out vibe by mentioning the deadline of the free offer.
Give a personal touch
Give a personal touch in your email subject lines. For example, address your reader with their name and write it in a polite-friendly manner. And write subject lines in a way that the reader will be able to relate. For example, send emails on your readers' birthdays and wish them in the subject line like "Happy birthday Zahra!" and then write the next part as per your email content. For instance, If your targeted audience prefers something in particular, then give them any new updates or reminders that you have specific things in your company that they're looking for.
Apply urgency
Apply urgency in your email subject line to create an urgent vibe among the readers. This is similar to the FOMO concept, and readers hardly ignore such emails.
Look at the given example below!

Make it questioning
The email subject line that contains a question works pretty well! Most of the time, a question relevant to the email content piques recipients' curiosity. An open-ending question in the email subject line is considered to be a good attention grabber. Write your email subject line in a questioning way. For example, throw a question that the readers will be curious and excited to know the answer. Thus, they will open the email to read to find the answer.

Check out the following question-type email subject line for a better idea.

Start with "How to"
While writing "how to" content, mention it in your email subject line too. When the recipient sees the phrase "How to" do something, it urges them to open the email and learn about that particular "how to" aspect.

Check out the following email subject line example. Sumo sent this email with the "how to" subject line. It says, "How to get 1000 new email subscribers in 30 days." Naturally, the receiver will be curious to learn about it, so from curiosity, the readers will open the email to read your "how to" process.
Make it location-based
Location-based email subject lines are mainly targeted at the used location's readers. So, you can apply this technique in your email subject lines too. For example, targeting the subscribers from New York only and mentioning that location in the subject line so the readers know the email content is specifically based on their location.
The following picture is an example of a location-based email subject line.

Keep it straightforward, short, and sweet
Keep your email subject lines simple, short, straight to the point, and sweet. For example, "Perfect diet app for you" is a sweet and straightforward email subject line. Compared to emails with lengthier subject lines, subject lines of 50 characters or fewer are thought to provide 12% higher open rates and 75% higher click-through rates.
Include controversy
Controversial email subject lines are based on current trendy and controversial issues. So, like, any controversy that is happening currently and using that exact issue in your email would be an excellent opportunity to grab readers' attention and pique their interest to read further. Using a subject line that is based on an ongoing subject of conversation or a current occurrence will help you build your brand's reputation and authority in the market. So use this technique to make catchy and compelling email subject lines.
Mention specific list
Lists are often used because they are effective. Lists encourage curiosity while delivering material in a short, engaging format. Furthermore, since our brains are drawn to numbers, including numbers in your subject line helps grab readers' attention and also helps them focus. For example, "Best 50+ gift ideas for Valentine's Day!" is a good "list" type email subject line.
Check out the following example of list-type email subject line; presenting the list of "gifts under $50."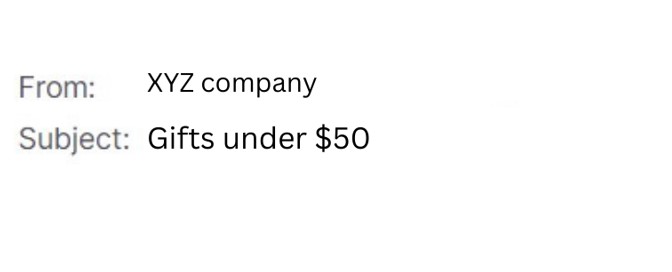 Mention statistics
Mentioning statistics and percentages in the subject line is a great way to grab readers' attention too. As mentioned above, human minds are usually drawn to digits; hence, mentioning statistics will urge them to focus.
Check out the statistic-type email subject line example in the following picture.

Mention offer
If you're emailing your customers to inform them about the current offer, then you must mention it in the subject line. People love offers and discounts, so seeing the "offer" in the subject line will pique their interest to open the email further to read.
Check out the given example of an offer-type email subject line.

Make announcement
If you have any announcement to make via email campaign, then you must mention it in the subject line too. Seeing the announcement in the subject line, readers will be curious to know in detail. For example, if you want to send price increase letters or have any "price increase" announcement to make, then mention it in the subject line too. Seeing it, readers will open the email to know the reasons behind the price increase.
Check out an announcement-type email subject line example bellowed!

Include a teaser
There's a reason why movie trailers or any teaser works! Teaser works because it does what the word "teaser" stands for: "tease." give a teaser of your email content in the email subject line. It will create a curiosity and mysterious vibe among the readers, so they'll feel a thrill that will urge them to open the email.
Make it relevant
Make your email subject line relevant to your audiences. People prefer relevant content. So, make sure to maintain relevancy. Hence, make your email subject line relevant too. Ensure that by reading the subject line, the reader will understand that the email content is relatable to them. In short, make sure your readers can relate to the subject line.
Give deadline
If your email is regarding reminding your readers about any offer, and it has a deadline, or anything important with deadlines, then you should mention it in the subject line. Seeing the deadline will urge the reader to open and read the email.

The following example is a deadline-type email subject line. Katespade mentioned in their subject line about their 75% sale offer with the deadline that it "ends tomorrow."

Use sensory words
Use sensory words in the subject lines. Sensory words or sensual words help make any sentence more "sense." It also helps to express the actual emotion.
Check out the following example. The "juicy" word in the subject line shows how the burger will feel while eating.

Use emojis
Use emojis in your email subject lines. Emojis give a cool, joyous, friendly touch. It also helps in expressing emotion! Anything with emojis catches the attention of the viewer. So use relevant emojis often in your subject lines to make the subject line more catchy.
Check out the following marked email subject line example with a "surprising" emoji.

Rhyme it
We are drawn to rhythmic sounds. Therefore, email subject lines with rhymes stand out in the huge bubble of subject lines. Try using it in your upcoming subject line to make it catchy and compelling. You never know—you could be a poet without even realizing it!
Here's a rhyme-type email subject line example for you! Check out the marked one;
Use some onomatopoeia
An onomatopoeia is a term that phonetically mimics, resembles, or alludes to the origin of the sound it describes. This technique is very useful in making catchy and compelling email subject lines. You can grab someone's attention with sound in various ways, so channel your inner kid and include some onomatopoeia in your subject line for a fun effect.
The following onomatopoeia-type subject line will give you a better idea!

Make it valuable
Make sure your emails are valuable. Don't just email them unnecessarily. Only email your audience when it's needed. For example, if you have to give an update on something, make an announcement, provide offers, etc., then email your audience. And write the subject line, ensuring it shows that "value" clearly.
Some Other Aspects to Keep in Mind
Let's go through some other aspects to keep in mind for writing a catchy email subject line!
Take inspiration from the inbox
Taking inspiration from your inbox is a great way to brainstorm ideas for catchy good email subject lines. Of course, you get plenty of emails, too, right? So, take inspiration from your email inbox often.
Follow and Maintain C. U. R. V. E. formula
Alex Williams, the creative director, and director of digital strategy at Trendline Interactive, spent years developing and testing e-mail subject lines for corporate clients. He developed the C.U.R.V.E. formula based on experience, enabling him to write intriguing email subject lines that almost always get opened virtually.
Curiosity, Urgency, Relevancy, Value, and Emotion are the acronym for C.U.R.V.E. To get a high open rate, a subject line should have at least two of the C.U.R.V.E. components.
Test subject lines
Also, testing email subject lines is a good decision. Do A/B test of different versions of a subject line and see which one works better for you. You can do it with an email marketing platform, and our super handy Mailbluster will be a great choice for that!
Keep your focus more on
You should focus on three aspects more while writing an email subject. If you want your email subject to be catchy, then you need to focus mainly on;
Focus on the "wording" of your subject line. Make sure you're using the right, relevant safe words. Wrong words will lead you to wrong moves. So, be careful with the wording.
Focus on the "touch" of your subject lines. Try to give it a personal, humane touch. Start with warm greetings or addressing readers' names. it
Finally, focus on the "tone" of your email subject lines. Keep it polite-friendly or semi-formal. And don't be too formal with the tone as it gives robotic, too much professional vibes.
Wrap Up
Email marketing is one of the best marketing strategies, and email subject lines are vital in making it a successful journey. In this blog, I have discussed email subject lines in detail; discussed its importance, and so many tips to make them catchy so the readers will give their valuable attention and open and read it. I have presented necessary examples of catchy subject lines for email marketing, too; from that, you can have ideas for creating compelling and catchy email subject lines for sales and boosting your business. Hopefully, all these discussions will help you write catchy email subject lines and enhance your email campaigns' open rates.
Want TO KNOW ABOUT Welcome EMAIL SUBJECT LINES? Click below!
Engage Your Audience With The Best Welcome Email Subject Lines