Maintaining a professional email format is a smart way to communicate effectively with your business clients. That is why understanding an email message's essential parts must be emphasized perfectly. Email has become a vital communication medium for commercial and marketing reasons. So, you must understand all the fundamental elements of an email message to make any email campaign successful. This blog will help you create a compelling email and raise your email campaign's conversion rate.
Email marketing approaches in B2B and B2C are increasing rapidly. According to CMI's 13th annual B2B Content Marketing research, 69% of B2B marketers use email to spread marketing content. CMI also shows in its 13th annual B2C Content Marketing research that 68% of B2C marketers use email as a marketing channel. Regardless of whether you are a B2B or B2C marketer, you must thoroughly comprehend every component of an email to ensure the success of your email marketing campaign.
Parts of an email address
Before exploring the different parts of an email format, let's first understand the parts of an email address. Creating a proper email address is vital to building customer trust. Moreover, it helps build a clear brand image in the email recipient's eyes. So, you need to be familiar with four different parts of an email address to create your company's email address professionally.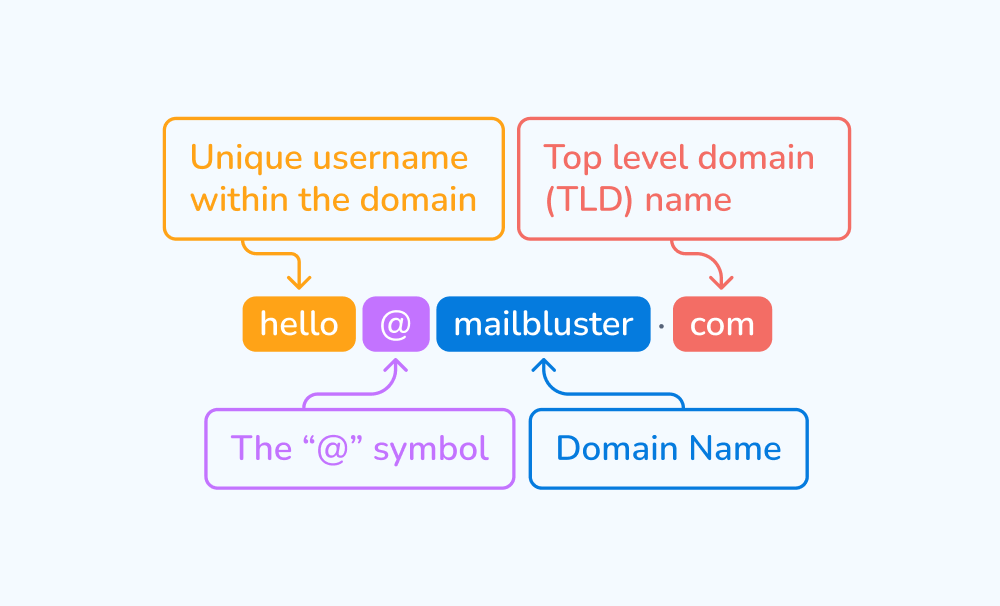 1
Username
The username comes at the very beginning of an email address. A proper username identifies your actual identity or brand. When sending an email, you should use your real "first and last name." Providing your exact name will make your email username distinct and identifiable. But remember, you can use this email address only for personal use.
When you are willing to send business or bulk emails, use the company's designation, department, or brand name in your email address. In that case, you must create a custom email address representing your company's identity. The custom email address will allow you to use a specific domain name for your company instead of a generic one.
However, your email username must be unique, whether you send personal or business emails. This will help anyone differentiate your identity and recognize your email address easily. Therefore, using a real or brand name as your email username is the best practice.
Note: You must use a unique custom email address when sending bulk email campaigns.
2
The "@" symbol
Initially, the "@" symbol refers to "at," "at sign," or "address sign." This symbol is used for many purposes, including financial, business, and daily conversation. But the most common use of "@" is in email addresses. Ray Tomlinson, a computer programmer, first used the "@" symbol in his email program on the ARPANET system. And later on, his email program brought about a complete revolution, and using "@" in email addresses became commonplace. However, to be precise, the "@" symbol separates the email username from the domain name.
3
Domain name
The 'domain name' refers to the mail server storing your email. It is visible to the right of the "@" symbol. More elaborately, the domain name displays the host company's name. For example, many free domain companies (Gmail, Yahoo, Outlook, Hotmail, AOL, etc.) provide free email storage support. These domains are mainly used for personal purposes. But if you want to create an email address for your brand or plan to send bulk emails, you should avoid using any free domain. Instead, you should purchase a 'dedicated sending domain' from domain sellers. Your custom domain will explain your branding and discoverability.
4
Top-level domain
The top-level domain (TLD) comes right after the 'domain name,' separated by a "dot." It is the last of the four parts of an email address. TLDs, also called domain extensions, help identify, organize, and classify websites based on their content, intent, or location. Here are some common types of top-level domains:
.net – network
.com – company
.dev – developer
.info – information
.org – organization
.it – information technology
.edu – educational institution
.gov – government institution
So, a personalized email address will help you separate your brand identity from others and give it a unique name. In addition, the email receivers can easily recognize your email address, which can be easily memorable. Therefore, creating a custom and professional email address for your business is highly recommended.
Structure of a professional email format
Every email message has some essential parts that email marketers must maintain. Emphasis on all these parts is necessary, as it will make your email format look professional and organized. These parts are as follows:
The "from" (sender)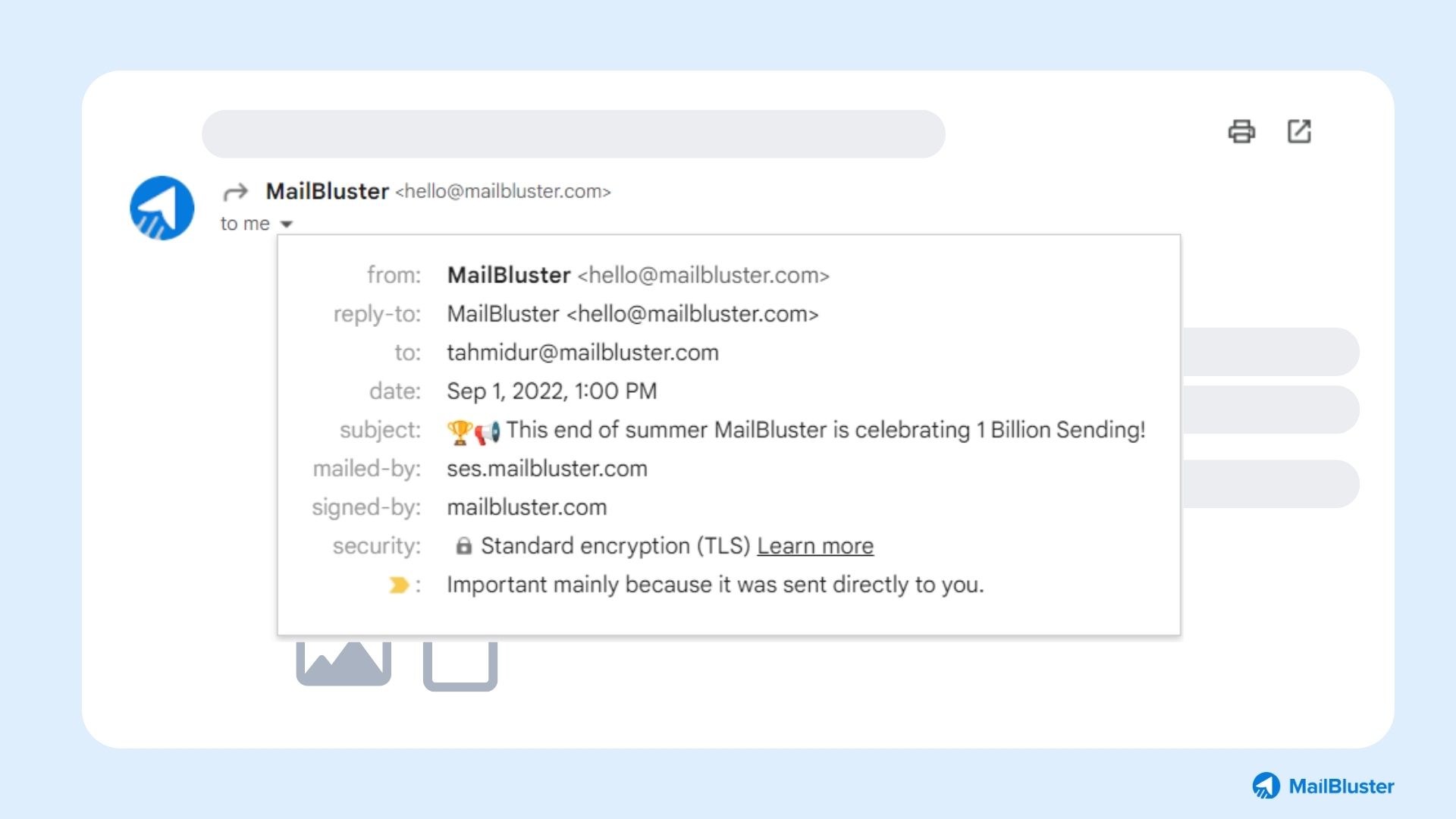 The "from" field shows the email sender's information, such as the email sender's name, brand name, email address, sending time, and more. All of the information must be correct and consistent. Otherwise, it will make the sender's information questionable and generate spam complaints. Furthermore, we already discussed the parts of a professional email address. Also, note that you must use a personalized email address rather than a "noreply email address." Wise marketers should not start their email marketing approach with a negative email address.
Note: Remember, when you want to send bulk emails with MailBluster. You must verify your email address with Amazon SES. And email address verification in AWS is straightforward. However, Amazon SES does not verify personal email addresses (e.g., Gmail or Yahoo). Instead, you must complete the verification process with a custom email address. Moreover, with MailBluster, you can easily customize your email sender information, such as sender name, sender email address (from), reply to email address, etc.
The subject line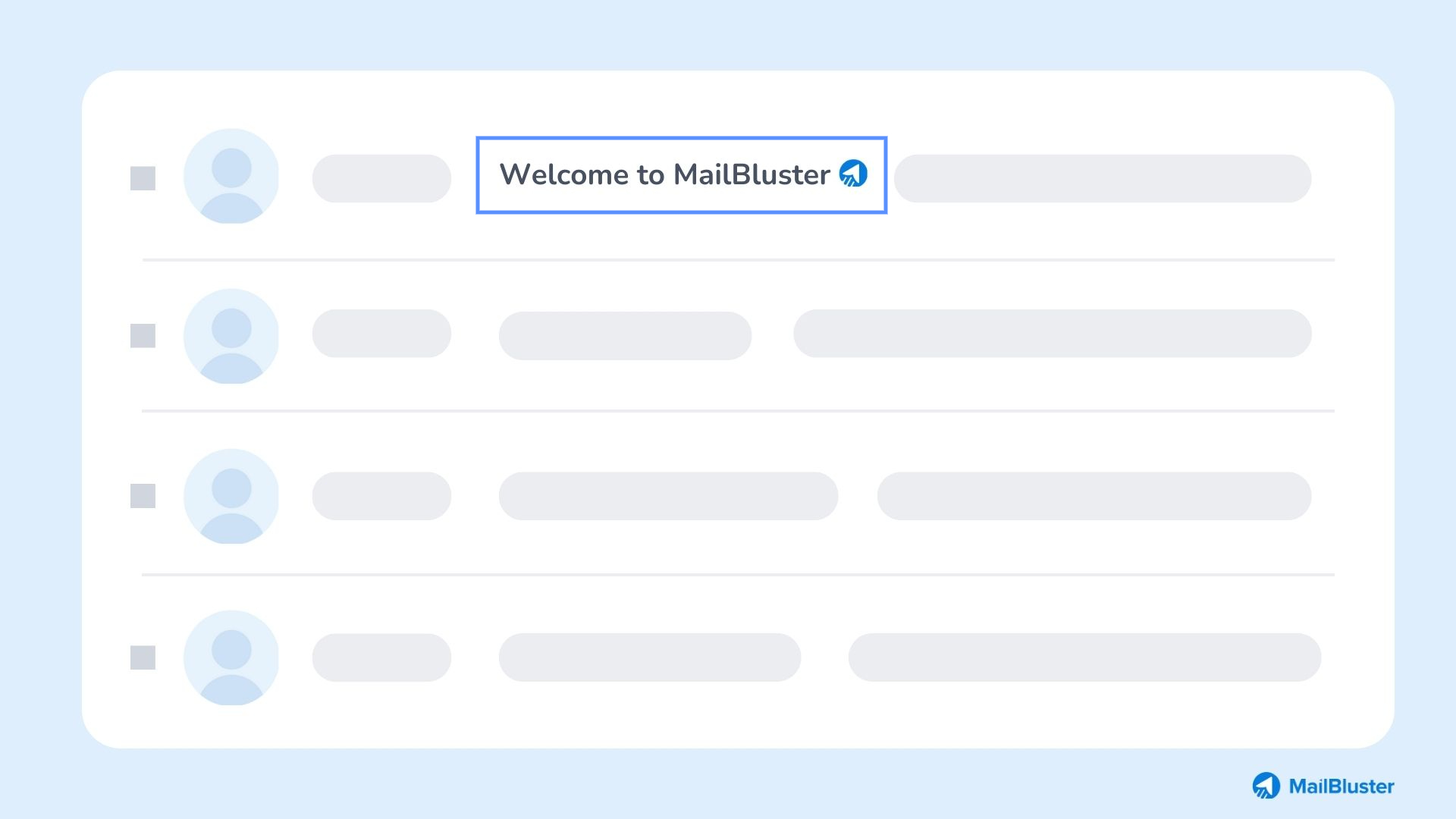 An email's subject line is the most vital section of your email. It comes at the top of an email address in the recipient's inbox. But when you are creating an email campaign, it will be your secondary task. However, you should choose a lucrative subject to attract your recipient. Remember that the email subject line significantly impacts your first impression of the email. You can use relevant emojis in your subject line to make it more eye-catching. Also, personalizing your subject line is another best practice.
Sometimes your subject line can be the reason for spam complaints. Therefore, avoid spammy taglines or characters, such as Cash, $$, ££, Money, more than 80% off, etc.
Also, remember that some customers may use their smartphones to view their emails daily. So, use segments to separate those customers and send a mobile-friendly email by composing short and catchy subject lines.
The preheader text
An email preheader text acts like a companion to an email subject line, as it comes right after the subject line. But it shows up before you open your email. The preheader text has to relate to your subject line and carry the core message with more details. It is a secret element that pushes your email receiver to open it. It is not possible to describe comprehensive information with a subject line. But a marketer can convey additional information with proper preheader text. However, some best practices can make your preheader text effective and secretly boost your email open rate.
Note: Preheader text can be added using HTML code. But that is quite a tricky segment. This is because you have to know the code and its implementation process. On the other hand, MailBluster can assist you in understanding the most straightforward method by adding preheader text to every email campaign. So be wise and find the easiest way.
The salutation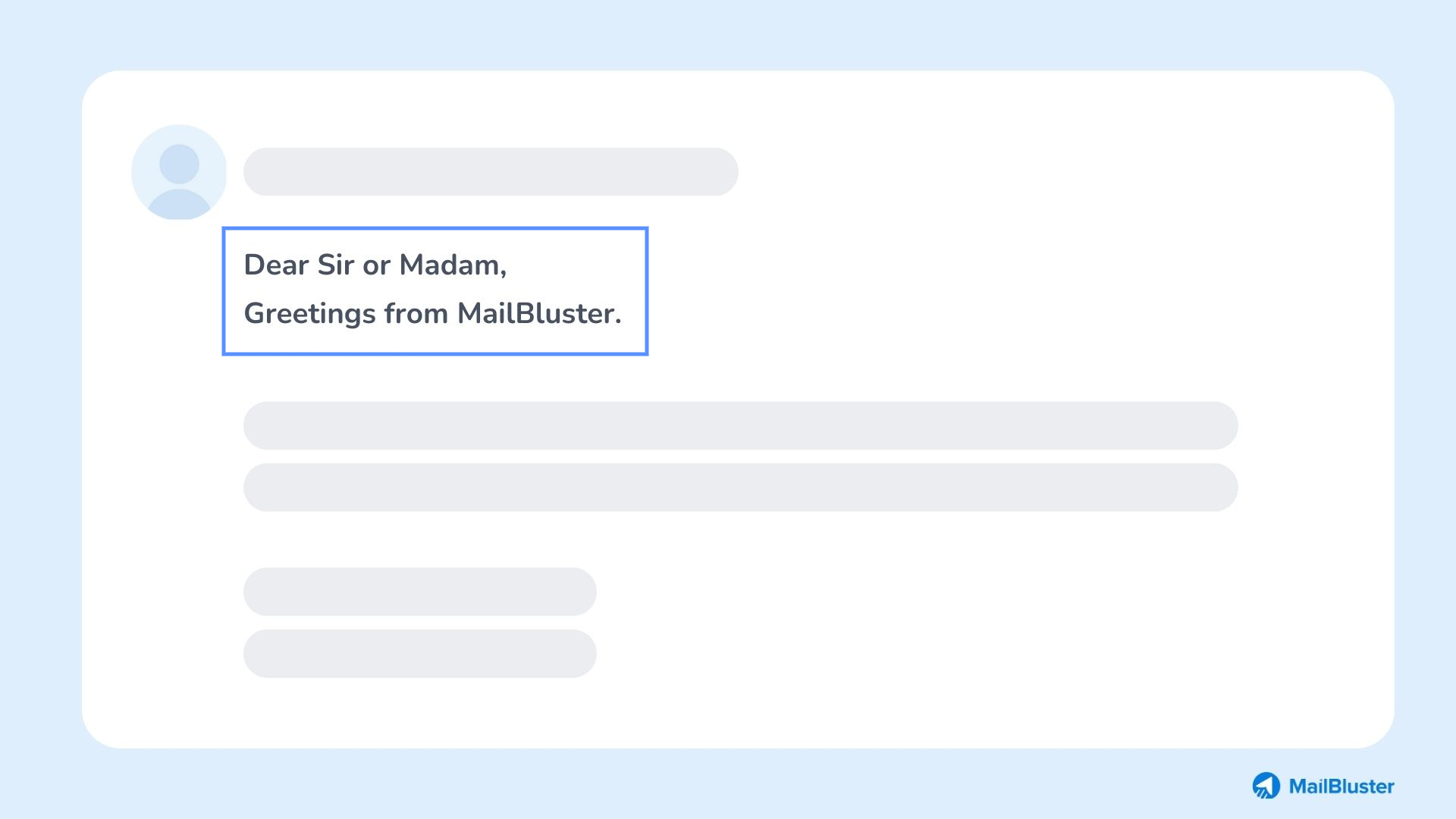 The email salutation or greeting is the second noticeable object after the email subject line. An email message initially starts with the email salutation section. Remember, the start of an email sets the tone of your overall email body. By viewing the opening words, email recipients can judge you based on what you want. And after that, they might decide whether to continue reading further. Therefore, your email will sound harsh without a proper greeting at the beginning of it. So, consider using an appropriate greeting before describing your message to your recipients.
Here are some perfect examples of email greetings:
Greetings
Hello user
Hi / Hello there
Good day [Name]
Dear Sir or Madam
Dear Mr. or Ms. / Mrs.
Hi / Hello / Dear [Name]
The email body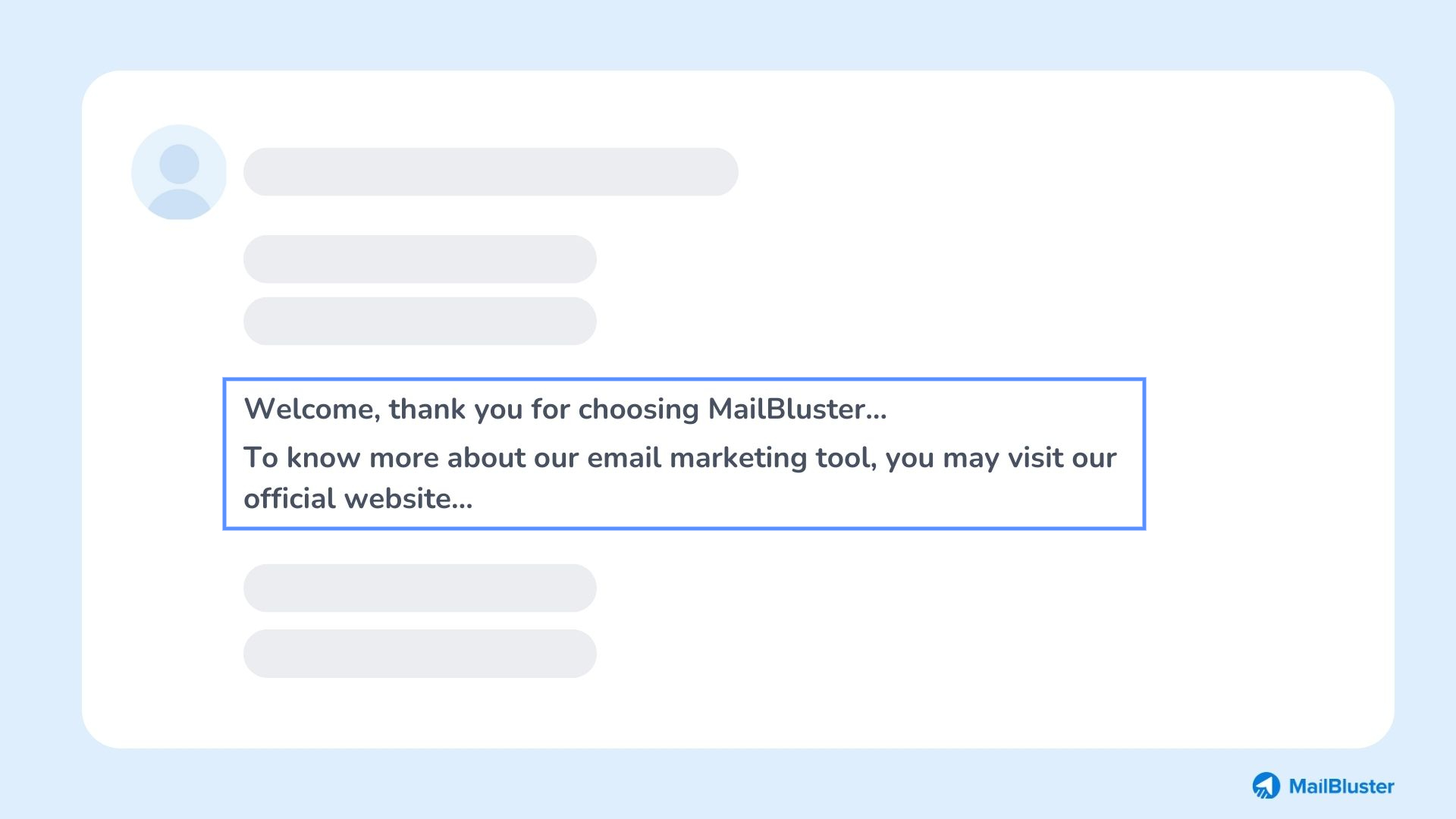 The email body contains the core of your entire message. This part is significant. In the email body, you must create a message that provides value to your customer. In this part, you may inform your recipients about your product or service, new offers or deals, recent updates, etc. Therefore, you have to maintain the quality of your email body. You should avoid all grammatical and punctuation errors and keep your message brief. Moreover, if your message is too large, using an email template to demonstrate it graphically is better.
The closing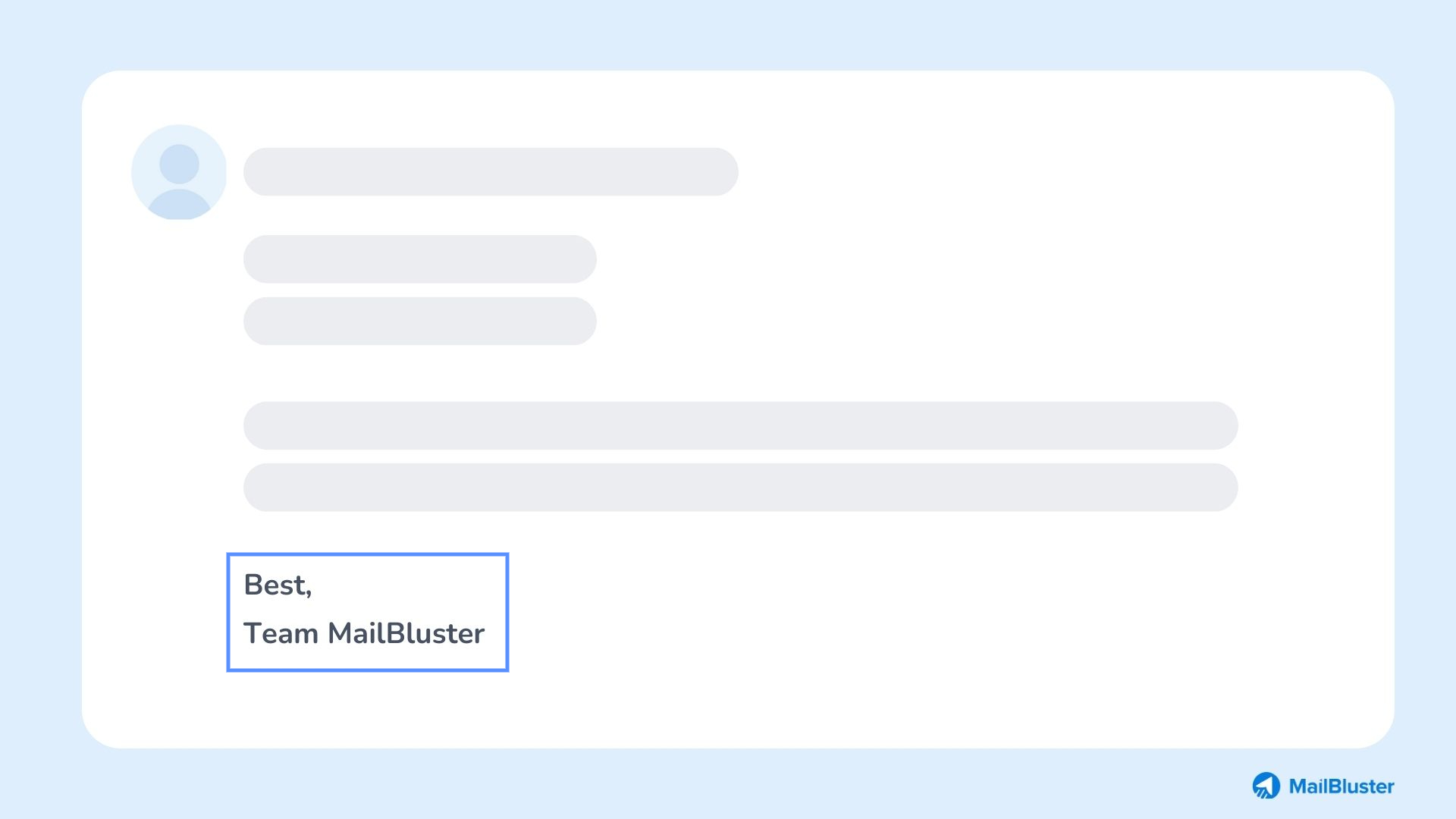 Now you have reached the end of your email formatting, where you must end it politely and professionally. Your email conclusion is as necessary as the beginning of your email. Remember, the closing phrase you choose should match the tone of your email. A study by Boomerang of over 35,000 email threads found that emails that ended with a "thankful closing" had a 62% higher response rate.
Here are some remarkable email sign-off (ending) phrases:
Best
Cheers
Regards
Thank you
Best wishes
With gratitude
Have a great weekend
Furthermore, it is crucial to use an email signature to make your email more formal. Even on behalf of your organization. Here is what you need to include in your email signature:
Name, position, company name
Website URL, contact information
Social media buttons for fast communications
The attachments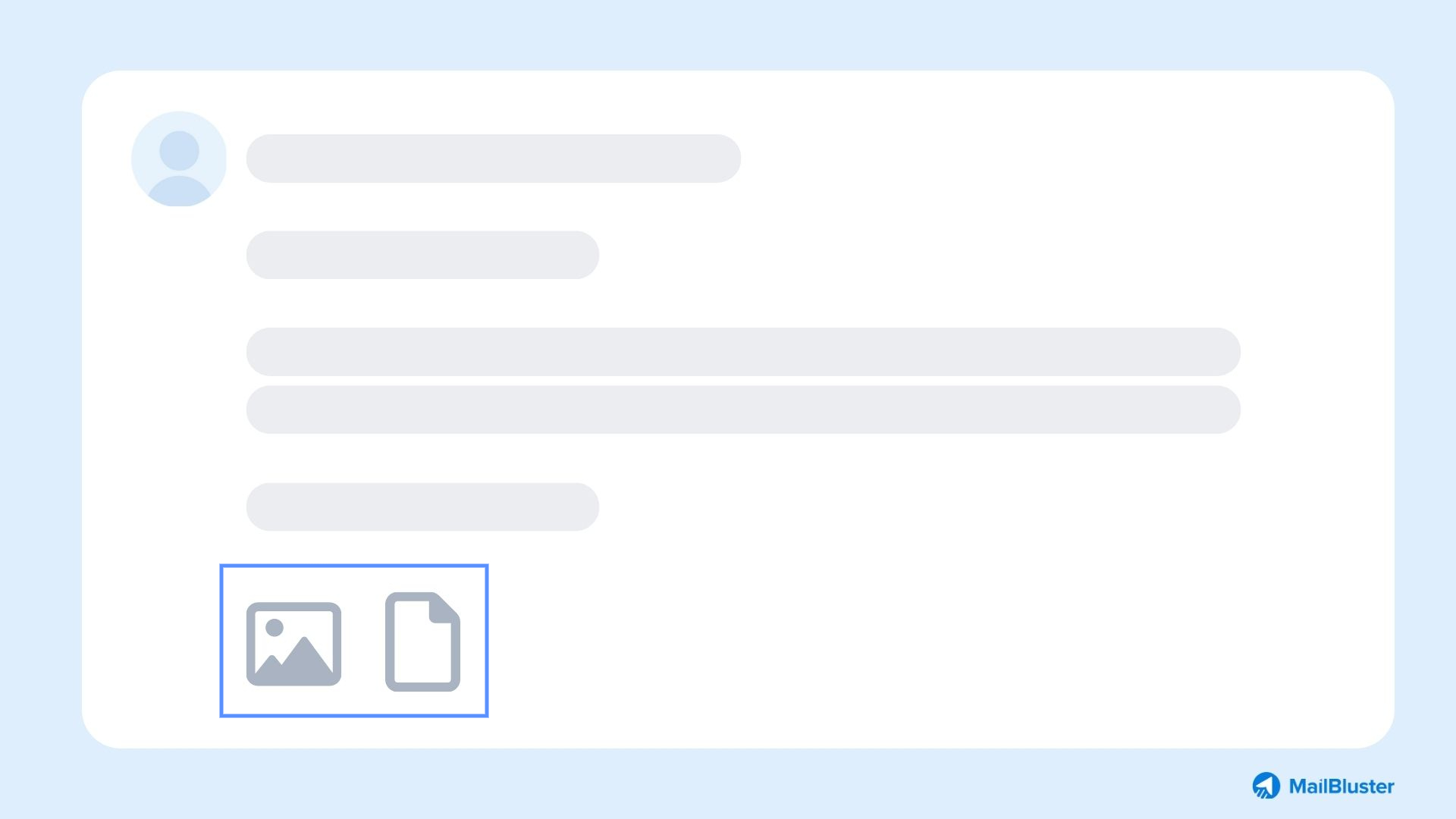 You may have to give more detailed information to your recipient. But it is impossible to fit your entire message into a single text-based email. In that case, you can attach any documents, images, or files as attachments in your email that will come at the end of your email.
Note: Sending attachments in bulk emails has a negative effect on email deliverability, according to feedback from MailBluster clients. Even 70% of emails sometimes end up in the spam folder. Therefore, we advise uploading the attachment file to any cloud storage (such as Dropbox or Google Drive) and sharing the link in the email body.
In summary, all these seven parts of the email format discussed here are crucial, and you should follow them. But creating it while sending them in bulk is very time-consuming. MailBluster can be your best option here, as it offers the "WYSIWYG editor" feature. This editor will help you create your formal email in a structured way and enable you to send it in bulk to various recipients.
Make your email format more engaging
You have reached the most exciting aspect of email marketing, which every marketer should understand. Of course, when sending a professional email, you must follow the correct email format. But, today's marketers place a lot of emphasis on conveying their message by making it more appealing. And to achieve this, one best practice must be followed. Which is as below:
Using email templates for a formal email
Email templates refer to pre-designed email layouts that can be easily customized to represent your message and brand personality. The use of email templates for email marketing is rapidly increasing. Today, businesses rely heavily on sending email newsletters for their promotional emails. And email templates are the sole element widely used to create email newsletters. However, email templates save an email marketer valuable time and help demonstrate the core idea (message) graphically. Moreover, through it, you can illustrate your brand's colors, logo, and design aesthetically within the template. In addition, email GIFs, images, or video thumbnails can easily be added to an email template, making your template more attractive. Furthermore, you can add CTAs and social media buttons to the template to give your email recipient more significant ways to connect with you quickly. Sometimes you can personalize your email template according to your customer or campaign type.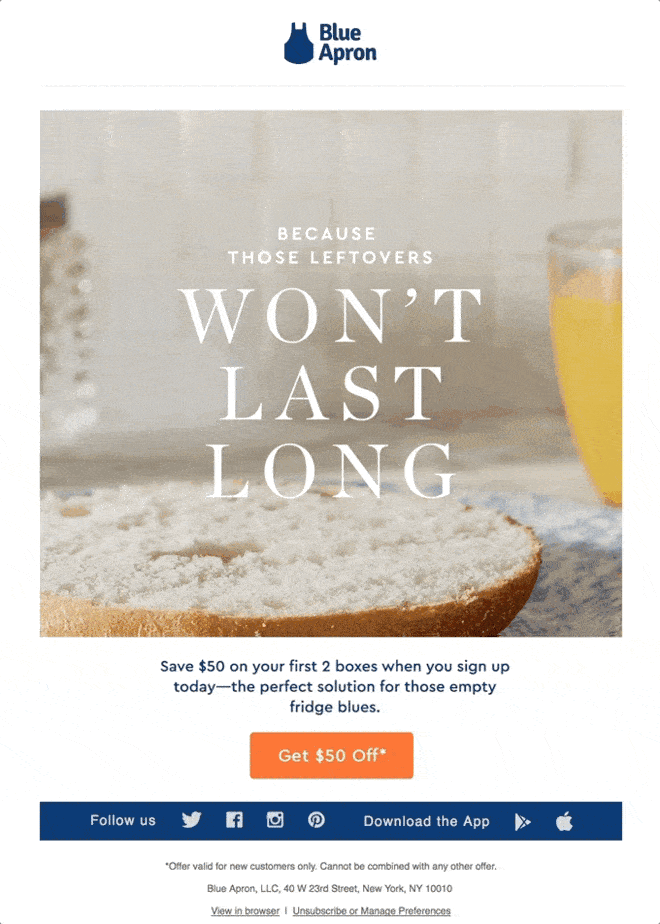 Furthermore, every marketing email must have an "unsubscribe" option. You must let subscribers "opt out" whenever they want. Remember that you can't force your customers to receive and read your email campaign. The US CAN-SPAM Act mandate that "you must fulfill an email recipient's opt-out request within ten business days." So, in an email template, you can easily add your "unsubscribe button or URL" at the footer section of the template. It will be more visible to the recipients; if they want to "opt out," they can find the option effortlessly.
Pro tip: You can add the "Double Opt-in" feature during the sign-in stage for your new subscribers. It helps to understand that your leads are authentic.
Consider MailBluster for template design
Choosing an email marketing tool is beneficial if you want to customize your email template to send bulk emails efficiently. MailBluster can be your best companion, as it offers an easy "drag and drop" editor to compose your marketing emails and templates. We also have many email templates that will assist you in designing your email more effortlessly and creatively. An attractive email template can elevate your email format if you want to send promotional emails.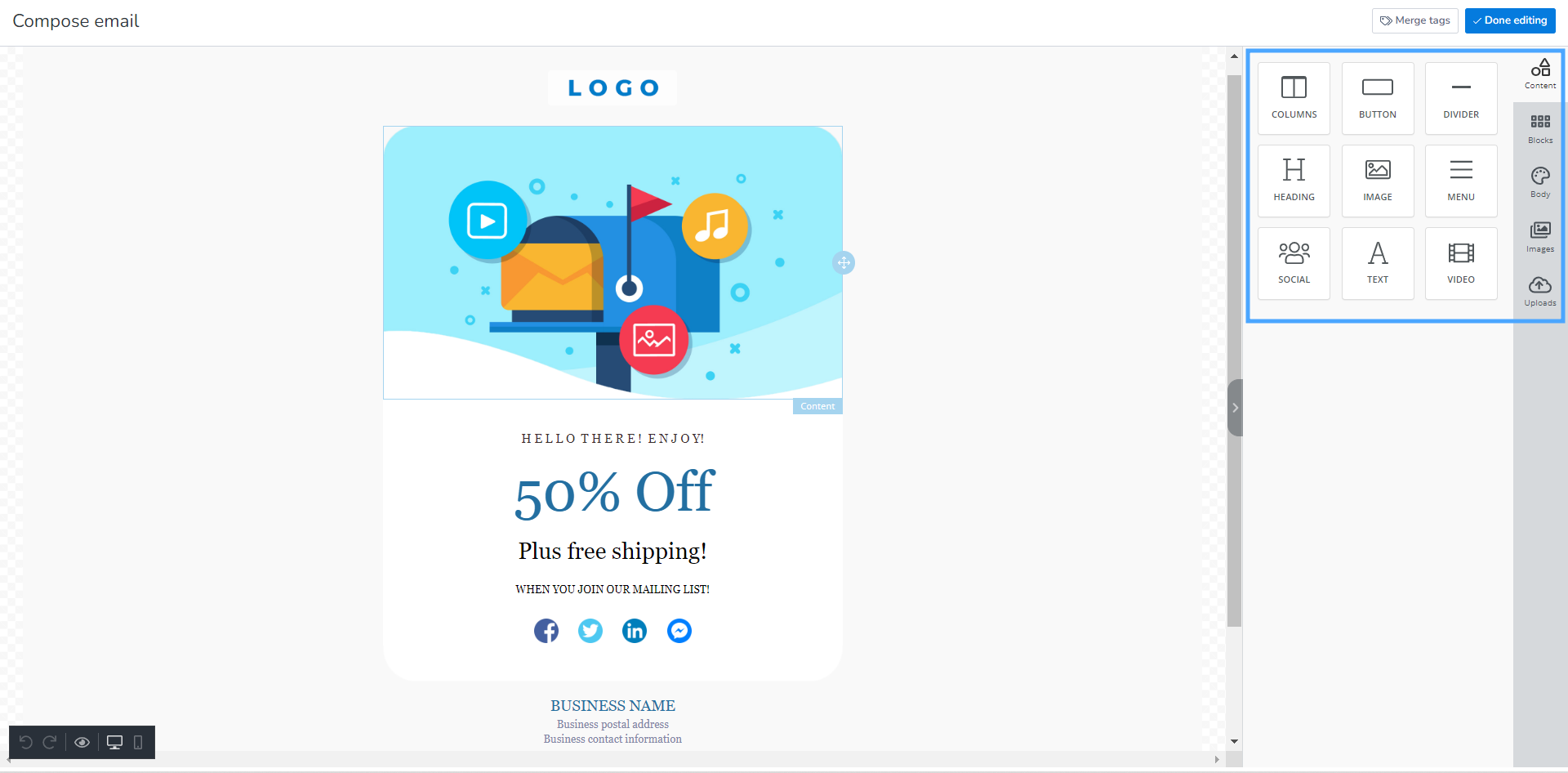 Wrap up
Every part of an email serves a purpose. When creating an email for your target customer, you should follow all the fundamental elements to structure your email format effectively. The best practice is to keep a consistent look and feel in emails to maintain professionalism in email marketing. Remember that only a structured email marketing approach will help improve your brand's identity and image.