So, it's vital to know how to write a good outreach email, especially in 2023, to maximize the chances of effective and successful outreach marketing.
This article will show you the most effective ways to write different types of outreach email content with the best conversion chances.
How to Write a Good Outreach Email?
In 2023, outreach email demands more personalization and a deep dive into the prospects' perspective, as people tend only to read personalized emails.
According to a survey, 47% of email recipients tend to open an email based on the subject line's relevancy, and 69% don't hesitate to put emails with irrelevant subject lines in the spam folder.
The first condition while sending outreach emails is to ensure that it matches the recipient's interests and needs. Sending irrelevant messages will get you ignored by your audiences. In that case, your email service provider will count your IP as unauthorized, which might decrease the sender's reputation and impact the overall business impression.
To know how to write a good outreach email, the first thing to do is to determine which email parts you should combine.
8 Elements for Successful Outreach Email Content
Here are the eight elements that allow you to compose the best outreach emails.
1
Catchy Subject Line
A subject line plays a significant role in starting email communication with an excellent first impression.
In 2023, you can increase your email opens by 22% with a subject line focusing on an urgent tone. And, with proper personalization, you can increase the open rate to 50%.
It's worth mentioning again that 47% of recipients aim to open an email based on its subject line alone, and 69% tend to report it as spam due to irrelevancy.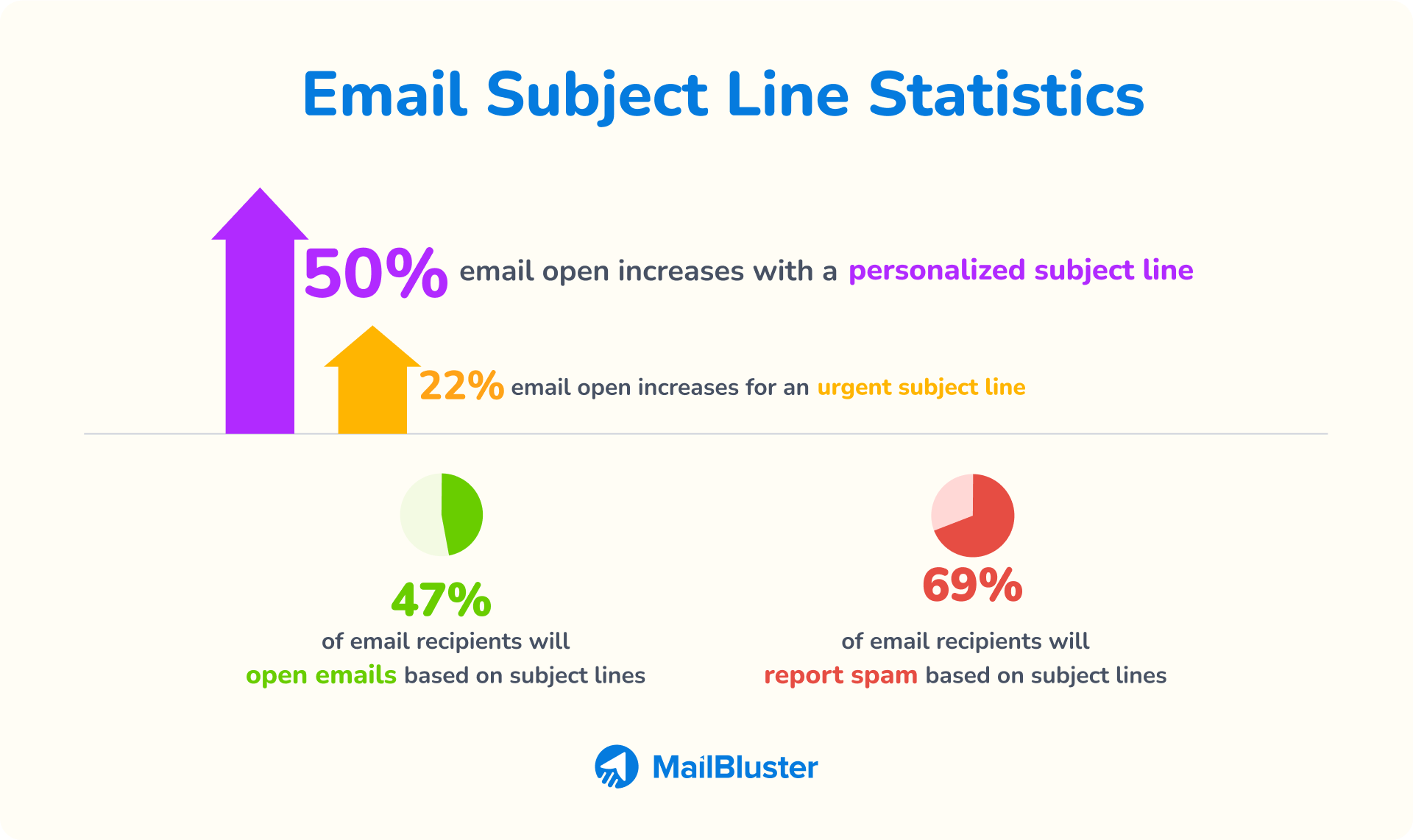 So, you will have a considerable advantage if you pay attention to the power of a catchy subject line for your outreach email. In other words, setting the subject line in tune with your audience will increase your level of business communication.
A catchy subject line should be concise, at most 60 characters or nine words, and reflect the topic of your outreach email.
2
Catchy Preheader
Email preheader gives you a second chance to catch the attention of the attention, working as a complementary of the email subject line. In other words, it shows a logical continuation of what you say in the subject line.
The email preheader is essential in email communication, as 24% of recipients decide whether to open an email based on its preheader. In 2023, you can increase your email open rates by 7% using a catchy preheader after your email subject line when it arrives in your prospects' inboxes.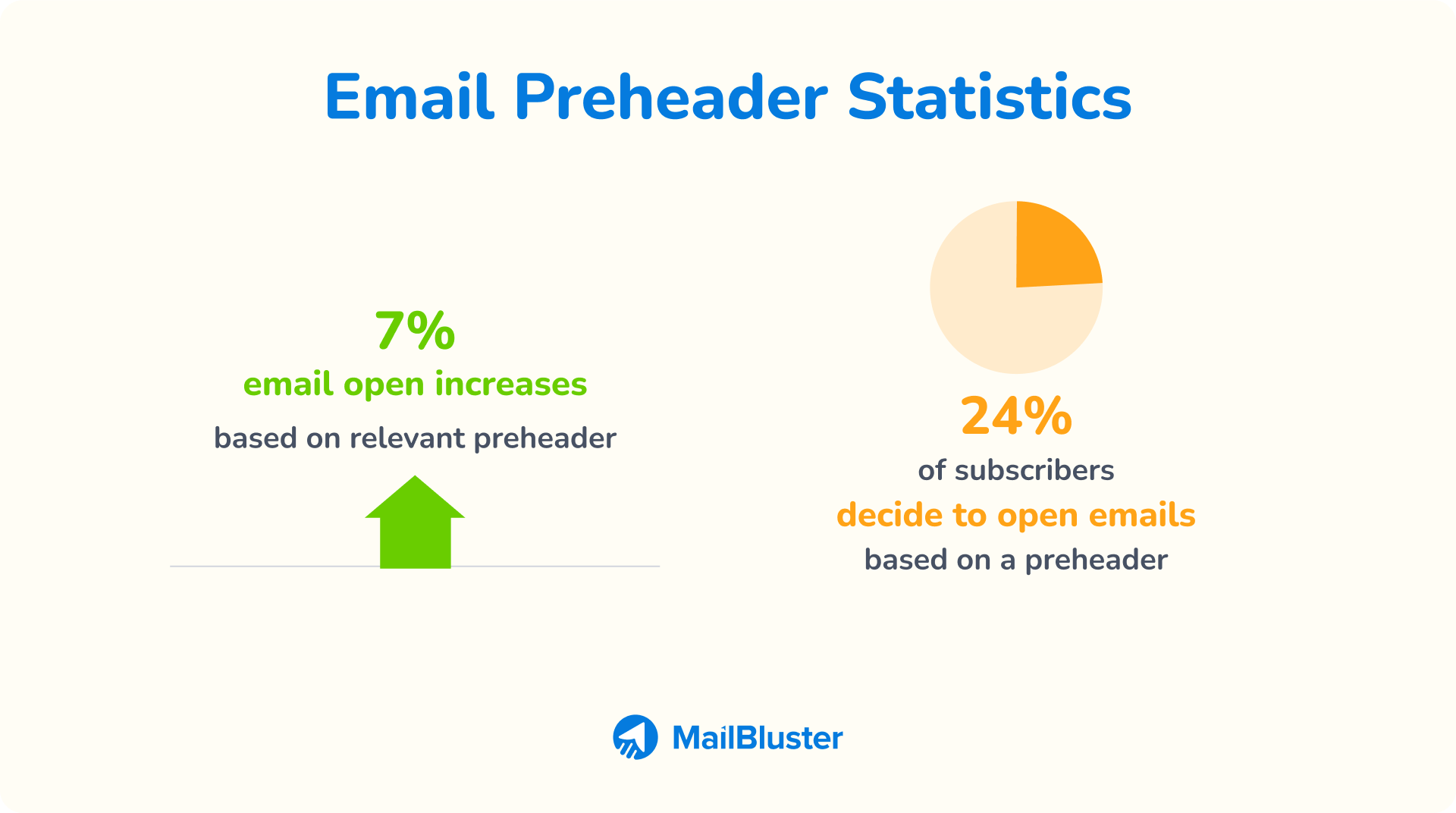 You must make sure that the length of your email preheader text should be within 30-80 characters long, as it is the best fit for almost all devices to show up.
3
Personalized Salutation
A personalized salutation in the first sentence of an outreach email aims to establish a genuine connection, capture the recipient's attention, and foster a positive impression. It signifies respect for their individuality.
Personalized salutation increases the likelihood of the unique click rate by 27% and the click-through rate (CTR) by 35%.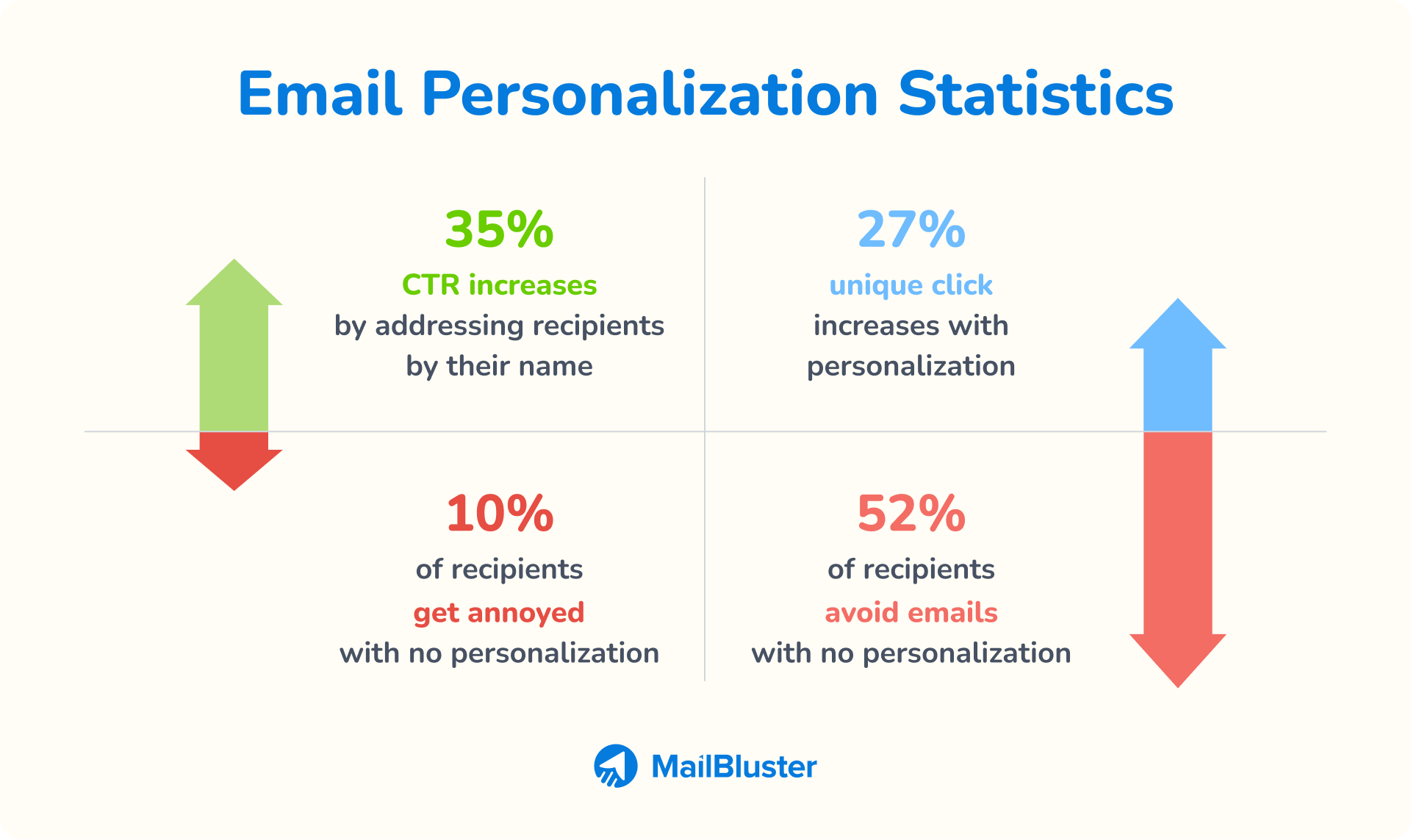 This study shows that including the recipient's first name in the first sentence increases the email response rates by 86%, and adding a good morning or good evening salutation increases it by 104%.
On the contrary, a formal start (Dear, Sir, Mr., etc.) decreases the response rate by 46%, and using the last name in the first sentence reduces it by 25%. Including job functions also decreases the email responses by 12%.
4
Straight & Concise Content
Maintaining a concise email copy is vital to respect the recipient's time and enhance message clarity. Aligning the email copy with a personalized salutation creates a harmonious flow that engages the reader.
Clear and concise content ensures efficient communication, preventing information overload. It also complements the personalized tone, making the recipient more receptive to the message's intent, thereby increasing the likelihood of a meaningful and positive response.
A survey report shows that email copy within 75-100 words has the maximum responses, which is 51%.
5
Key Data on Frontload
Frontloading the critical data in an email immediately communicates the core message. Busy recipients often skim emails. This approach increases the chances of grasping the main points even if they only read part of the email.
Frontloading key information enhances clarity, encourages prompt understanding, and enables quicker decision-making or follow-up actions.
6
Catchy & Relevant CTA
A personalized call-to-action (CTA) in email copy performs 202% better than a basic CTA. Tailoring the CTA to the recipient's preferences or needs creates a stronger emotional connection and encourages action. This personal touch increases the likelihood of a positive response, as individuals are more inclined to act on something that resonates with them.
A well-aligned, personalized CTA enhances the overall effectiveness of the email campaign and nurtures a sense of individual value.
In 2023, 43% of marketers prefer a single CTA in each email copy, whereas 30% want to put two in each.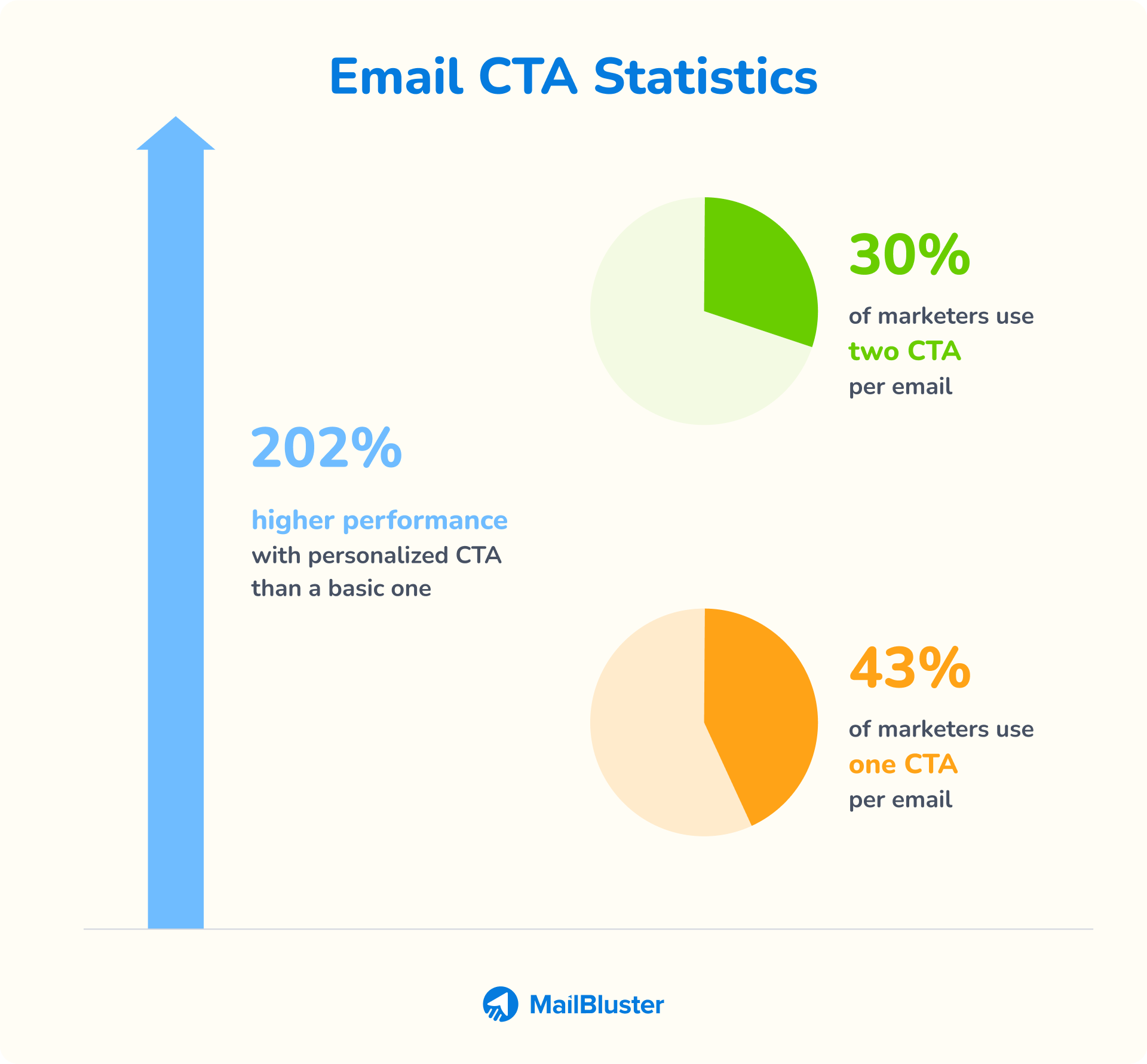 7
Name Dropping
Name-dropping aims to mention a mutual connection or a recognizable figure, creating an immediate bond and elevating trust. This technique captures attention and encourages the recipient to invest time in reading the email, as it showcases relevance.
Research shows that mentioning one of your well-known clients increases conversions by 208%, and representing one of your reputation investors can increase it by 111%. You can increase the conversion rate to 468% by letting them show your mutually meaningful connection on LinkedIn.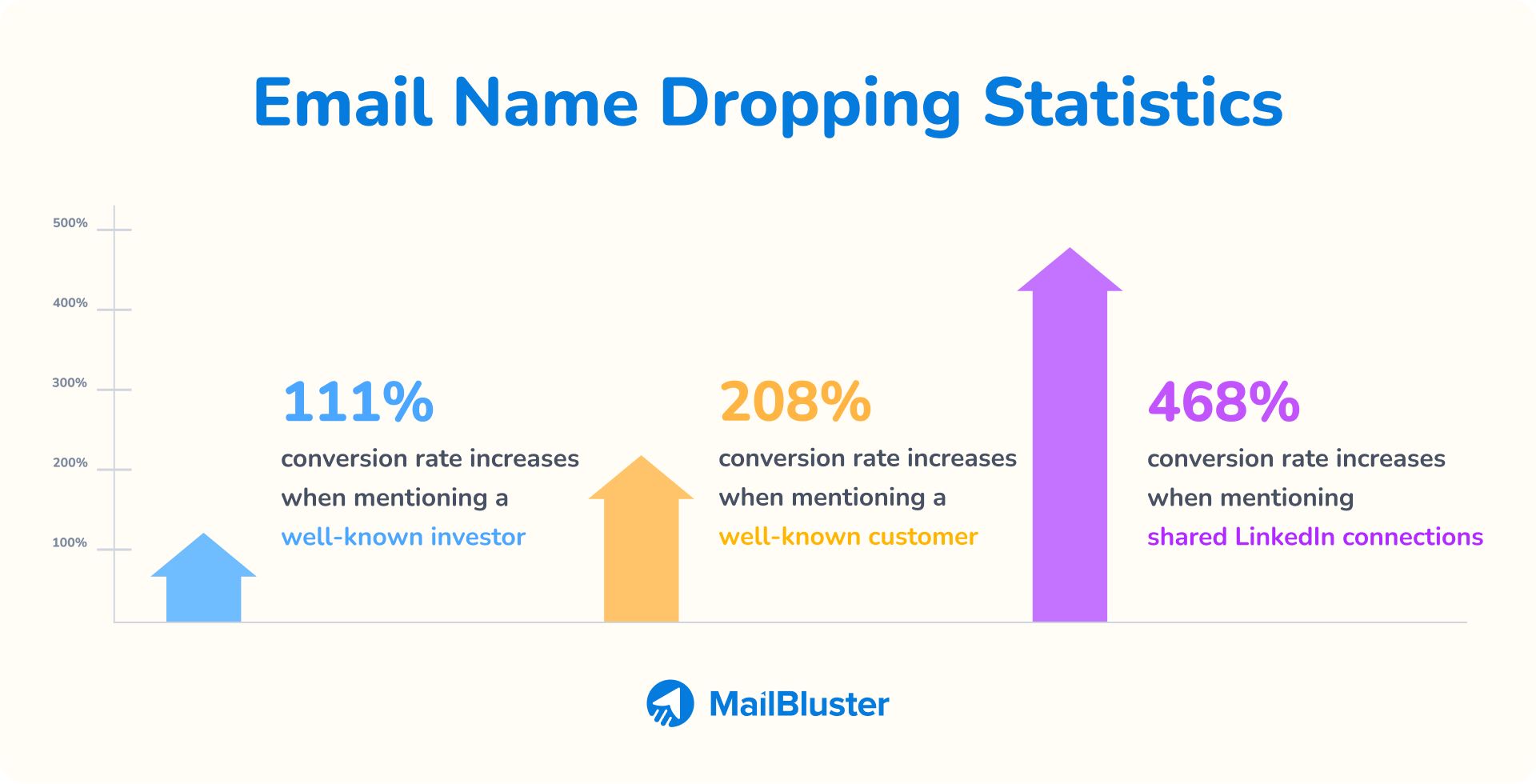 8
Interesting End Note
An intriguing end note in an email copy leaves an ever-lasting impression and reinforces the message's impact. It provides a memorable closing that lingers in the recipient's mind, sparking curiosity or encouraging further engagement.
A thought-provoking question, a teaser, or a hint at future content can prompt recipients to respond, fostering ongoing communication.
This creative conclusion transforms an email from a mere message into a conversation starter, enhancing the potential for continued interaction and deeper relationship-building.
How Many Words Is Too Long for an Outreach Email?
When crafting an outreach email, the ideal length revolves around being concise and engaging. The aim is to provide valuable information within limited words, capturing the recipient's attention without overwhelming them.
Here are some researched data that might help you understand how to write a good outreach email.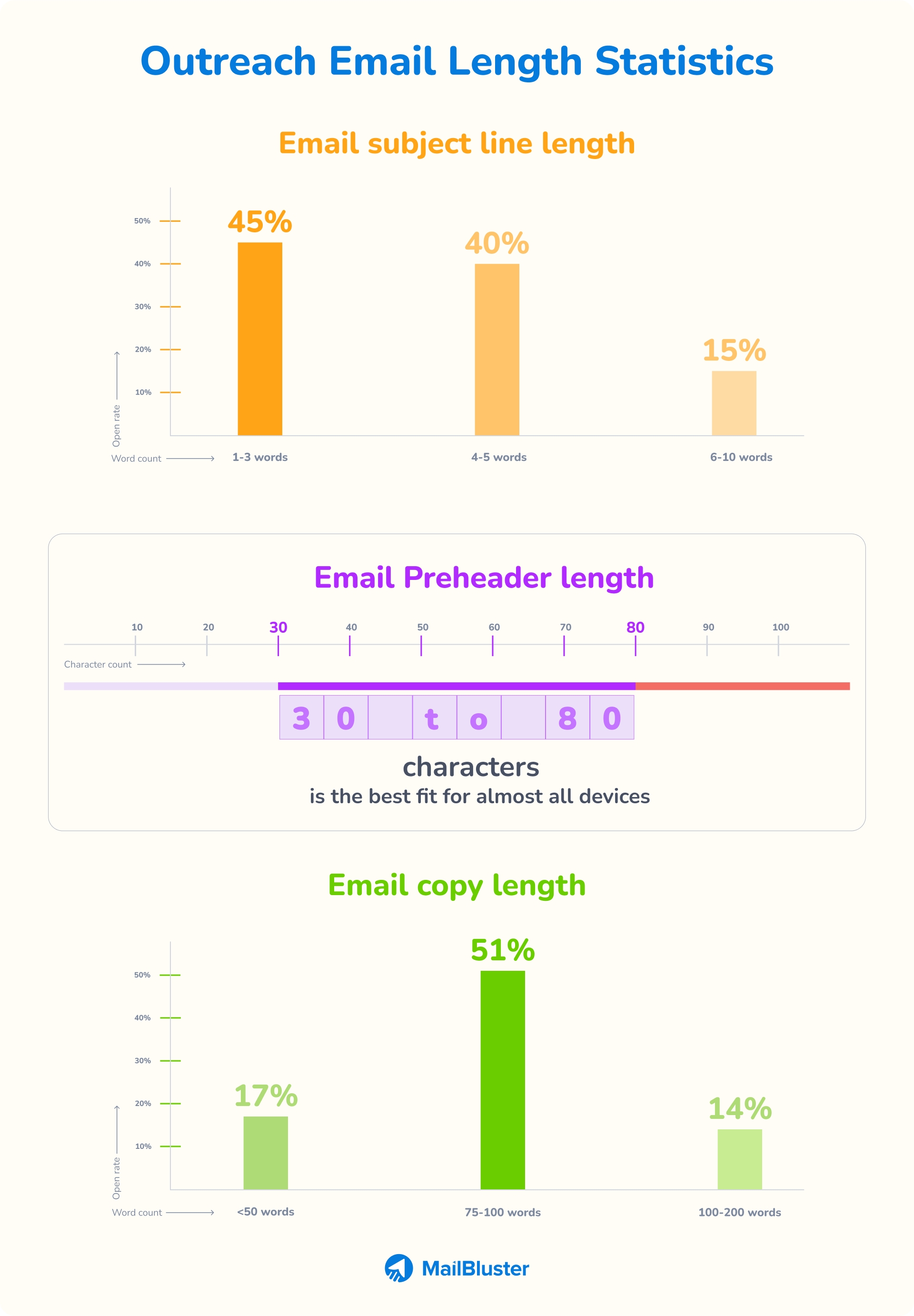 Remember, quality trumps quantity in outreach communication.
12 Types of Outreach Email Examples & Strategies
So, now you know which email parts can catch the valuable attention of your targeted audience. The question is, how can you master the art of composing a truly effective message?
Whether you're a professional reaching out to potential clients or a marketer aiming to expand your network, explore some proven and adaptable templates here that will pave the way for your outreach success.
Here are 12 types of outreach emails.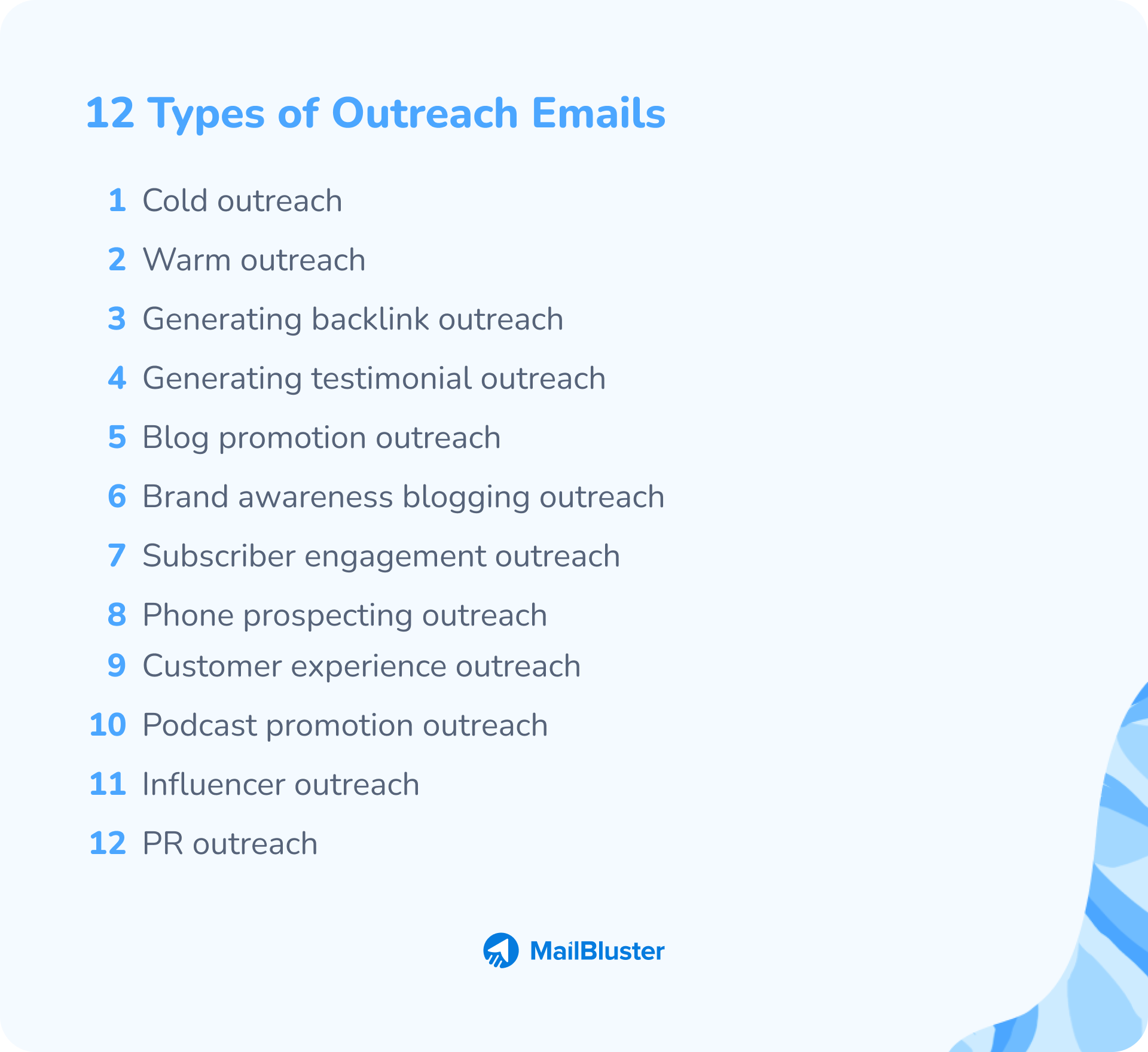 Cold Outreach
Cold outreach emails initiate connections with potential clients or collaborators who have yet to engage with the sender. That is, you will make the first impression with it, which demands being more careful because the first impression takes only 7 seconds.
Your first outreach email should be clear and concise, avoiding irrelevant data.
You can simply start like the one below.
Subject line: [Name], can you help?
Hello [first name],
I'm from [your company name]. We work with organizations like [your well-known customers] to [your service]. Our service can significantly benefit [your recipient's company name].
Can you please direct me to the appropriate team member to discuss this matter?
Cheers,
[Your name]
Cold outreach email template – 1
With this one including one of your well-known customers and not expecting much, you can make an excellent first impression.
After getting the email address of the appropriate individual, send him a message asking for a 10-minute chat to discuss the matter.
Subject line: [First name], Let's unlock the solutions together!
Hey [first name],
I am going to the point: We, [your company name], help our customers [specific pain point] with our [tools/service/product/solution].
We've already assisted companies like [your well-known customers] in reaching their [specific types of goals]. I am interested in finding out the most suitable solution for [your target's pain point] you are facing. I think a discussion between us might bring the best outcome.
Do you have 10 minutes to discuss [specific advantage matching your prospect's pain point]?
Thank you for your time,
[Your name]
Cold outreach email template – 2
It can be an excellent start in building relations with your prospects.
Warm Outreach
Warm outreach aims to grow connectivity to those who've shown interest before, creating a more familiar context for communication. So, after getting a positive response from cold outreaching, you must tune yourself with warm outreaching strategies.
Here is a warm outreach email template, for example, on maintaining the continuity of your B2B communication.
Subject line: Addressing your concern.
Hello [first name],
It's been a few weeks since our last conversation, which was highly effective. After that conversation, I thought about the best solution that might suit you most.
I have some ideas for how you can deal with [your prospect's pain point]. I will be happy to share my thoughts with you.
Please feel free to inform me if that sounds acceptable or if there's anything else you require assistance with.
Hope to talk to you soon.
Take care,
[Your Name]
Warm outreach email example
This type of personalized email can help you gain the trust of your targeted audience in their mailboxes.
Generating Backlinks Outreach
Generating backlinks outreach content needs a complete strategic approach and profound research in 2023, which might require your best effort. Asking for a backlink in the first outreach email might place your mail into your recipient's spam folder. Thus, you must maintain the strategy step-by-step.
Here is a guideline on how to generate backlinks in 10 steps.
After finding the link-building opportunities, write down your first backlink outreach email, synchronizing your target's needs.
Below is a template of a broken link replacement request.
Subject line: Let's fix a broken link!
Hey [Blogger's Name],
I want you to know how effective your thought on [your prospect's blog] was to me!
I recently found your post about [mention the article with the broken link] and spotted a broken one. It worried me as I shared your post with some of my connections.
You know that it could affect the user experience on your site.
I've written an in-depth post on a similar topic on my blog [your blog link]. If you find it valuable, you can replace the broken link with it.
Otherwise, Keep up the fantastic work!
Cheers,
[Your Name]
Link building outreach email example
Generating links and providing testimonials is another way to get backlinks. This approach lets you offer something valuable instead of just asking for a link. When you provide testimonials to your targets, you help them showcase your feedback to gain their audience's trust.
Here is a template as a sample.
Subject line: Love Your [Specific Product]!
Hey [blogger name]!
I trust you're doing awesome. I'm [your name] from [your company name], and I'm a big fan of your [specific service/product].
I just had to reach out and tell you how much your [specific service/product] has rocked my world! Here's what I'd love to share with you and your fantastic readers:
"[Your heartfelt testimonial]."
I'm thrilled to spread the word about your [specific product/service]. Your audience will definitely dig it!
Could we pop this gem on your testimonial page? I'd be over the moon, and let's throw in a link to my website for good measure.
A massive thanks for your time and the top-notch service you provide!
Catch you later,
[Your name]
Backlink outreach email template from testimonials
Generating Testimonials Outreach
Genuine feedback from satisfied clients showcases your product or service's value. Testimonials offer potential customers real experiences, boosting confidence in their purchasing decisions. Positive word-of-mouth can drive conversions and establish a strong brand reputation.
Here is a generating testimonials outreach email template as a sample.
Subject line: Your Feedback Needed for [Project Name]
Hey [first name],
Working with you and your team on [specific project] has been a pleasure.
Your participation in that project made it outstanding, which is worth mentioning. I'd like to know if you're willing to share your valuable thoughts on [the project name] because I want to add it to our website.
Your words will help our clients with a good understanding. Here is a list of valuable testimonials we've collected that you can see.
I hope to work with you again.
Best regards,
[Your Name]
Generating testimonial outreach email sample – 1
Don't forget to thank your partner after getting your desired feedback. You can also ask for a video testimonial this time.
Subject line: Share Your [project name] Experience with Video Testimonial
Hello [first name],
I really appreciate your positive feedback regarding [specific project] – Collaborating with you and your team has indeed been a rewarding experience.
Interestingly, your timing is perfect!
We're in the process of expanding our collection of video testimonials on our [your webpage], and I'm thrilled at the prospect of showcasing your company and project. You can easily contribute by utilizing our submission form [insert link]; uploading a video will take up to five minutes.
Whether it's what you shared earlier or any additional thoughts about the project, please don't hesitate to include them.
Once again, a big thank you,
[Your Name]
Generating testimonial outreach email sample – 2
It's worth mentioning that when you consider your time to understand your recipient's pain point, you are one step ahead in gaining their consent.
Blog Promotion Outreach
It is tough to gain consent with a blog promotion outreach email, but not impossible. Cold emailing doesn't work here. Instead, you must dive deep to understand the nature of your prospects and write a relevant and personalized email copy that will resonate most.
Here is a sample.
Subject Line: Exciting Visual for You!
Hey [Name],
Hope you're well! I just read your [topic] post – loved it!
Since we're both into [content type], I thought you'd dig this new visual I helped create. It's all about [targeted topic], and I think you'll find it incredible.
Quick preview: [Content description].
Check it out [hyperlink].
If it fits, sharing on [platform name] would be fantastic! I'm here with an intro or embed code whenever you need it.
Can't wait to hear what you think!
Cheers,
[Your Name]
Blog promotion outreach email sample
Though it won't be that fruitful, you can still try it to make your most potential recipients aware of your newly published blogs.
Brand Awareness Blogging Outreach
There's a standout player regarding branding strategies: creating engaging blog content. With its effective approach, this emailing type takes brand awareness up a notch within your industry, ensuring your name gets recognized.
One of the most effective ways to promote your content is to become a columnist in a popular magazine. When your writing discusses your potential customers' targeted problems, they will feel interested in your brand.
Here is a template for this kind of pitch letter.
Subject line: Let's collaborate, [First Name]!
Hey [First Name],
Hope you're well! I'm a proud reader and commenter on [Publication Name], and I'm [Your Name], [Job Title] at [Company Name]. Your content rocks!
I'm aiming to expand my industry presence, and writing for [Publication Name] feels like a perfect fit. I have already contributed to [Website Name] and [Website Name] and my blog [URL]. Joining [Publication Name] as a columnist would be a blast.
Check out my LinkedIn ([LinkedIn Profile URL]) – just connected with you!
Recent articles:
[URL of Article 1]
[URL of Article 2]
[URL of Article 3]
With [X Number of Years] in [Industry Type], I'm ready to share insights and meet deadlines.
Eagerly waiting for your reply!
Cheers,
[Your Signature]
[Your Title]
Brand awareness through blogging outreach email example
Subscriber Engagement Outreach
Growing an email list might seem like a big job, but it's an exciting journey. Welcoming new subscribers and ensuring the old ones know your blog/site keeps the excitement alive.
When expanding your email list with awesome potential fans, give them a friendly greeting once they join. That initial email sets the tone and flaunts your business personality. It's about cherishing those who dig your content.
See what makes a superb welcome email:
Subject line: Welcome to [Your Company] Updates!
Hello [first name],
Thank you for joining us at [Your Company]! We're excited to have you on board.
In the coming days, I'll share top highlights from our content to kickstart your journey. I understand your packed schedule, so I'm committed to sending you valuable insights and practical lessons to boost your [business] [individual endeavor].
Feel free to contact me at [email address] or follow me on [social media handle]. Your questions and feedback are always welcome – I personally read and respond to each message.
I appreciate your interest!
Best regards,
[Your Name]
[Your Title]
Rest assured, no spam or sharing of your email. To unsubscribe, use the footer link.
Subscriber engagement outreach email sample – 1
After the first welcome email, quickly show them on the second one why joining was brilliant. It's worth mentioning that great content answers what's in it for them.
Here's a template:
Subject line: Explore Our Best!
Hello [first name],
Since the blog's launch, we've shared over [number of posts] covering various [your topics] and all our experiences – victories, failures, and
lessons.
To kickstart your journey, I've curated the top ten must-read blog posts. These gems remain popular and provoke discussions even after a year.
Discover them all here: [link provided].
Enjoy the read!
Cheers,
[Your Name]
[Your Title]
Subscriber engagement outreach email sample – 2
Informing subscribers about your guest posts on top influencer sites is significant. It demonstrates your industry prominence.
Here's an example template:
Subject line: Exclusive Reads!
Hey [first name,
Exciting news!
I've crafted unique guest posts brimming with valuable insights not featured on our site. These pieces were penned for impactful blogs like [mention each blog]. Dive into them here:
[Article Link]
[Article Link]
[Article Link]
Thanks for giving them a look. Hope they prove beneficial to you!
Warm regards,
[Your Name]
[Your Title]
Subscriber engagement outreach email sample – 3
Phone Prospecting Outreach
Phone prospecting might not be every marketer's favorite task, but building personal customer connections is priceless. Check out this sample for setting up a phone call:
Subject line: Connecting to Boost Your Goals!
Hello [first name]!
I hope this message finds you well. I noticed your recent [accomplishment or activity] and am genuinely impressed!
While conducting some research today, I realized there's a potential opportunity for us to collaborate. There could be a way for our offerings to align with your needs, such as [addressing a specific need or benefiting from something].
My company specializes in assisting individuals like you in reaching their [goal], and I believe we could make a positive impact. Would you be open to a quick call? I assure you it won't take more than 15 minutes. Here are a few suggested time slots:
[Date & Time]
[Date & Time]
[Date & Time]
Regardless of your decision, please know that I admire your fantastic work. Keep it up!
Looking forward to the possibility of connecting.
Best regards,
[Your Name]
[Your Title]
Phone prospecting outreach email template
Customer Experience Outreach
Crafting a great customer experience is paramount for business success in the competitive digital landscape. Positive perceptions drive customer loyalty.
The idea of customer experience started in the late 1800s, fostering business-customer communication. Today, this interaction mostly happens online. Sometimes, sending emails is critical to engaging customers.
Check out this email template to make things smoother.
Subject line: Your Insights?
Hello [First Name],
I'm [Your Name], [Position] at [Company]. I want to let you know that your success matters most to us.
I want to hear about your [problem area] journey – struggles, goals, loves, hurdles, especially what problems you want to overcome using our [specific product/service] but haven't yet.
A brief 10-15 minutes can make a difference. Let's tackle [Your Industry] challenges together!
Interested? Reply, and I'll arrange the call.
Thanks a ton!
Cheers,
[Your Name]
[Your Title]
Customer experience outreach email sample
Podcast Promotion Outreach
Podcasts are a trendy way to share blog content. Many influential individuals have podcasts due to their brand-boosting power and guest opportunities. Even with your podcast, targeting more influential shows for guest spots is smart.
The following email template aids in guesting on a podcast, inviting guests, and promoting your podcast.
Subject line: Podcast Collaboration, [first name]?
Hey [first name],
Your podcast rocks! Specifically, [Episode] struck a chord with me due to [Takeaway/Comment].
Your content shines, which is why I'm reaching out. Being a guest on your show would be awesome.
A bit about me: [Brief introduction] – you'll find more on my site's about page [Link].
For a taste of my podcast presence, here's a snippet: [Link to Other Podcast Episode].
Keep the fantastic content flowing! I eagerly await your next Episode.
Cheers,
[Your Name]
[Your Title]
Podcast promotion outreach email sample
Influencer Outreach
In 2023, connecting with influencers is still super important. These fabulous folks can talk to many people online and get them interested. Brands love teaming up with them because they help spread the word naturally and truthfully. This makes people know and like the brand more in our busiest online world.
But demanding something from influencers in your first email won't be brilliant. So, you must warm up your targeted influencer before asking for your desired favor.
Subject line: Let's Team Up, [first name]!
Hey [first name],

I'm [your name], part of [brand/business].

I am a fan of your work! Your content shines – it totally vibes with us.

I loved your recent post on [title or description] – it nailed [reason]. I want you to know that I shared it with our crowd, and my audience adored it!

Here's the scoop: how about a collab? We've got cool [brand/business] stuff to share. I am open to your ideas, too.

Keen? Let's make waves together!

Cheers,
[your name]
Influencer outreach email example -1
After putting a positive impression in your first email to the influencer, you can be straight in the second one. Here is a template that might resonate with your prospects.
Subject line: Exciting Opportunity to Share [New Product]!
Hey [first name],

I'm [your name] from [brand/company name].

This month, we're unveiling [name of product/feature] – a game-changer for [who benefits and why].

Been a fan of your content! Noticed your interest in similar stuff. Your audience would love our [new product/feature].

Interested in spreading the word?

Score perks like [list benefits] for your time.

Eager to team up!

Cheers,

[your name]
Influencer outreach email example -2
PR Outreach
Crafting an outreach email to an editor for a press release is vital. It's like sending an invitation to a fancy event. A well-written email highlights its relevance to its readers and politely asks for coverage. This boosts your chances of getting your news in the spotlight.
Like influencer outreach, PR outreach requires a warm-up email first before asking for the ultimate favor.
Here is an example.
Subject line: Kudos on Your Success, [First Name]!
Hey [First Name],

[Your Name] from [Your Company Name] dropping in.

Big congrats on [noteworthy achievement]. It's a solid win as [Your Prospect's Position] at [Your Prospect's Company].

Keep the momentum! I am excited to see your continued journey to success.

Cheers,
[Your Name]
PR outreach email template – 1
After getting a positive vibe from your recipients from the first email, send this one synchronizing with your brand's tone.
Subject line: Unique Story Idea: [Your Compelling Headline]
Hi [your targeted editor's first name],

Hope this finds you well! I'm [Your Name], [Your Position] at [Your Company]. I came across your impactful coverage on [relevant topic/story they've covered].

I'm excited to propose an exclusive story idea that aligns perfectly with your readers' interests. It's about [concise description of your unique story angle].

This story has the potential to engage and inform your audience. Would love to discuss this further and provide any necessary details.

I am looking forward to the opportunity to collaborate with [Newspaper's Name].

Best Regards,
[Your Name]
[Your Contact Information]
PR outreach email template -2
Wrap-Up
To sum it up, nailing the skill of writing a solid outreach email can genuinely level up your game. Just remember, adding that personal touch, keeping subject lines snappy, and showing excitement can work wonders.
Oh, and don't forget a pinch of research and a friendly tone – they're like the secret sauce!
So craft those awesome outreach emails, and watch those connections grow.