First impression holds enormous importance, and a welcome email helps to set it in the right way! People recall their firsts everything, whether it's the first day of school/college, a job, etc. The same goes for your subscribers, clients/customers; they will picture you based on the first impression. In email marketing, sending a welcome email to new client or customer is a warm gesture of welcoming that user! A good and friendly welcome message puts a positive notion inside new users' heads. Therefore, a welcome email campaign is one of the essential types of marketing emails. Hence, you should learn the necessary things before starting the practice of sending welcome emails.
In this blog, you will learn about the basics of the welcome email. By understanding the basics first, you can move forward with this marketing strategy very smoothly.
table of contents
What Is a Welcome Email?
A welcome email is the first email one gets after joining, subscribing, or signing up by providing an email address. It is also known as an introductory email.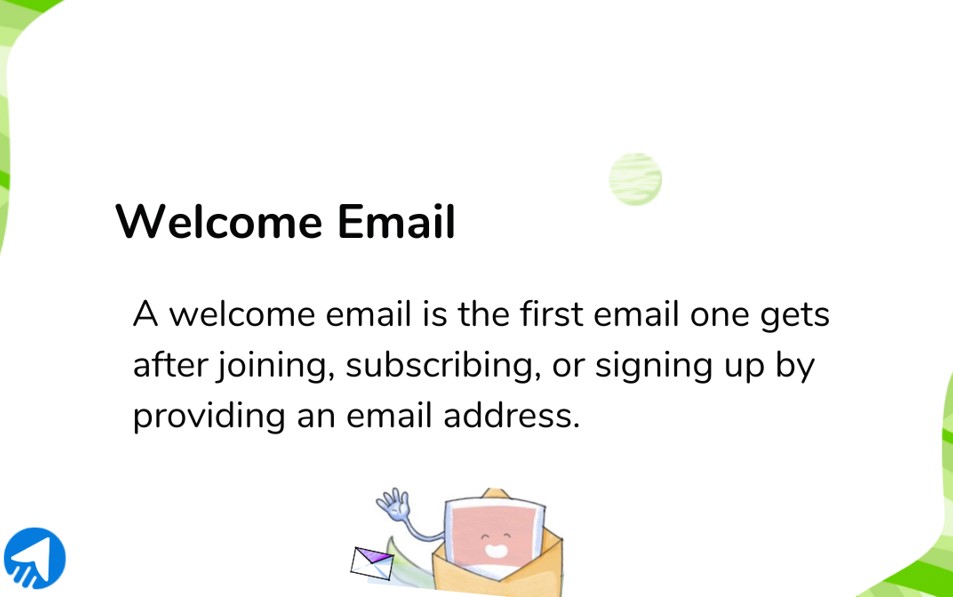 The intention behind sending a welcome email is to welcome the new client or user with a warm gesture and to let them know about your organization/business. Plus, it provides a start-up guideline for easy navigation. This is one of the vital email marketing types, and it mostly follows the automation sending procedure. As mentioned, it helps in setting a positive first impression. Also, with the help of welcome emails, businesses can lay the foundation for their future relationship with subscribers.
Types of Welcome Emails
There are several types of welcome emails that you can send based on the circumstances. Let's learn about some useful ones so you can send them whenever you see fit.
Single and series
You can send a single welcome email campaign, or you can send it in the form of a series. The single one mostly conveys an introductory message. On the contrary, the series form is mostly known as the "welcome series" or "welcome email series." A welcome email series is a series of emails that you deliver to individuals who sign up for your email list. When someone subscribes to your email list, you automatically deliver them welcome series. The moment someone signs up, subscribes, or joins to be your customer/client, they are most excited to know more about your service. So, this is your chance to let them know about your business with a warm welcome message.
"Hello" emails
The "Hello" welcome emails are sent to introduce you and your business right after someone signs up. It's the first email in a welcome email series. Anyone who subscribed to your website will expect a prompt response. You can introduce yourself or your business to the customers by sending a brief, sincere hello email. This type of email is also known as an introductory email.
"Get Started" emails
This type of welcome email is for your new clients/customers to guide them on how they can start the relationship with your business with the assistance of a "get started" email. The letters ought to explain what your company stands for and how it can improve their lives.
"Thank you" emails
This type of welcome email campaign is for showing gratitude. A "Thank you" welcome text is sent to new users to express gratitude for their interest in your business or offerings.
Brand story emails
A "brand story email" tells the tale of how and why your company was founded and illustrates how that tale still defines you today. This type of email can be sent as a part of a welcome email campaign in order to enlighten new users about the brand story. The emails that tell the story of your business can be a powerful way to build relationships with your clients/customers.
Welcome back email
You can send welcome back emails to those who once left your service but decided to return. It is wise to welcome them via email by saying things such as, "Hey, welcome back! We missed you while you were away." this type of welcome email campaign makes them think that you still remember them and value their presence in your company.
What Makes a Welcome Message Effective?
You need to write welcome emails to new client or customer in a personal, friendly, and professional manner. A good welcome message contains humanized addressing/greetings. For example, you should greet and address your new subscriber by his/her name with a simple "Hello/hey/hi." This impacts your welcome emails in a good way as it gives a humane touch to your emails. Also, best welcome emails should be brief and to the point, with an appropriate call to action. The message should be neat, informative, formal, engaging, and not boring. Plus, you should provide and write any guidelines clearly and easily. Write in a way so the reader would feel "welcome," just as the word suggests.
When to Send One?
Wondering when to send a welcome email? Well, you must send it right after a user subscribes or sign-ups. Don't wait too long to send it. If you delay, it will be boring, and the users' interest will dim over time. So, set your automation system accordingly so it gets triggered immediately whenever such online activity occurs.
Examples of Welcome Email Templates
Let's go through some welcome email examples. Check out the following welcome email templates. These welcome message examples will help you better understand how to write one.
For new user/subscriber
The following welcome email example is for new users/subscribers. Headspace sent this welcome email to their new user. In this welcome message example, they started the email with "Hey" and provided a warm welcome message. Plus, they provided easy-to-follow guidelines within three sections in this welcome email template.

New customer onboarding welcome emails
Here is an onboard new customer welcome email example from Airbnb. They are welcoming their new customer through email. And they are providing guidelines too. Also, they sent this welcome email to new customer with the options to explore experiences.

New employee welcome emails
Sending welcome emails aren't limited to the clients and customers. In your business, you need to adopt the practice of sending a company welcome email to new employee too. A new employee welcome email will have a positive remark on them, and they will be in a good mood and positive attitude to work for you.

The following welcome email sample will give you insights on how to write a great welcome for your new employees. This welcome email template includes warm greetings by mentioning the employee's name. Also, necessary resources and materials like the employee handbook is provided in the email. It's a short welcome message, and all these indicate the signs of a best welcome message.
Importance of Welcome Emails
You already know welcome emails are vital for making first impressions and setting the business foundation. Apart from that, opening rates for welcome emails are higher than other marketing emails. Welcome emails typically have a 50% open rate, and make the receivers more likely to read them. According to Statista's statistics published on Jan 2023, automated e-commerce email marketing worldwide had an open rate of 30.45% in 2021.
Different Than Other Emails
Welcome emails are different from other email marketing types too. The intention is to provide warm, welcoming gestures and get-to-go guidelines, not sell or promote any service or product. According to some welcome email stats, welcome emails result in four times more open rates and five times more clicks. Also, research has shown that welcome emails have a 50%-86% higher response rate than email newsletters. Plus, immediately sending a new subscriber an onboarding welcome email can generate 320% more revenue than promotional emails.
Metrics to Measure Welcome Email's Performance
How would you know how your welcome emails are performing? And if it's working, then how much? Well, sending welcome emails via an email marketing platform will make it easy for you. Email marketing is still the best marketing strategy. There are metrics by which you can check your email marketing growth. After sending the welcome email, you can check deliverability rates, open rates, click-through rates (CTR), etc., metrics to measure the performance of your welcome emails.
Wrap Up
Sending welcome emails to new customers/clients with the help of an email marketing tool is an excellent method to introduce them to your business. You can differentiate yourself from the competition by creating an outstanding welcome email for a new customer. Additionally, it will give your customers a general idea of what you offer, how they can get started, and how they will interact with your staff. And in this blog, I have discussed the basics of this marketing email with necessary welcome email examples. Hopefully, the knowledge provided here will help you with your email marketing journey.
To know more about welcome email, check out the following blogs:
How To Write Welcome Emails Effectively And Why