Are you searching for some of the best Cyber Monday emails? The holiday season is coming soon, and so are the Black Friday and Cyber Monday occasions! Hence, there's no doubt about needing inspiration to craft some compelling Black Friday emails and Cyber Monday email campaigns. So, get ready to make some excellent email marketing plans to nail this holiday season!
In this blog, I will discuss Cyber Monday emails in detail. You will go through some effective Cyber Monday email examples and crafting tips for better ideas.
Table of contents
What is Cyber Monday Emails?
Cyber Monday emails are part of holiday email marketing campaigns that give sales and exciting offers for the Cyber Monday occasion. And it belongs to the Cyber Monday e-commerce marketing strategy. Wondering what Cyber Monday is? Let's know about this marketing term in detail!
What is Cyber Monday?
In e-commerce, the Monday after the American Thanksgiving weekend is called "Cyber Monday." And the term "cyber" in it refers to e-commerce/online sales. So, how does Cyber Monday work? It is an online shopping event that runs for 24 hours. Internet retailers typically offer exclusive deals, discounts, and promotions on that day, just like physical stores do on Black Friday.
In the meantime, established stores provide unique offers that are available online only. Some people believe that Black Friday and Cyber Monday have become one big online and in-store shopping event, making it difficult to tell them apart.
Why does Cyber Monday matter?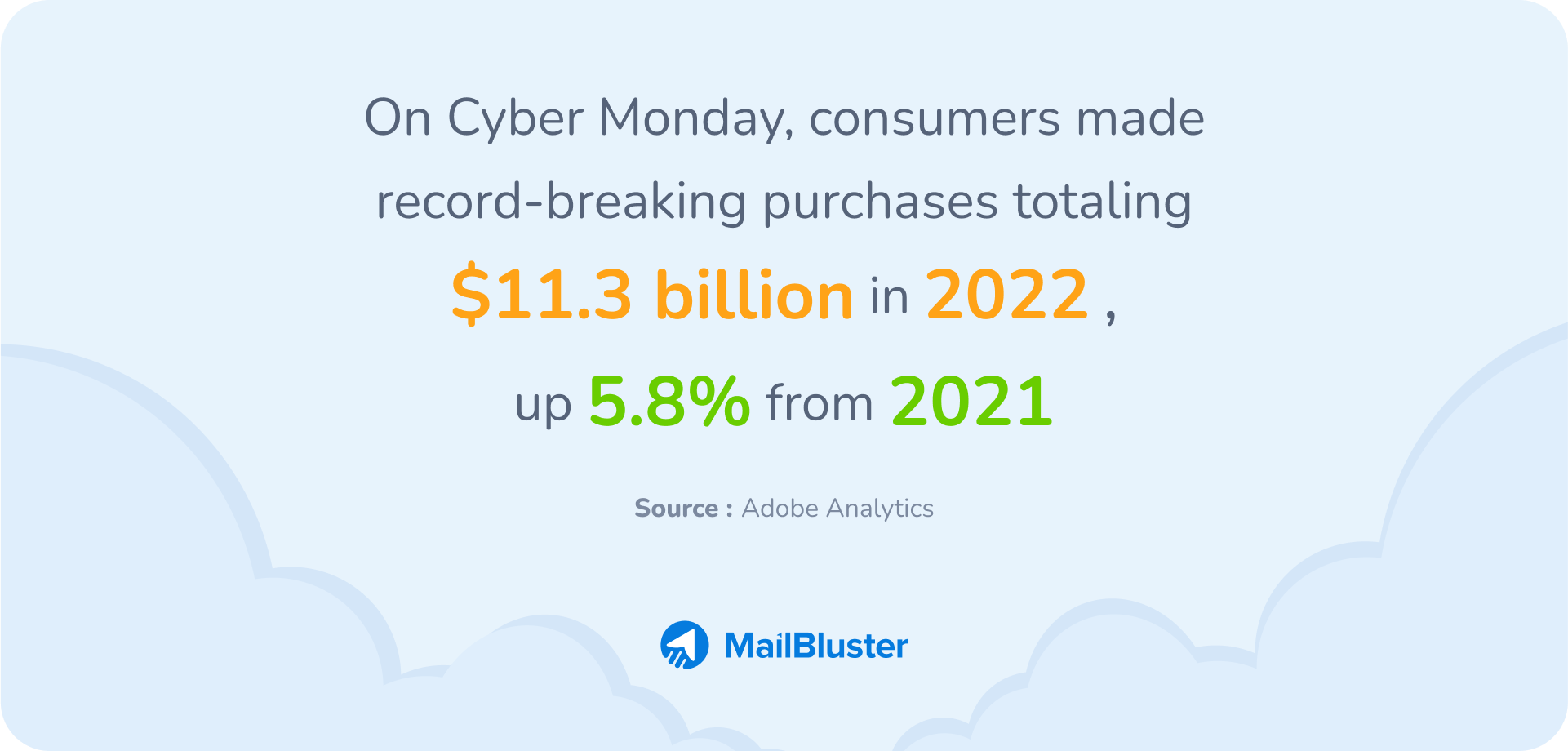 Cyber Monday is the most significant online shopping day of the season. On Cyber Monday, consumers made record-breaking purchases totaling $11.3 billion in 2022, which is up 5.8% from 2021. Compared to the $9.12 billion spent on Black Friday, this was over $2 billion more. So, marketers must make proper arrangements to use this opportunity to boost sales!
When is Cyber Monday 2023?
Cyber Monday occurs after Thanksgiving. Thanksgiving falls on the fourth Thursday of November. And this year, Thanksgiving is on the 23rd of November. So, the following Monday of it is the D day!
Do mark November 27, 2023, on your calendar! Because that's the date for this year's Cyber Monday.
Cyber Monday Email Examples
Let's get inspired by some of the best Cyber Monday email templates!
Cyber Monday email template example 1

The following example is a Cyber Monday email template from a VPN service provider brand, Tunnel Bear. This one is unique with its witty heading style as they have used onomatopoeia here, replacing "cyber" with "cybear" which matches their brand title, "Bear Tunnel."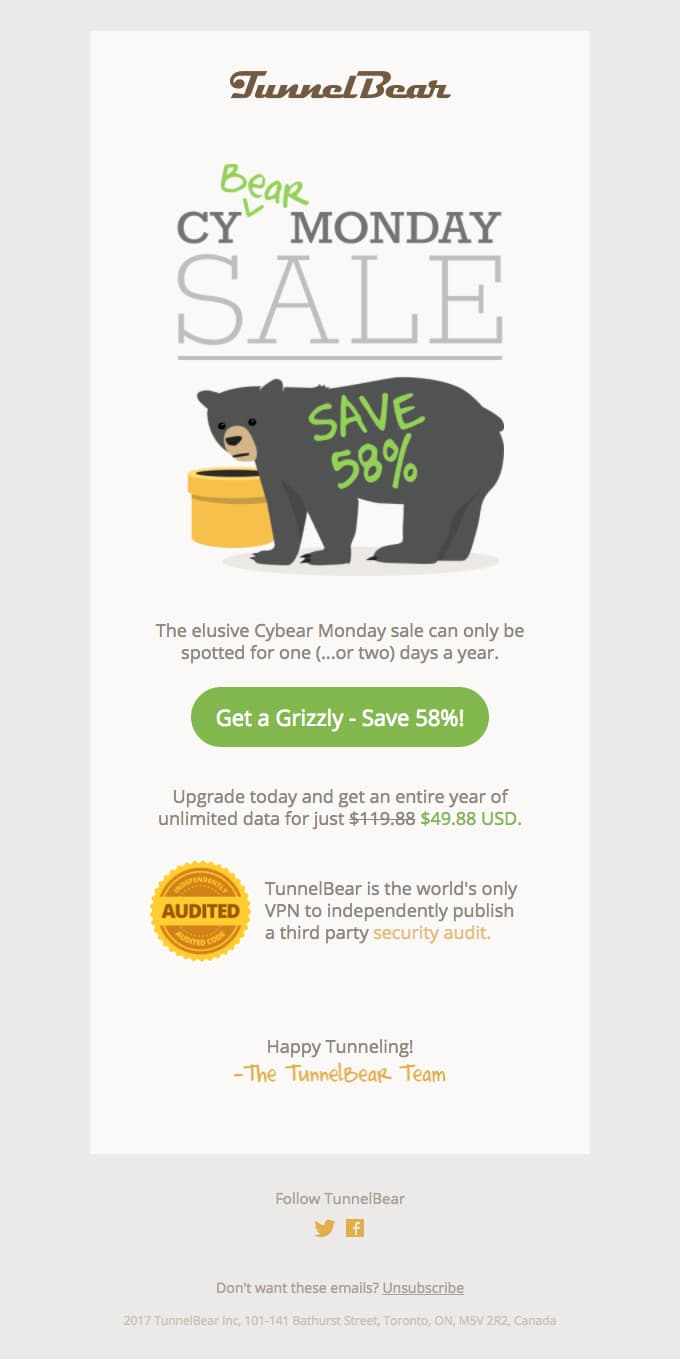 Key features:
The branding is on top.
The heading started in a witty way by applying the onomatopoeia method, "Cybear" Monday sales!"
The email body part displays their offer "Save 58%" with a cute bear image in email followed by the offer description.
The email has a CTA (click-to-action), "Get a Grizzly-save 58%!"
It has a brief introduction of their brand followed by a "Happy tunneling" wish from the team.
The email footer has social media handles and an unsubscribe link.
Example 2
Baggu sells bags. In this email, they focused on displaying their multiple Cyber Monday sales. And they are offering both online and in-stores.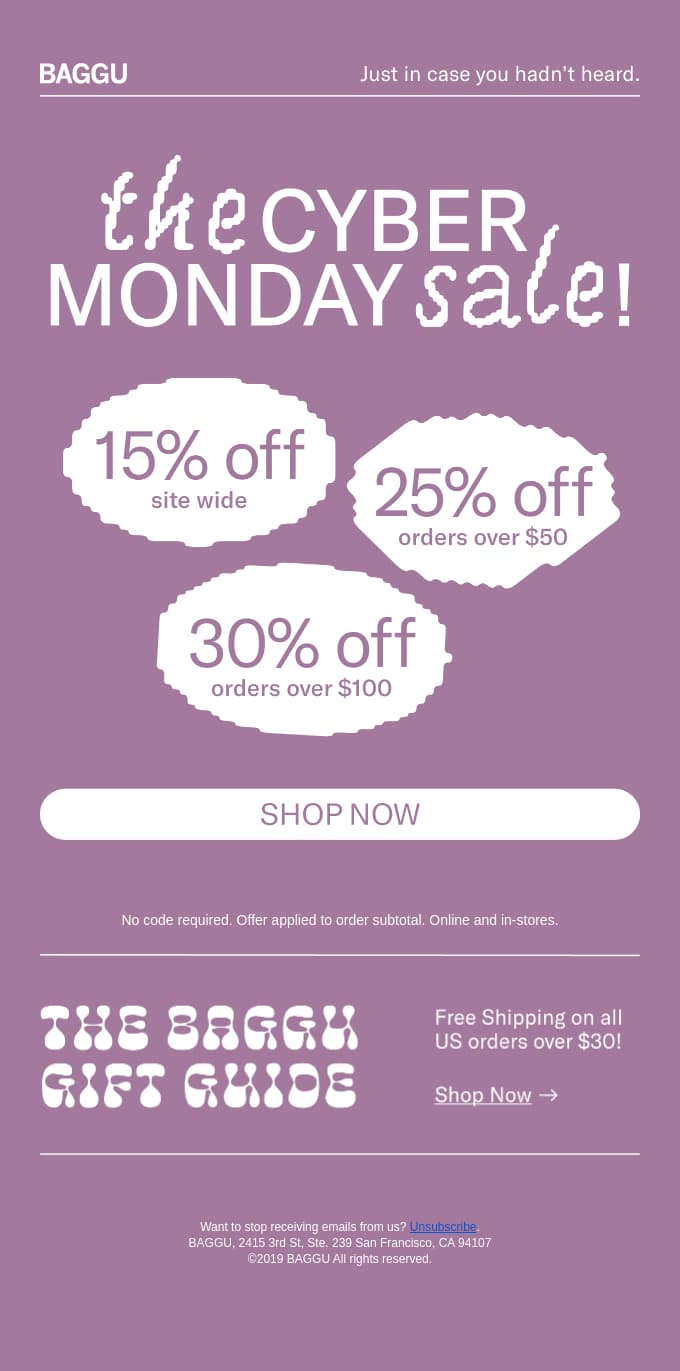 Key features
The branding is on top.
The heading started with Cyber Monday sales.
In the email body part, it displays multiple sales.
It has a CTA "Shop now" button.
In the email footer, they added an unsubscribe link to email.
Example 3
Grammarly started with Cyber savings and its ending date. And they went for a catchy magical "spell" theme to grab the reader's attention.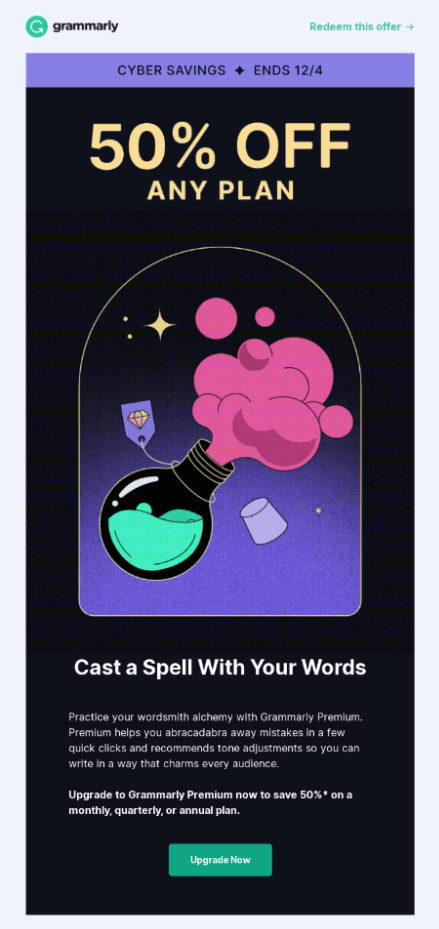 Key features
The branding is on top of the email.
They started the heading with Cyber Monday offer "50% off any plan."
The email image suited the magical theme.
The body part included a catchy attention grabbing line "Cast a spell with your words" to shift the audience's focus towards the offer description.
It has a CTA "Upgrade now" button.
Example 4
Check out the following Cyber Monday email template from Udemy. They are offering several of their courses for $10 only as Cyber Monday deals.

Key features
Their branding is on top.
The heading started with "Cyber Monday sales."
The body part contains CTA "Shop $10 courses."
It has included countdowns "sale ends in…"
Later, they displayed their offered top courses.
In the footer, they included unsubscribe URL and multiple options for better navigation of their brand.
The email ended with attracting their IOS and Android app downloading buttons.
Example 5
Dr. Martens gave 30% off on clothing, bags, and accessories. Also, 60% off on clearance products.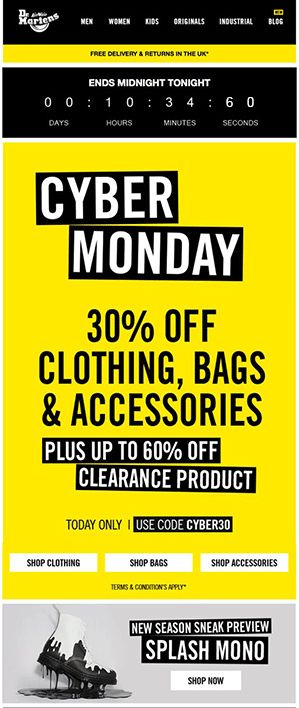 Key features
The branding is clearly on top of the email.
The email started with countdowns, "Ends midnight tonight."
They highlighted Cyber Monday in the body part.
Later, they described the Cyber Monday sales and user code "CYBER30."
The email has multiple CTAs.
Crafting Tips
Here are some essential crafting tips for Cyber Monday emails. You can go through these tips quickly!
You should create catchy email subject lines.
Personalize your Cyber Monday marketing campaigns.
Try to present your brand in a standard way.
Try to keep the email simple and clear to match your brand.
Try to add a large headline or primary statement that draws attention to your Cyber Monday deals and piques readers' interest.
Include your offer noticeably.
Include the product image in the email.
Make the email personalized to get the right deals to the right people.
Make the email mobile-friendly.
Display your items and offers in the email.
Create a sense of urgency so the consumers take action.
Don't forget to add an unsubscribe link in email.
Best Time to Send Cyber Monday Emails
Let's figure out the best time to send Cyber Monday email campaigns.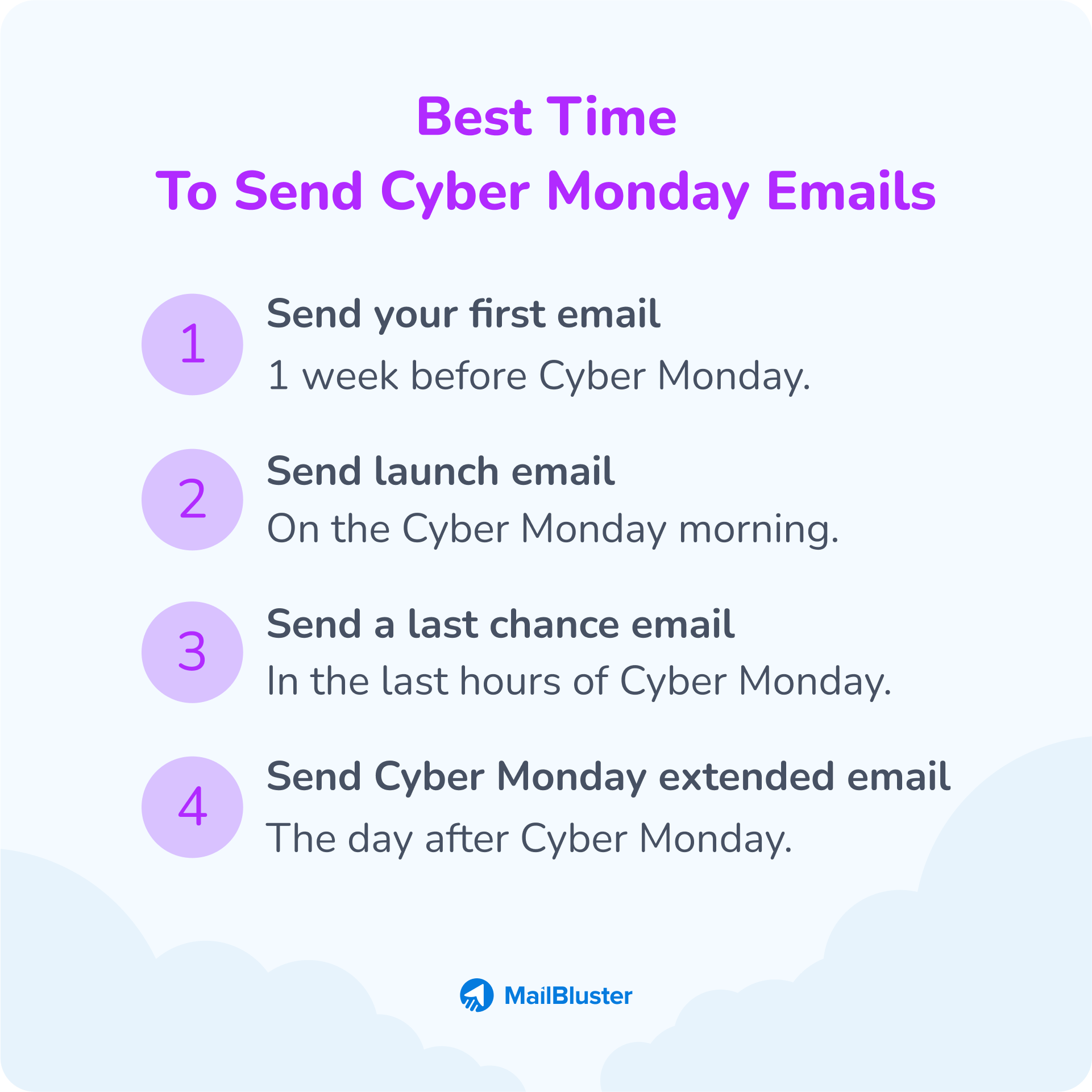 Firstly, you can send your first email on Monday, November 20th, one week before Cyber Monday. After that, follow up with a second email to launch your Cyber Monday email sale on the morning of November 27th. Lastly, in the final hours of Cyber Monday, send a last chance email to encourage customers to take action.
Additionally, you can send the fourth email the following day if you would like to extend your Cyber Monday offer. You can, therefore, plan for a total of four Cyber Monday emails.
Wrap Up
E-commerce companies will be busy, as they always are at this time of the year. So, prepare for the increased rivalry by fusing persuasive sales pitches with potent marketing techniques. Send your Cyber Monday emails using MailBluster, our convenient and cost-effective email marketing tool. The ideas, examples, and advice in this blog will hopefully assist you in creating effective Cyber Monday email marketing campaigns.
For Black Friday Email examples click below!
Black Friday Email Examples & Effective Tips
Get to know MailBluster's Black Friday & Cyber Monday email Templates:
Introducing MailBluster's Black Friday & Cyber Monday Sales Email Templates